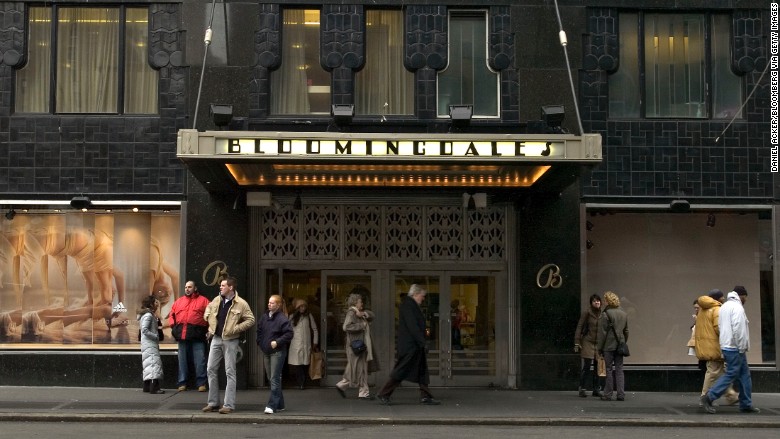 Workers at Bloomingdale's flagship store in New York City might walk off the job Monday over a pay dispute.
The department store's employees and the union that represents them are in a standoff with the company over how workers are paid, paving the way for the possible strike.
The issue is online sales. When customers who hunt for products in stores with the help of an associate decide instead to later buy the items online for cheaper, the union says it hurts employees who work on commission.
"Currently, workers only earn commission for sales in the store," said Chelsea Connor, a spokeswoman for the Retail, Wholesale and Department Store Union, in an interview with CNNMoney earlier this month.
Workers are demanding that their pay packages include commission on sales that in-store shoppers later place online. It's not clear how Bloomingdale's would be able to track those purchases.
Related: 21,000 AT&T Wireless workers could strike Monday
"I am sure the company can work on a tracking system," Connor said. "There's technology for everything."
The union covers 2,000 workers at the flagship location and at the company's administrative headquarters in New York. Their most recent agreement was signed in 2012.
The workers have already staged protests outside the Bloomingdale's in New York City.
Bloomingdale's did not immediately respond to a request for comment Sunday.
Earlier this month, company spokeswoman Anne Keating told CNNMoney that Bloomingdale's is trying to reach a "fair and reasonable" agreement.
"But we have to address the competitive business realities we face," she said. "And we have to be flexible about the way we take care of our customers."
Connor also said that most workers are paid entirely on commission, but Bloomingdale's has said this is "totally wrong." The company says store employees receive a variety of different pay packages.
The contracts expire at midnight, so the two sides are in a race against the clock to come to an agreement. The union members also have to vote to approve a deal -- or the decision to strike, depending on how negotiations fare.
The union posted photos on Twitter at around noon Sunday of a half-empty conference room, saying, "so far no company at the table."