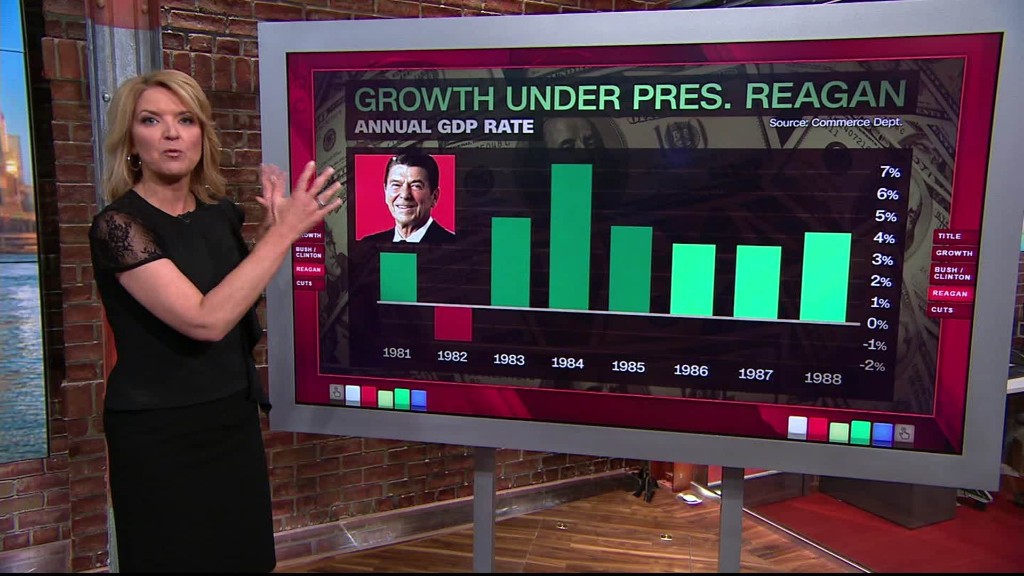 On the campaign trail President Trump promised his economic agenda would rev the American economy up to 4% growth. Since taking office, Trump has lowered his growth goal to a more modest 3%.
Ben Bernanke thinks Trump is unlikely to deliver even his more conservative target.
"I would say it's a pretty long shot," the former Fed chief told CNBC on Monday.
Even if you factor in a bump from dramatic tax cuts Trump has proposed, Bernanke said 3% growth is "probably not" in the cards. He said there's no "single magic bullet" to speed up growth.
Bernanke, who stepped down as Fed chief in 2014, pointed to long-term problems in the US economy, including an aging workforce, low productivity and a global savings glut.
"We're in a slow-growth world now," Bernanke told CNBC.
Bernanke cautioned that no one can say for sure how the economy will perform in the future.
"You know how good economists are at forecasting, and I am an economist," he joked.
Related: Reminder: Tax cuts don't make economy soar
The former Fed chief's outlook is way more subdued than Wall Street's, as evidenced by the Trump rally in the stock market. The S&P 500 soared 11.6% between Trump's election and his 100-day mark, representing the second-best performance over that timeframe since President Kennedy in 1961.
A central reason for the market boom is expectations Trump's policies will speed up the sluggish economy, which grew during the first quarter at the slowest pace since 2014.
Two-thirds of investors believe Trump will achieve GDP growth of 3%, according to an early April E*Trade survey of investors with at least $10,000 in a brokerage account.
But Bernanke warned that "politically it's going to be a much slower process -- and a more limited process" than investors may realize.
Bernanke said he has not met with Treasury Secretary Steven Mnuchin, but he did meet once with Gary Cohn, Trump's top economic adviser.
Mnuchin said last week that slashing corporate tax rates to 15% is part of the Trump administration's goal to achieve "sustained growth of 3% or higher." Commerce Secretary Wilbur Ross said last week he's confident Trump's 3% growth goal can be met, "if not beat."
Related: Wall Street to Trump: Read our lips. Just fix taxes
Even though Bernanke was more cautious, he broadly supports "smart policy" like tax reform and infrastructure spending. Both are main pillars of the Trump agenda.
Investing in infrastructure to fix roads and bridges would make sense by making the U.S. economy more efficient, Bernanke said.
On Trump's tax plan, Bernanke said it's too early to say but that the one-page summary released last week "looks like mostly cutting tax rates." He added, "I would like to see some tax reform."
Bernanke, who served two terms as Fed chief, took a bit of a victory tour while assessing the current economic environment.
He pointed to the creation of 16 million jobs, 4.5% unemployment rate, stable inflation and the health of the stock and housing markets.
"All those things are looking good," Bernanke said. "If you'd told me three, four years ago this is where we'd be, I would have been pretty happy."
Bernanke also said the Fed's exit from emergency policies like near-zero interest rates has been better than feared. He noted that the Fed's critics predicted "all kinds of terrible things" like huge stock market bubbles, hyperinflation and the collapse of the U.S. dollar.
"In fact, it's gone pretty smoothly," Bernanke said.