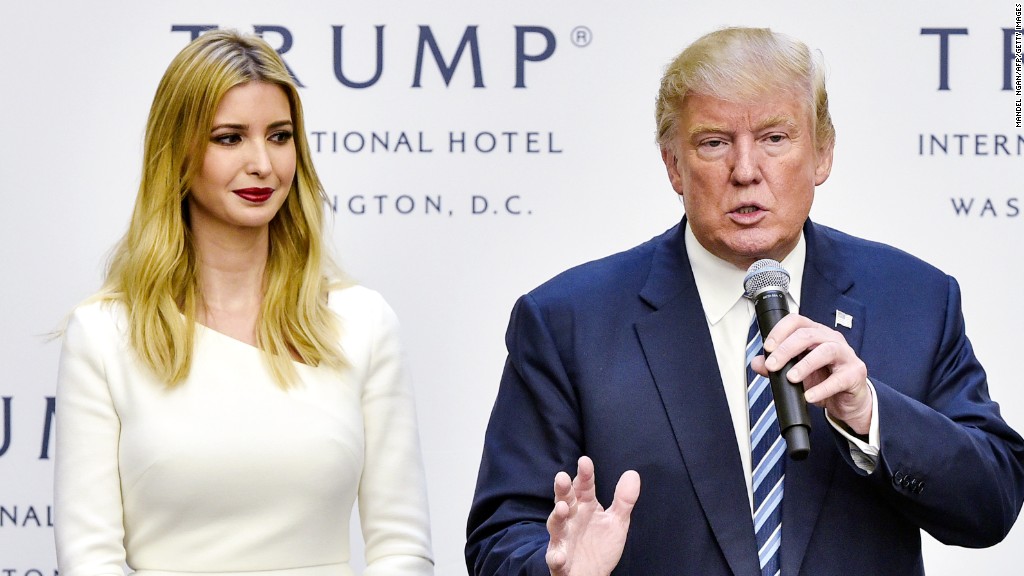 The White House brought Ivanka Trump on as an adviser without consulting the Office of Government Ethics, the ethics office says.
The New York Times and Politico reported March 20 that the president's older daughter was working out of a West Wing office. A White House official told CNN that she would get a security clearance but would not be considered a government employee.
The next day, White House Press Secretary Sean Spicer assured reporters that Ivanka Trump would follow the ethics restrictions that apply to federal employees. He said she was acting "in consultation with the Office of Government Ethics."
Related: Ivanka Trump White House job raises ethics questions
But the ethics office, in a letter made public Monday, said it was not consulted. Director Walter Shaub said he reached out to the White House and to Ivanka Trump's lawyer on March 24 to tell them that Ivanka Trump should be considered a federal employee, subject to those rules.
Ivanka Trump made her role official five days later, on March 29, and became an unpaid employee in the White House.
"I have heard the concerns some have with my advising the President in my personal capacity while voluntarily complying with all ethics rules," she said in a statement that day. "Throughout this process I have been working closely and in good faith with the White House counsel and my personal counsel to address the unprecedented nature of my role."
The rules require Ivanka Trump to disclose her financial holdings and either sell assets or recuse herself from matters in which she has a financial interest.
Shaub gave his account in a letter to Democratic Senators Elizabeth Warren of Massachusetts and Tom Carper of Delaware, who had asked him about the ethics rules for Ivanka Trump's White House job.
Ivanka Trump has worked with the ethics office on other matters. She was required to disclose some of her financial holdings earlier in the administration because her husband, Jared Kushner, was named a senior White House adviser.
The White House and Ivanka Trump's lawyers had no immediate comment.
In a second letter made public Monday, this one to Democratic Senator Claire McCaskill of Missouri, the ethics office said the White House has not accepted its offers to help with other ethics consultation and training.
For example, the ethics office said it received no advance notice of a January 28 order from President Trump banning executive branch employees from taking certain lobbying jobs for five years.
The ethics office works with the 2.7 million employees of the executive branch to prevent conflicts of interest.
-- CNN's Laura Jarrett contributed to this report