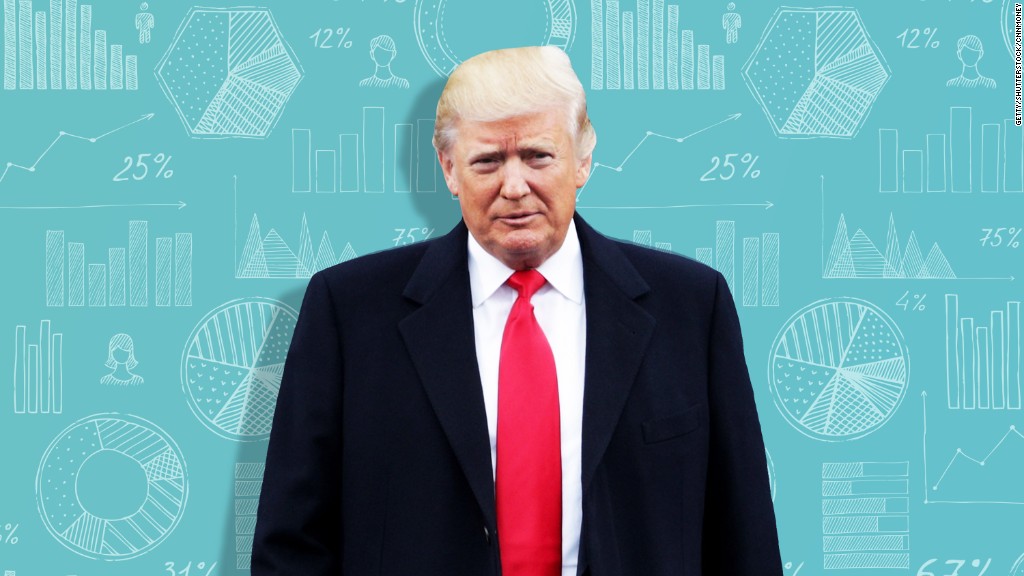 President Trump takes credit for the new US jobs added in 2017.
"We've created over 600,000 jobs already over a very short period of time and it's going to really start catching on now," Trump said on April 11. The White House later revised that down to 500,000. Even that claim is a stretch: The job gains under Trump are closer to 317,000.
But when weak economic growth figures published Friday, Trump took no credit for them.
"That's really a left over from -- in all fairness, I just got here," Trump told Bloomberg in an interview that aired published on Monday.
The data covered the same three months of this year. The US economy grew at an annual pace of just 0.7% between January and March. It was the worst quarter of growth in three years.
"So you're growing at 1% or less, so we need a stimulus," said the president.
Related: Trump takes credit for 500k jobs. That's a stretch
In truth, there's a ceaseless debate about how much credit a president deserves for job gains or economic growth. Several factors outside a president's control affect both -- from the value of the US dollar to the health of the global economy.
Some economists say Trump doesn't deserve credit or blame for the first quarter numbers on jobs and growth. But if he's going to take responsibility for one, then the others belong to him too, they argue.
"I suppose if you're going to take credit fro the jobs data, you have to take credit for the GDP data too," Paul Ashworth, chief US economist at Capital Economics, a research firm, said last week.
Related: US economy has weakest quarter of growth in 3 years
Dodging responsibility for bad economic numbers isn't new for US presidents.
President Obama often slammed the Bush administration during his early years in office when the economy was grappling with its worst recession in decades. But when the economy turned around years later, Obama took credit for the good news.
The distinction between Trump and Obama is that Obama didn't take credit for one number and not another at the same time. Trump is choosing which numbers he owns over the same period of time.
Trump's next big economic news comes Friday with the release of the April jobs report.
The White House said that the jobs and stock markets have had "great growth...in the wake of the President's ambitious economic agenda. At the same time, the GDP figures show that there's still work to do, and we're ready to do it."