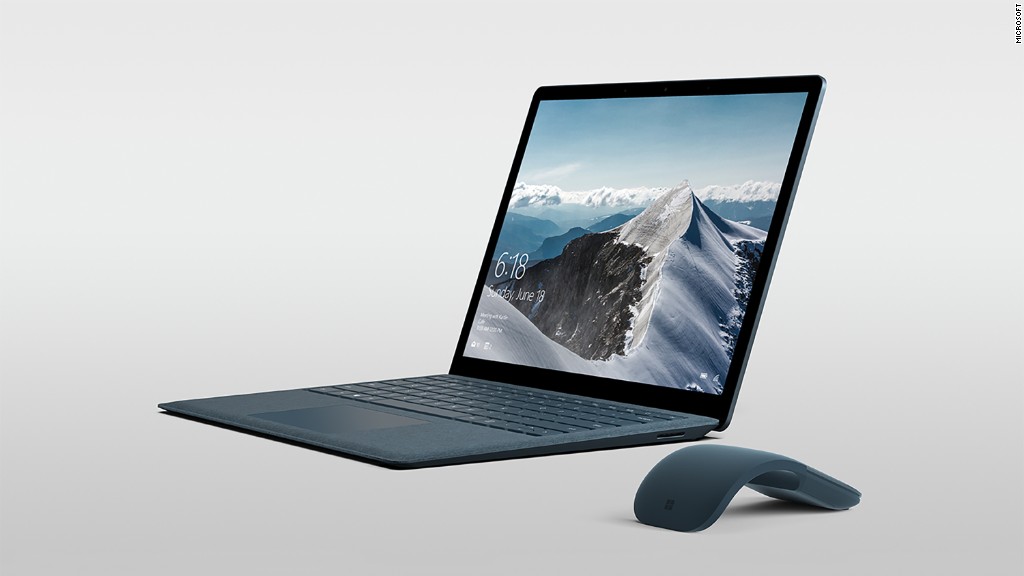 Microsoft is fighting to take on Google and Apple in the education market.
At an event on Tuesday, Microsoft (MSFT) unveiled a glossy new laptop and an updated version of Windows 10 intended to appeal to students and educators.
The Surface Laptop starts at $999 and will be released June 15. The 13.5-inch laptop gets 14.5 hours of battery life, weighs just 2.76 pounds and features a fabric keyboard. It comes in four colors, including cobalt blue and burgundy, and is available for pre-order starting Tuesday.
This laptop is distinct from the Surface Book, a laptop unveiled in 2015 that starts at $1,499. Panos Panay, the Microsoft executive in charge of its Surface products, was clear about the target audience: students who would otherwise buy Apple (AAPL)'s MacBooks.
"A lot of students use MacBook Airs and MacBook Pros," Panay said on stage. But he stressed that Microsoft's new laptop is thinner than these Apple (AAPL) devices and has a longer battery life.
Also on Tuesday at the New York City event, Microsoft announced Windows 10 S: a streamlined version of the operating system for classrooms. It offers a faster login experience for students and only runs applications downloaded from the Windows Store to ensure security.
Related: LinkedIn brings in nearly $1 billion for Microsoft
Microsoft said manufacturers like Samsung, Toshiba, HP and Dell will begin selling Windows 10 S devices this summer, starting at $189. At that price, Microsoft may be able to compete more directly with Google (GOOG)'s affordable Chromebooks.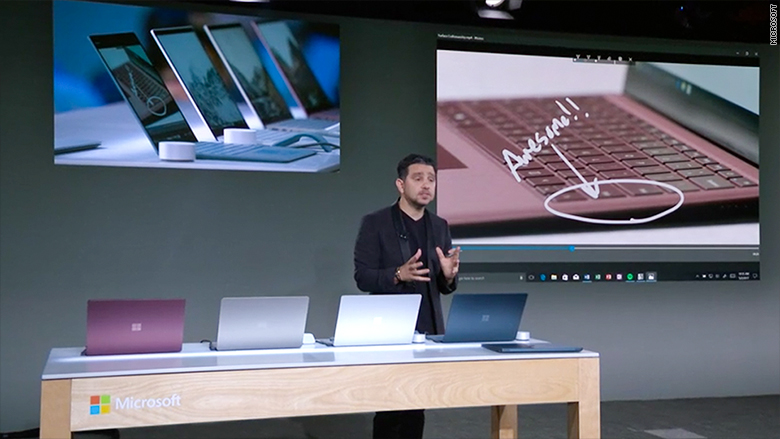 Satya Nadella, Microsoft's CEO, framed the day's product announcements as being part of the company's mission to "democratize the educational opportunity for every student."
But for Microsoft, it's also about fighting for a bigger piece of the lucrative education market -- and the potential to get a new generation of consumers accustomed to its products.
Six years ago, Google debuted the bare-bones Chromebook product line running its own operating system instead of Windows. In the years since then, the Chromebook has emerged as a rare bright spot in the broader PC market.
Research firm IDC reported in April that the commercial PC market "came out strong" in the first quarter of 2017 "mostly backed by growth of Chromebooks."
Microsoft's education product announcements also come at a time when the company is facing a slowdown in hardware sales.
Last year, Microsoft reported Surface revenue for the March quarter declined 26% year-over-year. On a conference call with analysts last week, Nadella chalked up the disappointing hardware results in part to "increased price competition."