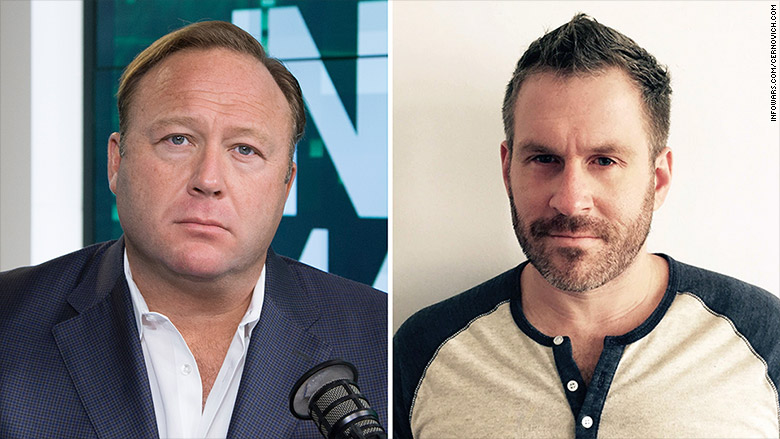 Two of the Internet's most notorious right-wing provocateurs are joining forces.
Mike Cernovich, a self-described "New Right" Internet personality, will begin regularly hosting part of "The Alex Jones Show" on InfoWars, a far-right media organization known for peddling unfounded conspiracy theories.
Cernovich, a 39-year-old lawyer from California, who guest hosted some segments on InfoWars last month, will host the fourth hour of Jones' show once a week, starting today, but moving to Friday afternoons the following week, a representative for InfoWars told CNN.
While Cernovich will only initially be hosting an hour each week, the elevation to InfoWars host represents the meteoric rise in his profile over the past year.
Cernovich was an obscure writer and blogger before first surfacing on the political scene last year as a staunch supporter of then-Republican presidential candidate Donald Trump. He gained notoriety as an online troll who peddled conspiracy theories about Hillary Clinton's health, among other things, frequently drawing ire from both conservatives and liberals alike for making inflammatory comments on a host of issues.
Cernovich has since amassed a large and highly engaged online following and even appeared to cultivate White House sources which have seemingly produced scoops. For instance, a small handful of stories he's published in recent weeks have later been corroborated by more established news organizations, resulting in praise from the White House. Kellyanne Conway, counselor to President Donald Trump, recently tweeted out a link to Cernovich's Medium page. Donald Trump Jr. said he deserved the Pulitzer Prize.
And now he's one of the first online right-wing trolls of the 2016 election cycle to take his act professional, if not quite mainstream. InfoWars and its founder Alex Jones spread conspiracy theories, but are also carried by 200 radio stations across the country, and visited by millions of readers online each month.
"I look forward to breaking huge stories on InfoWars," Cernovich told CNN. "Although I enjoy political commentary, breaking news is even more important these days, and InfoWars is a great platform with a massive audience of news and information addicts."
While Cernovich may break some news, he certainly does not do so in the traditional sense. In the stories he's authored that have checked out, he's played loose with the facts and applied a partisan spin to advance a narrative. In others, he's made wild claims without sufficient evidence to support them.
Jones is similar. President Trump may have praised his reputation as "amazing," but the radio and television personality is arguably the nation's leading conspiracy theorist, if not the world's. He posited that the Sandy Hook massacre was a hoax, contended the US government was behind the September 11 terror attacks, and has advanced over the years a number of other unfounded conspiracy theories.
In many ways, the marriage between Cernovich and InfoWars is a perfect fit. Both represent a brand of journalism perhaps best comparable to the National Enquirer. Each hawks sensational and often wildly inaccurate or misleading stories to their audiences, but mixes them in with a smattering of items that appear to hold some water.
Such a strategy helps create a defense against critics who categorize InfoWars and Cernovich under the so-called "fake news" umbrella. While most of their reports may not be accurate, they can point to legitimate scoops corroborated by mainstream news outlets as evidence they should be trusted on everything else they report, blurring the lines for news consumers.
The move for Cernovich to join forces with InfoWars may foreshadow further coalescing in a far-right universe that had thus far largely been composed of loosely affiliated allies. That has already been happening to some extent. Earlier this year, InfoWars hired Jerome Corsi, a far-right bestselling author, to serve as its Washington bureau chief. Roger Stone, a longtime Republican political operative who in the past served as an adviser to Trump, regularly fills in as a host for Jones.
It also signals a splintering from the more traditional conservative media industrial complex. While Cernovich and other right-wing provocateurs share viewers with outlets like Fox News, they've drawn on an entirely different infrastructure to get their messages out — one which appears to be growing larger and stronger by the day.