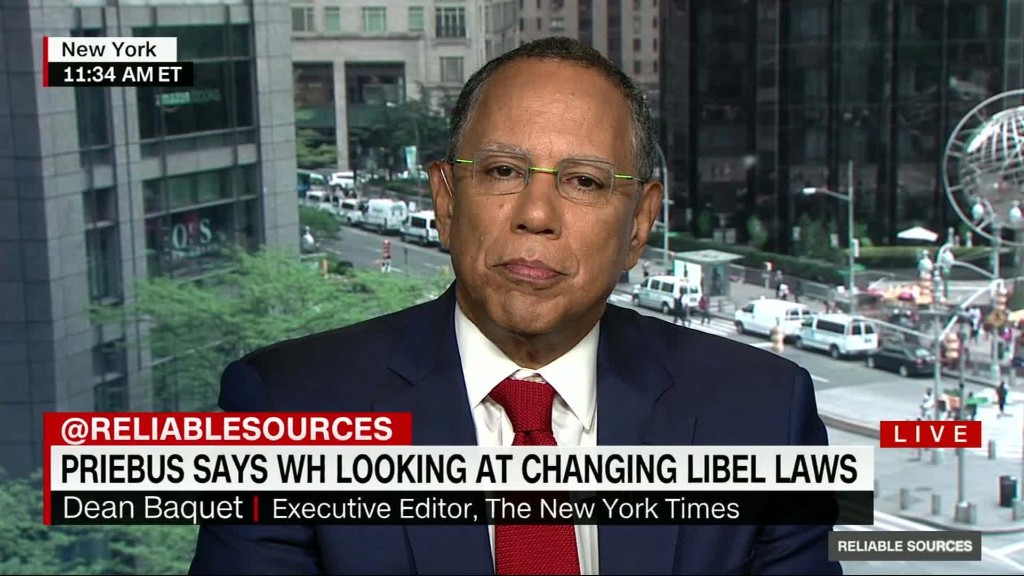 Two numbers in The New York Times' latest earnings report tell the story of the company's transformation.
The first number: 308,000. That's the number of net new digital subscribers, a record gain that has been partly attributed to the Trump presidency.
"We added an astonishing 308,000 net digital news subscriptions, making Q1 the single best quarter for subscriber growth in our history," Times CEO Mark Thompson said Wednesday.
Circulation revenue is growing fast. But print ad revenue, the old backbone of the company, is declining fast. That leads to the second number: 17.9 percent.
In the first quarter, print ad revenue declined by nearly 18 percent as big companies spent less on display ads in the paper.
The Times noted that digital ad revenue increased by 18.9 percent -- but print is still more lucrative for the Times and other major papers.
"Despite continued pressure on print advertising, we were able to grow overall revenues by 5 percent in the quarter," Thompson said.
This has been the story of The Times for several years: a growing dependence on subscribers to offset difficulties on the advertising side.
Related: Trump says NYT 'failing' -- but stock up 30% since election
The company's overall earnings were 11 cents per share in the quarter, up a penny from the same quarter last year.
Revenues in the quarter totaled $399 million. About $76 million of the total came from digital-only subscriptions -- both the web site and its separate crossword product.
The current number of digital-only subscriptions is 2.2 million.
Times editors and executives have cited curiosity and concern about the Trump administration as one of the reasons for the subscriber gains in late 2016 and early 2017.
Trump frequently says the newspaper is "failing," although he also reads the newspaper and gives interviews to Times reporters.
"I respect his right to disagree with us, but we're not failing. We're doing quite well," Times executive editor Dean Baquet said on Sunday's "Reliable Sources."
"We're doing better financially right now than we have in a long time," Baquet added. "And his portrait of us is just not accurate."