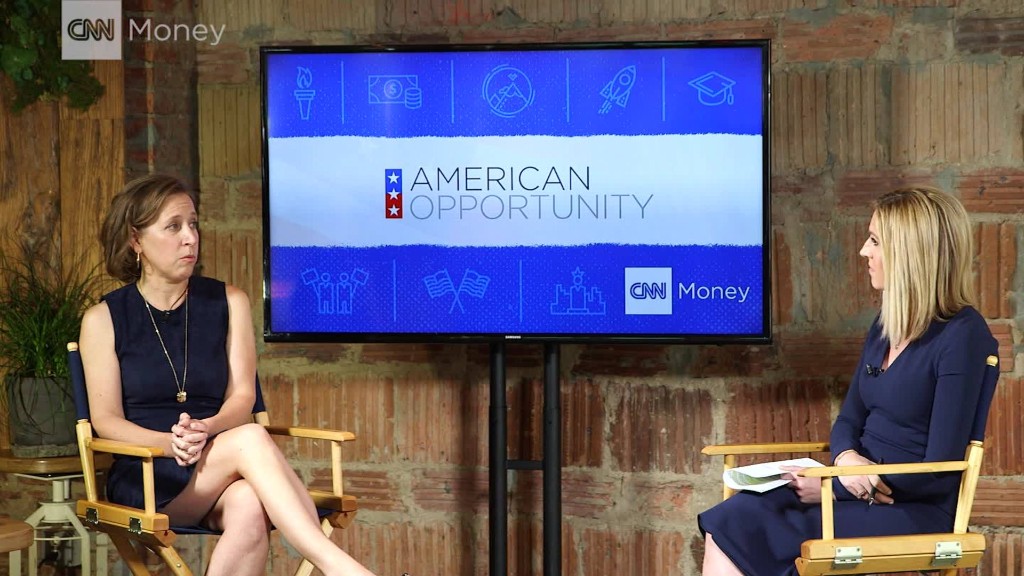 Companies are getting more generous with their parental leave policies -- not just for new mothers, but for fathers, too.
The average amount of paid leave for new dads among top companies increased to 11 weeks, according to a new report from Fatherly, which ranked the 50 best places to work for new dads.
In 2015, when the list first launched, the average paid time off was just four weeks.
"We are seeing more companies, particularly more progressive companies not differentiating at all between paid maternity and paternity leave," said Simon Isaacs, co-founder and chief content officer of Fatherly. "They have a parental leave package offered to all parents."
At the top of the list is Netflix (NFLX), which offers unlimited paid leave to new moms and dads during the child's first year. Parents can return to work on a full- or part-time basis during that time period, and return and then take off again as needed.
While the benefits have improved among the companies on Fatherly's ranking, many new working dads still aren't offered any paid leave.
"A very small percentage of Americans work at these companies," noted Isaacs.
Related: These workplace benefits are slowly fading away
One reason employers are re-evaluating their parental benefits: Millennial workers' views on parenting and work-life balance.
"They are growing up with very different beliefs about their caregiving role and value set and where they put family in that and work-life balance," said Isaacs.
Technology and finance companies dominate the list as they try to remain competitive and attract top talent.
There's also a mix of older firms like American Express (AXP) and Deloitte and younger ones like Spotify that made the list.
"The companies that didn't have these policies 10-15 years ago have really come around and seen it's the right things to do and good for business to retain their really good employees," said Scott Behson, professor of management at Fairleigh Dickinson University and author of "The Working Dad's Survival Guide: How to Succeed at Work and at Home."
Spotify, which ranked fourth on the list, offers full-time employees six months of paid parental leave which they can take up to the child's third birthday. It also has a "Welcome Back!" program that helps new parents transition back to work by allowing them to work at home part time and with flexible hours.
Related: Women who want to outearn men should choose their college major carefully
The U.S. is the only developed nation that doesn't mandate a formal paid leave policy for new parents.
The existing Family and Medical Leave Act, commonly known as FMLA, allows eligible workers to take 12 weeks of unpaid leave following the birth of a child or to take care of a personal or family member with a serious illness.
But here's the problem: Many families can't afford to take unpaid time off. And not every worker is eligible to take leave under FMLA.
Offering equal paid leave for new moms and dads can help address gender equality in the workplace, according to Isaacs. "Previously, unfortunately women would receive a 'mommy tax' while men would see a pay bump after a baby."
Paid leave is a major benefit for new parents, but companies are also offering flexible work schedules and help with child care costs.
At Discovery Communications, which ranked 13th, offers new dads 12 weeks of paid leave along with an on-site child center at its headquarters that's open to children of both full-time and part-time workers. The tuition is subsidized by the media company and children can start at six weeks old.
Here are the top 10 best places to work for new dads in 2017, according to Fatherly:
1. Netflix
2. Etsy
3. American Express
4. Spotify
5. Facebook
6. Twitter
7. VMware, Inc
8. Bank of America
9. Patagonia
10. Deloitte
11. Square
12. Pinterest
13. Discovery Communications, Inc
14. CA Technologies
15. NVIDIA Corp
16. Workday
17. Microsoft
18. Starbucks
19. Airbnb
20. Capital One