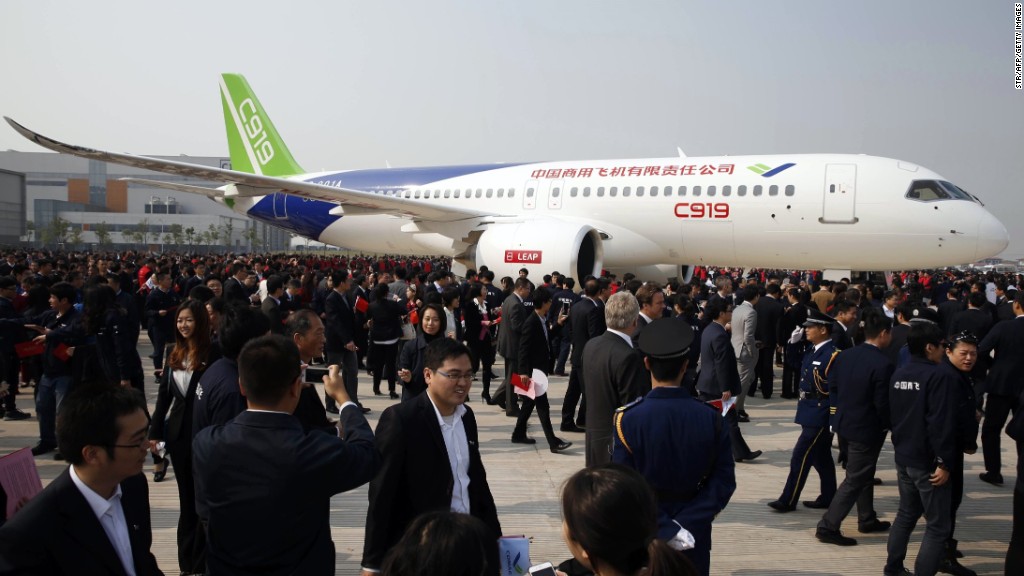 China's first large jetliner took its maiden flight on Friday, performing a series of test maneuvers in hazy skies near Shanghai.
The successful first flight is a huge deal for China, and an indication that Boeing (BA) and Airbus (EADSF) will eventually face a new competitor in a key aviation market.
Here's a look at China's aviation market by the numbers:
487 million: That's the number of domestic and international journeys made last year in China, according to data from the Civil Aviation Administration of China (CAAC).
Even more impressive is how quickly the market is growing. The number of trips made last year increased by 12% over 2015, according to CAAC.
The surge in air travel has been fueled in large part by middle class Chinese who are spending billions on domestic and foreign vacations.
With a population of 1.4 billion, the trips add up: Analysts predict that China will surpass the U.S. as the world's largest commercial aviation market by 2030.
Related: China's 1st big passenger jet completes maiden flight
5,100: Boeing estimates that the country will need a trillion dollars worth of new airplanes over the next two decades, including more than 5,100 of the same size as the C919.
Most of that money would have been destined for bank accounts at Boeing and Airbus if not for the C919. Now, there's a new competitor on the block.
With 168 seats, the C919 is expected to go up against the Airbus's A320 and Boeing's 737-800.
55: That's the number of Chinese airlines currently in operation.
Domestic airlines expected to be major buyers of the C919. So far, demand for the jet has remained local: orders are almost entirely from Chinese carriers for domestic flying.
The jet is one of the final pieces of an aviation ecosystem that has been in development for decades in China.
The company that developed the C919, Commercial Aircraft Corporation of China (Comac), is owned by the state. Most domestic airlines are also backed by the government.
China Eastern Airlines will be the first carrier to operate the C919 when it completes testing and secures approval from China's aviation regulator.
Related: China to spend $1 trillion on 6,810 new aircraft
Eight: China has now joined the small group of nations that have developed large airliners: the U.S., Russia, Brazil, Canada, the U.K., France and Germany.
The C919 still faces months or years of grueling certification tests, and meeting safety standards might require design changes.
But the maiden flight is a milestone: While China is already an adept designer of military aircraft, it has struggled to catch up to Boeing and Airbus in manufacturing civilian airliners.
1/3: China's aviation market still has a ways to go.
One third of all flights in the country were delayed in 2015, according to the International Air Transport Association.
The statistic is a good reminder that developing an aviation industry takes many decades.
It's also an industry where results matter: Comac will need to win the trust of airlines in China and elsewhere by proving the jet can operate efficiently and reliably on scheduled flights.
-- Jon Ostrower contributed to this report.