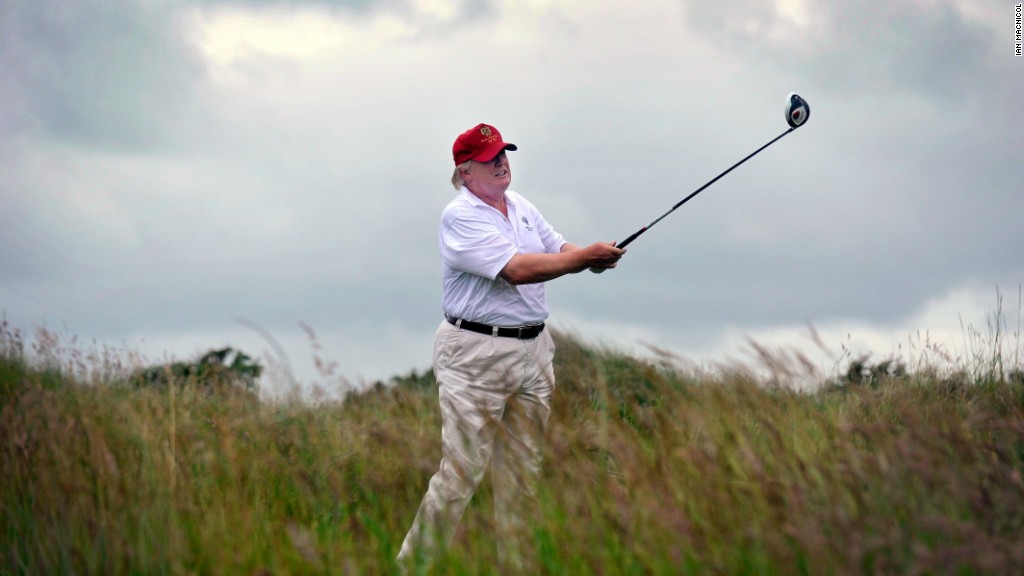 President Trump gets a lot of grief for playing so much golf. One person who's definitely not complaining: The head of the PGA of America.
CEO Peter Bevacqua told CNNMoney he sees the president's golf habit as a good thing for the growth of the sport.
"You want the right kind of attention, but when you have the president playing golf and saying that golf is a good thing, that's good for the game," Bevacqua said.
"President Obama was good for the game," he added. "President Clinton was good for the game. I think President Trump, again, being a proponent of the game, understanding the power of the game, is good."
Trump criticized Obama for playing golf in office, and said he himself would be too busy to play if he were elected. But Friday marked Trump's 21st day at one of his own golf clubs since taking office.
He says he isn't always playing golf on those trips, but the press has sometimes been kept out of view and can't verify that.
Trump played a lot of golf long before he became president, and Bevacqua said Trump contributed to the sport's growth as a private citizen. He noted that the Trump Organization, the president's business empire, employs many PGA pros on its 12 U.S. golf courses.
The PGA holds five major, moneymaking tournaments for pro golfers, but its main job is to grow the game in the United States and support golf pros at clubs, who introduce newcomers to the sport.
That makes it distinct from the PGA Tour, which serves pro golfers, and the U.S. Golf Association, which is the sport's governing body in the United States and Mexico and oversees courses and clubs.
Related: Costco sues maker of Titleist golf balls
In 2015, shortly after Trump announced for president and called Mexican immigrants rapists and criminals, the PGA pulled the Grand Slam of Golf and the Junior League Golf Championship, a tournament for children and teens, from Trump's course outside Los Angeles.
The Grand Slam was canceled indefinitely, but the Junior League tournament is still being played. Bevacqua insisted that moving the two tournaments was about loosening up a tight schedule, not politics.
The KitchenAid Senior PGA Championship is still scheduled for Trump's course near Washington later this month. And the 2022 PGA Championship will be played at Trump's course in Bedminster, New Jersey, where the president is spending this weekend.
In this political climate, holding a golf tournament at a Trump course inevitably makes a statement, but Bevacqua insists that's not the PGA's intent.
"We go do venues that we think, and know, can conduct major championships on golf courses that have very demonstrably open membership policies," Bevacqua said. "We've always kind of put our head down and said, hey, this is why we're going to these championship sites, and we're not going to become part of presidential politics or any politics for that matter."
Related: Trump's 17 golf courses teed up: Everything you need to know
Bevacqua sees Trump's passion for golf as an opportunity to get more publicly funded courses built in the United States. Under the New Deal, President Franklin D. Roosevelt oversaw the building of more than 250 public golf courses.
"That's a powerful story because those golf courses are open to everybody, they're very affordable, and now we're bringing golf's best and one of golf's major championships to those public venues year after year. We think that's a powerful signal for the game," Bevacqua said.
The White House declined to comment on the possibility of such a public works project. But Trump, in an interview with Golf Digest in 2014, said he thinks golf was "always meant to be" an elite sport.
That is in conflict with what Bevacqua has said is one of the goals of the PGA -- changing the perception that golf is expensive and not for everyone.
"They're working so hard to make golf, as they say, 'a game of the people,'" Trump said at the time. "I think golf should be a game that the people want to aspire to through success."