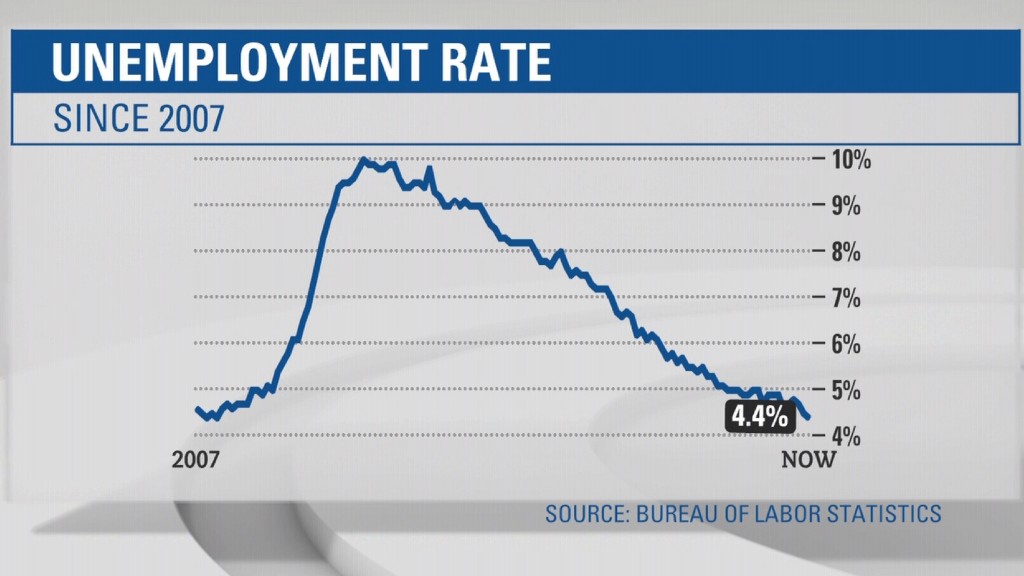 America's job market rebounded in April.
The unemployment rate dropped to 4.4%, its lowest level since May 2007.
America added a solid 211,000 jobs in April, far surpassing the disappointing 79,000 jobs gained in March, according to Labor Department figures released Friday.
"It's a very strong report," says Michael Arone, chief investment strategist at State Street Global Advisors. "We're nearing full employment in the US economy."
The low unemployment rate captures how far the US economy has come since the Great Recession ended in 2009, when unemployment hit 10%.
Many economists say the US is now at or near "full employment," meaning the unemployment rate won't go down significantly more. It's a state, where employers have to pay up to hire, because it becomes hard to find workers. That's why wage growth is expected to pick up.
Related: How is the US economy really performing?
Wages grew 2.5% in April compared to a year ago, which is better than in prior years but not considered robust yet -- the Federal Reserve would like to see wage growth closer to 3.5%.
"The unemployment rate is even lower than expected. We're seeing that continued wage growth. To me, these are all good signs," says Cathy Barrera, chief economic adviser at ZipRecruiter, a job search site.
It's the third jobs report since President Trump took office. The US gained 522,000 jobs over that time. Trump has taken credit for the job market's performance. However, many other factors outside a president's control influence employers' hiring decisions too.
Related: The CNNMoney Trump jobs tracker: How's he doing?
Job gains came across the board. Health care added 20,000 new positions, business services gained 39,000 jobs and hotels and restaurants brought on 55,000 more workers. Even construction, mining and manufacturing saw modest gains.
Experts attribute the gains, particularly in manufacturing, to the health of the global economy, less so on the optimism of Trump's promises for tax cuts, infrastructure and deregulation.
"If you are a manufacturing executive, you're not adding employees based on hopes alone," says Arone. "It's based on more of a global growth trade than it is on the optimism regarding the Trump administration's policies."
Related: Trump's tall task: Finding jobs for America's forgotten workers
April's report showed other signs of progress. US underemployment -- which includes Americans in part-time jobs and those at different lengths of unemployment -- hit its lowest mark in a decade too. The largest measure of underemployment -- known as the "U-6 rate -- hit 8.6%. That's down from 17% in 2010 and even lower from a year ago.
Related: Trump brags of good job news, blames bad data on Obama
"There's been a dramatic improvement there," says Luke Tilley, chief economist at Wilmington Trust. "It's a solid labor market right now."
Experts caution that there are still areas of concern. For example, a high level of "prime age" Americans between ages 25 and 54 remain out of work for a variety of reasons. And although part-time jobs have declined, there are still 5.3 million Americans working in part-time jobs they don't want.
Friday's figures also bring good news for the Fed. Its leaders predict raising rates a few more times this year and its next meeting is in June. The healthy economic numbers on Friday help clear the way for another Fed rate hike next month. It has raised rates a notch in December and March.
"This report absolutely supports their view of how the economy is going," adds Tilley.