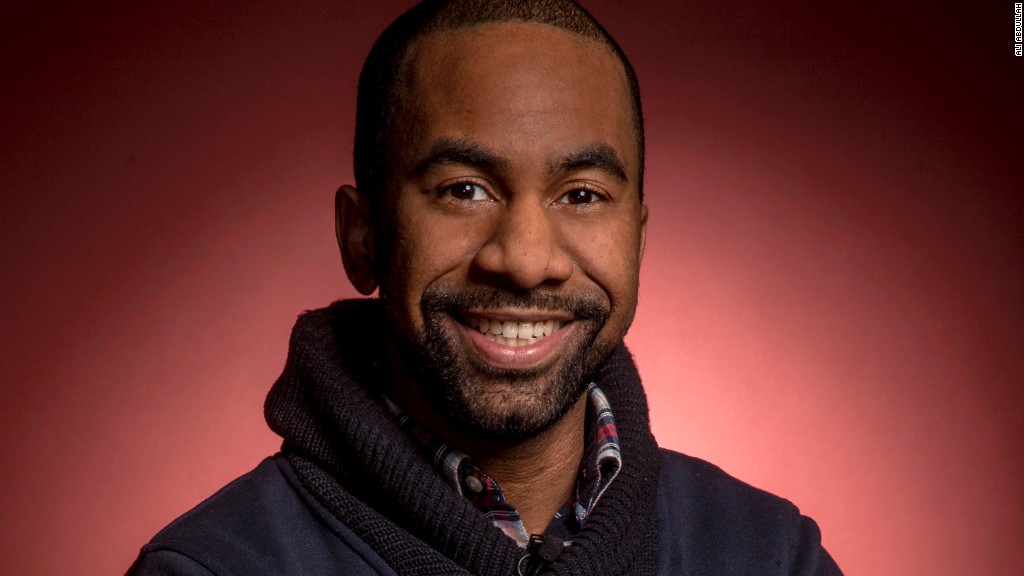 Stephanie Land had next to nothing when she checked into a Port Townsend, Washington, homeless shelter with her baby daughter Mia almost nine years ago. Fleeing an abusive relationship, she had no family to turn to, no job and only about $200 to her name.
Over the next several years, Land relied on a system of federal benefits and tax credits, as well as assistance from non-profits and churches to build a new life. The patchwork of programs helped her pay for food, rent, child care, health care and eventually tuition -- when she decided to pursue a bachelor's degree at the University of Montana.
"Without these programs," Land said, "I would have probably lost custody of my daughter or would have been forced to live in a car somewhere."
Related: CNNMoney readers save man from homelessness
A few months after checking into the homeless shelter, Land began taking online college courses. She paid for the courses using Pell Grants, student loans and the Women's Independence Scholarship, which offers scholarships to survivors of domestic violence.
A couple of years later, she and her daughter moved into low-income housing in Missoula, Montana, where the University of Montana's creative writing community seemed like a dream. But first, she had to take a year off school to establish residency so she could qualify for the cheaper in-state tuition.
To get by, Land cleaned houses. Her pay started at $8 an hour and gradually she earned a little more. "It is unaffordable to work for minimum wage. I spent so much time working for so little," she said.
After paying for cleaning supplies and transportation to clients' houses, Land would bring home $300 to $400 a month. She also had about $1,000 a month from her student loans. About $875 of that went toward rent for the two-bedroom apartment she and her daughter had moved into. Her other expenses -- Internet, car insurance, cell phone service, gas and credit card debts -- ate up much of the rest.
"We really didn't have money for food at all," Land said. So she turned to food stamps and the Special Supplemental Nutrition Program for Women, Infants and Children, known as WIC, to help buy the groceries each month.
For her, it was one of the most humiliating parts of being in poverty. "Everyone on welfare says buying groceries is horrible," Land said. "You're always being watched."
The WIC checks she used were large and obvious so she often bought groceries late at night. "Even the cashier would grumble, and hated doing a WIC checkout," she said.
Related: From shelter to startup: One Egyptian immigrant's success story
The checkout process took much longer, leaving many disgruntled customers waiting behind her. "You're welcome," she recalled more than one customer snarling at her, as though they had personally paid for her family's groceries.
The cost of childcare -- at $650 a month -- would have easily eclipsed her entire budget, but grants from the Child Care and Development Fund helped cushion the blow.
At times, she said, "it got really, really bad." Desperate for even the smallest amount of aid to help pay a heating bill, she'd call every number she could. "You get really good at scrambling, relentless at finding programs."
Even an unexpected bill for $10 could send her "over the edge," she said.
So could taking a heavy course load at school.
Related: Once a boy from the Bronx, he now creates supersonic passenger planes
At one point, Land was taking a fairly full load of 15 credit hours per semester and her work hours dropped below the 20 hours per week required to qualify for food stamps.
"I lost my food benefits when I desperately needed them," she said. "You make progress and then get pushed back, as though you are being put 'in your place.'"
She felt the system made it nearly impossible to transition off welfare. Once one advanced toward the cusp of the poverty line, "you could gain $100 in income, and lose $500 in grants."
This, she said, is where the perception of welfare recipients being lazy comes from. Leaders from across the political spectrum have also acknowledged this stigma, including President Obama, who said in a 2011 town hall, "I've seen it, where people weren't encouraged to work, weren't encouraged to upgrade their skills, were just getting a check, and over time their motivation started to diminish."
Land said she wished her school credit hours could have been put toward welfare's work requirement so that she could have still "earned" her benefits. In her eyes, getting a college education was helping her to become self-sufficient.
After six years of classes and struggling to get by, Land finally graduated with a bachelor's degree in English in 2014. Her second daughter was born a month later. And she started writing. Her articles and essays have since appeared in the New York Times, the Washington Post, The Guardian and several other publications. Last year, an article she wrote for Vox about her time cleaning houses went viral. It later resulted in a book deal with Hachette Books.
The money she has earned enabled her to stop relying food stamps. At the time, she posted on Facebook: "I did it, guys. I wrote my way out of poverty."
Land now brings in a steady income as a writer and can support herself and her children independently. She recently got married for the first time. And, she said, she and her husband are now looking to buy a home.