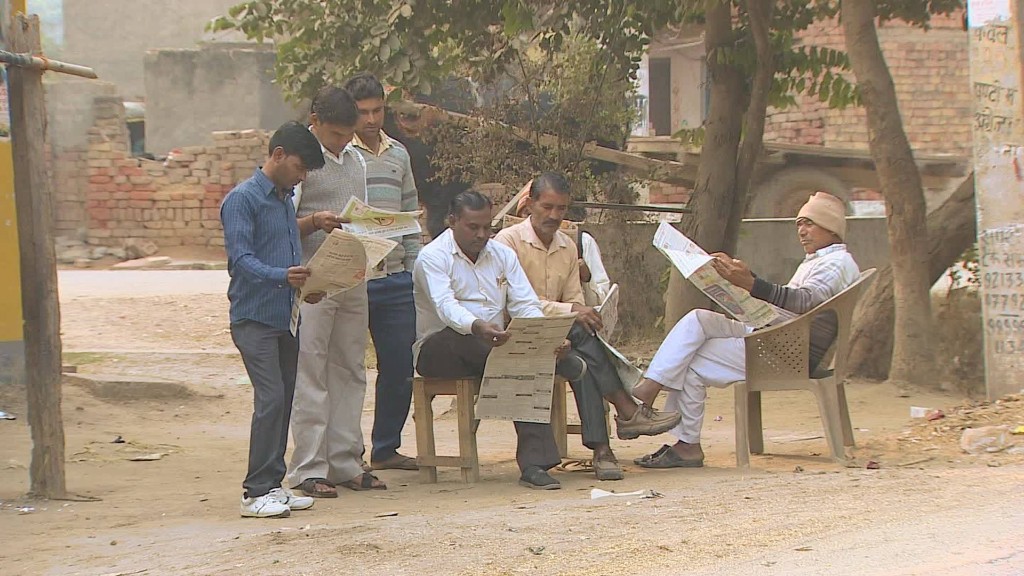 Newspapers and magazines are selling fewer copies the world over. Not in India.
Circulation increased by more than 23 million copies a day between 2006 and 2016, according to a new report from India's Audit Bureau of Circulation. That's average growth of nearly 5% per year.
The bureau cited growing literacy and education, India's overachieving economy and more local content as reasons for the print boom.
Related: New York Times has record subscriber growth -- and some bad news too
"India is one of the brightest spots [for] print media," the bureau said.
To back up its claim, the bureau cited data from the World Association of Newspapers and News Publishers that show India's paid newspaper circulation grew 32% between 2013 and 2015.
Meanwhile, circulation fell in major Western nations including the U.S. (-3%), France (-6%), Germany (-9%) and the U.K. (-12%).
India is likely helped by the fact that it has more paid publications (7,871) than all those countries combined, with most being published in one of its dozens of regional languages.
Only one English language newspaper -- the Times of India -- ranks among the country's top 10 by sales.
Growth in print media comes even as the Indian government and companies such as Google and Facebook try to bring more of the country's 1.3 billion people onto the internet.
Related: Warren Buffett says India has 'incredible' potential
More readers also means more revenue for publishers. Indian print publications are forecast to pull in advertising revenue worth almost 300 billion rupees ($4.5 billion) by 2021, up from an estimated 200 billion rupees ($3.1 billion) in 2016.
By then, according to the bureau's forecast, India's print media industry will be worth around $6.7 billion.