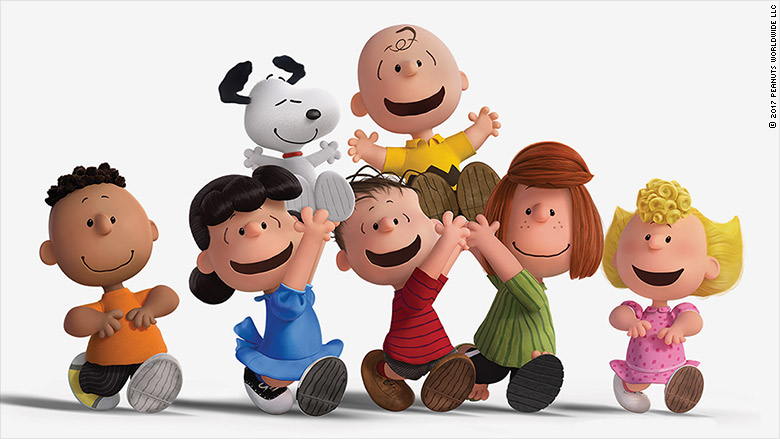 Good grief: "Peanuts" is going Canadian.
A Nova Scotia company behind the children's shows "Yo Gabba Gabba!", "Teletubbies" and "Inspector Gadget" is buying a controlling interest in the cherished American cartoon brand starring Charlie Brown and Snoopy.
DHX Media (DHXM) will pay $345 million for an 80% stake in the "Peanuts" gang, plus all of the Strawberry Shortcake brand.
The seller is Iconix Brand Group (ICON), a New York brand management company. It bought the 80% stake from the family of "Peanuts" creator Charles M. Schulz for $175 million in 2010.
The Schulz family is holding on to its 20% stake. Schulz, who had drawn the "Peanuts" comic strip since its inception in 1950, died in 2000.
Charlie Brown, of course, became famous for his yellow zig-zag shirt and beloved for his angst-ridden outlook on life, exacerbated by Lucy van Pelt's endlessly badgering him into kicking a football, then pulling it away.
Related: MetLife dumps Snoopy, but "Peanuts" still has hundreds of licensing relationships.
The strip branched into television in 1965 with the annual "A Charlie Brown Christmas," followed by other holiday specials, like "It's the Great Pumpkin, Charlie Brown" and "A Charlie Brown Thanksgiving."
The "Peanuts" brand was considered cutting-edge for focusing on the anxieties of childhood, rather than ignoring them, and for keeping adults out of the picture for the most part.
Its staying power is undeniable. "The Peanuts Movie," released in 2015, cost $99 million to make and made $246 million at the box office, according to Box Office Mojo. The "Peanuts" brand has hundreds of licensing agreements in about 100 countries.
DHX said the deal is expected to close in June.