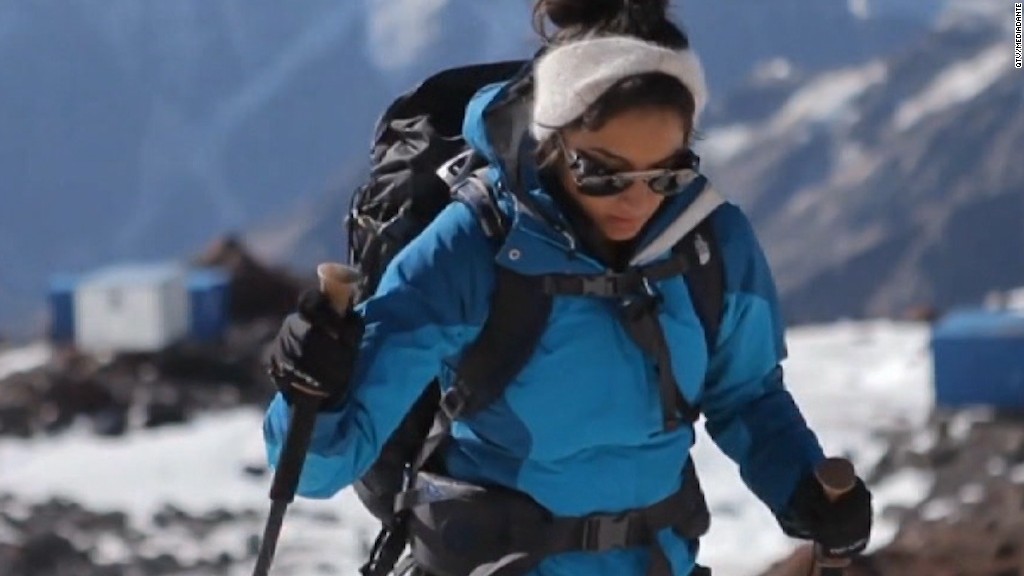 Raha Moharrak has climbed some of the world's highest peaks -- from Aconcagua in Argentina to Kilimanjaro in Tanzania. Four years ago, she became the first Saudi woman to summit Mount Everest.
Now she's focused on another obstacle -- changing laws and stigmas that keep Saudi women from playing sports.
She's on a mission to raise awareness, speaking at schools and even addressing men's forums in Saudi Arabia.
Her approach is health: Moharrak stresses that lack of exercise is correlated with obesity, depression, diabetes, brittle bones, vitamin deficiency and other problems.
"I'm really trying to change this mentality that sports is just for boys, sports is just football and medals and winning," Moharrak, 31, told CNNMoney in an interview. "It's not that. Which parent would not want their child to grow up healthy?"
Related: Saudi Arabia is giving women more freedom as it looks beyond oil
She said many Saudi women suffer from these health problems because they aren't allowed to play sports in public. Sports are widely seen as a diversion that women don't need to partake in, and the immodesty of some uniforms presents a challenge.
Plus, Saudi schools, which are segregated by gender, stop providing physical education to girls before they reach middle school. Only the boys get to exercise in their schools after a certain age.
Moharrak's own journey had plenty of challenges.
She had to persuade her father to allow her to climb, something she said was scarier than the thought of Everest itself. And when she took up climbing, she had to train outside Saudi Arabia because the country outlawed gyms for women. (The government said in February it would start granting licenses for women-only gyms.)
"The reason why I started climbing was because I didn't wanna end up where I was expected to," Moharrak said. "It meant that I did something that was different and I'm pushing mentalities. You won't get criticized if you fit in the mold. You only get criticized when you're different."
Related: U.S. women's soccer team gets a raise in new labor deal
Her father eventually came around, and has funded most of her expeditions. Climbing is an expensive hobby, and Moharrak is well aware that it would've been harder for her to confront societal norms if she were less privileged. That's why she feels compelled to get others to push barriers.
It won't be easy. Besides barriers to playing sports, Saudi women can't drive or vote, and they're not allowed to study, travel, work or marry without a man's permission.
Human Rights Watch hopes to pressure repressive countries to go further toward gender equality -- especially countries that want to host the Olympics or the World Cup one day, and need to make a good impression.
Minky Worden, the director of global initiatives at HRW, says she's using sports to advance human rights.
"Sports aren't steps of the devil," Worden said. "Sports are steps to health, success, leadership, economic opportunity."
Related: She gets paid to talk to college athletes about sexual assault and manhood
She gave the example of Qatar, which, in a bid to host international tournaments, scaled up its sports for women and girls. Qatar will host the 2022 World Cup.
By contrast, when Saudi Arabia bid in 2015 to host future Olympics, it proposed having men compete in Saudi Arabia and women compete in Bahrain. The International Olympic Committee refused the gender-segregated Olympics proposal.
In 2012, Saudi Arabia sent two women to the Olympics. It sent four in 2016.
Worden said banning women from sports amounts to leaving money on the table for entire industries. Fitness centers and athletic apparel for women are big business. As are ticket sales -- women in Saudi Arabia can't enter stadiums or buy tickets.
But for a country to develop a sports infrastructure for women, they have to be exposed to sports as girls, she said.
You can't just "tap someone on the shoulder and say, 'You're the runner,'" she said.