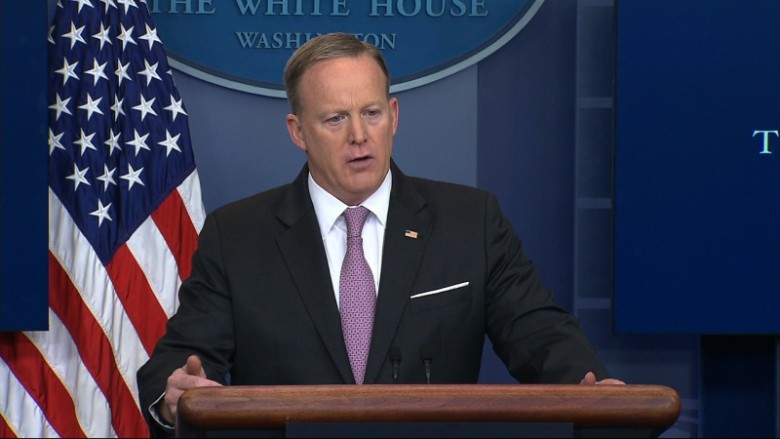 President Trump is threatening to cancel the White House press briefing and seems reluctant to commit to keeping Sean Spicer as White House press secretary.
In an interview with Fox News's Jeanine Pirro on Friday, the president complained about hostility and unfair treatment at the hands of the media, suggesting for the second time in one day that he might just cancel the daily briefing -- and adding that he might instead hold biweekly briefings himself.
Related: Trump tweets 'best thing' would be to cancel future press briefings
"Are you moving so quickly that your communications dept can't keep up with you?," Pirro asked the president.
"Yes that's true," Trump said.
"So what do we do about that?"
"We don't have press conferences," the president said. "We just don't have them. Unless I have them every two weeks and do it myself. We don't have them."
"I think it's a good idea," he continued. "First of all you have a level of hostility that's incredible and its very unfair."
Trump then defended both deputy White House press secretary Sarah Huckabee Sanders as "a lovely young woman," who had substituted for Spicer during the briefings on Wednesday and Thursday, when he was serving duty with the Navy Reserve, and calling Spicer "a wonderful human being" and "a nice man."
But the president declined to say whether Spicer would continue in his position.
"Is Spicer your press secretary today and tomorrow? Will he be tomorrow?" Pirro asked.
"He's doing a good job but he gets beat up," Trump said.
"Will he be there tomorrow?" Pirro pressed.
"He's been there since the beginning," the president said.
Reached by phone Friday afternoon, Spicer sounded confident about his position.
"The President reiterated his confidence in his press team earlier today," he told CNNMoney.
As in Friday's briefing, Spicer refused to commit when asked if the White House would keep the daily briefing.
On Friday morning, the President had tweeted, "Maybe the best thing to do would be to cancel all future 'press briefings' and hand out written responses for the sake of accuracy???"