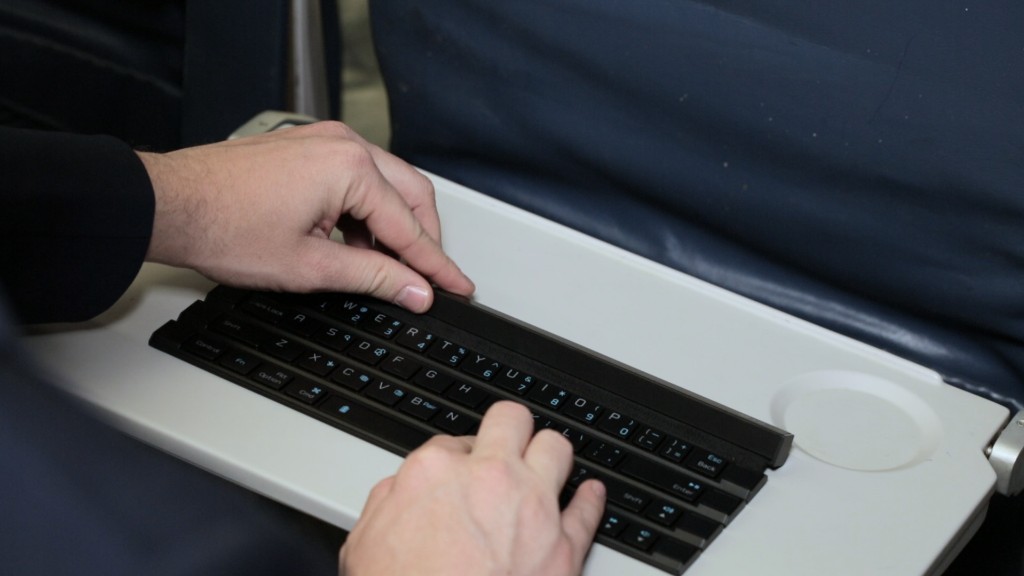 As if tensions weren't running high enough on flights already, soon you may not be able to carry on your laptop to binge watch your favorite series or catch up on work.
The Department of Homeland Security is considering a plan that would prohibit passengers from bringing large electronics into the cabin on flights from Europe to the U.S.
Here's a gadget guide so you can keep working even if your laptop is checked into the hull.
Holder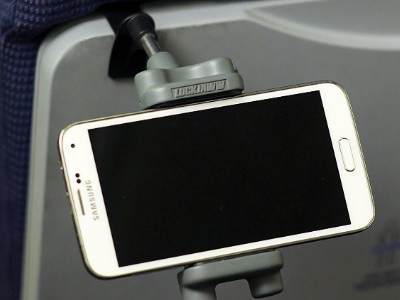 Laptops are great because you don't have to hold them up to work on them. There are plenty of smartphone or tablet stands on the market, but there are also holders to keep your device closer to eye level. A company called "Lockjaww" makes a clamp that holds onto your phone or tablet and latches onto the tray table in front of you. It costs $20 and has a four-star rating on Amazon.
Keyboards
The other major advantage that laptops have over phones and tablets is the keyboard. If you need to work on a document on a flight, you probably won't want to have to rely on typing on a touchscreen. There are inexpensive bluetooth keyboards that connect to pretty much any device, like OMOTON's Ultra-Slim Bluetooth Keyboard, which costs $14 and has a 4.5 star average on Amazon.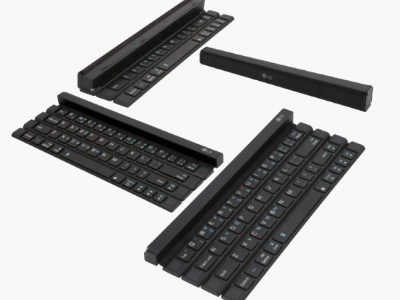 There are also slimmer, but more expensive, options like LG's $34 rollable keyboard. The four rows of keys on the keyboard can literally be folded up, which makes it a fourth of the size and is easier to store in your carry-on. It also has a built-in dock, which you can set your smartphone or tablet into.
Cordless Headphones
If you're setting up a mini work station from your airplane seat, you'll probably want as few cords as possible. So it might be time to splurge on bluetooth headphones like Apple's AirPods ($159) or Bragi's The Headphone ($149). The AirPods' batteries only last five hours, so if you're flying across the Atlantic and want to listen continuously, you'll need a backup pair. Or take a break and stretch while the AirPods charge -- Apple (AAPL) says 15 minutes should give your battery three hours of listening time.
Adapter
Apple famously got rid of the headphone port on the iPhone 7, and nowhere is this more aggravating than on long-haul lights. It means you can't charge your phone and have headphones plugged in at the same time. So if you don't have wireless earbuds and want to turn your phone into your workstation, you need to get a splitter.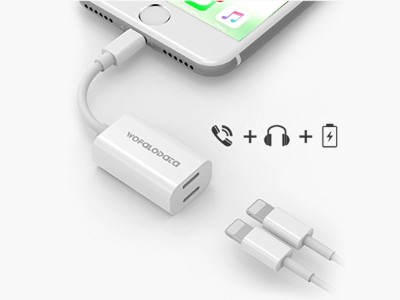 There are a lot of options out there, but be careful because many have very poor reviews. Wofalodata makes a dual lightning adapter for iPhone 7/7 Plus, which costs $29 and has a four-star average on Amazon.
Battery
All of this will be useless if your phone or tablet dies. Since many economy seats still don't have a USB port, consider investing in a solid portable battery charger. "mAh" (milliamp hour) is how most of these label how long the battery should last. A battery with 2000 mAh should power a device using 100 mAh for 20 hours. The Anker brand is consistently among the highest rated on Amazon. They start at $23 and promise to charge an iPhone 6 for 3.8 charges.