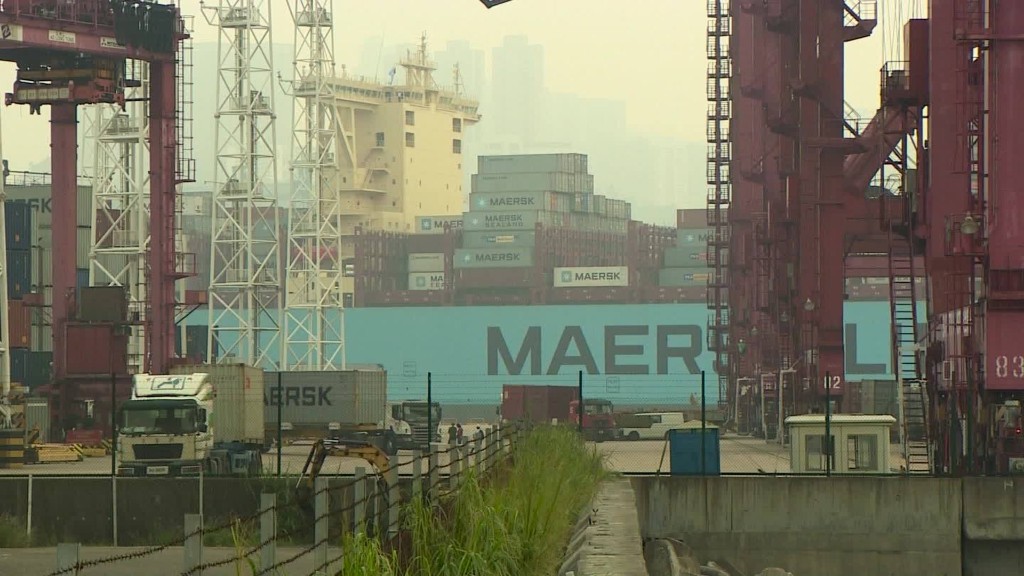 There's a chill in the air between China and its fastest growing regional rival.
Representatives from dozens of countries -- including 30 heads of state -- gathered in Beijing on Sunday for a lavish summit to discuss China's trillion-dollar global trade and investment initiative, known as One Belt, One Road.
India, however, was conspicuous by its absence.
The South Asian nation -- the world's fastest growing major economy and Asia's third biggest -- chose not to attend the gathering, where China laid out its plan to connect nearly 70 countries through a series of global trade pacts, inspired by the ancient Silk Road trading route.
Related: Just what is this One Belt, One Road thing anyway?
India's main objection is the partnership China is developing with Pakistan. The China-Pakistan Economic Corridor, a key component of One Belt, One Road -- passes through the disputed region of Kashmir, which both India and Pakistan claim in its entirety.
"No country can accept a project that ignores its core concerns on sovereignty and territorial integrity," India's foreign ministry said in a statement Saturday.
The foreign ministry also cited concerns about the "unsustainable debt burden" China's partner countries along the route would have to bear.
"We have been urging China to engage in a meaningful dialogue," the Indian statement said. "We are awaiting a positive response from the Chinese side."
In an opinion piece published Sunday, China's state-run Global Times said it was "regrettable" that India had decided to boycott the event but the project would go ahead, with or without New Delhi's support.
It pointed out that China and Pakistan signed new deals worth $500 million over the weekend, while Nepal -- sandwiched between India and China -- has also formally joined the Belt and Road initiative.
Related: China's Xi positions himself as free trade and climate champion
Despite staying away from the Beijing showcase, India is involved in the Belt and Road initiative.
Outside China, it is the largest stakeholder in the Beijing-led Asian Infrastructure Investment Bank and a founding member of the New Development Bank. Both are major funding sources for the new trade route.
It also participates directly via an agreement called the Bangladesh-China-India-Myanmar economic corridor.
"It wasn't a very wise decision to boycott [the forum]," said Swaran Singh, an expert on India-China relations at New Delhi's Jawaharlal Nehru University.
Singh described the quarrel over Pakistan as "a fuss" that would only benefit Beijing and Islamabad.
"I'm not saying the prime minister should have gone, but we are stakeholders, we are partners...so we should have had some presence," he added.
India has some cards to play. India's booming economy and its increasingly affluent middle class of more than 300 million people provide it with growing regional clout.
Related: China joins race for booming Indian car market
"Both in terms of political endorsement and economic viability, India [attending the event] would have really benefited the Chinese," Singh said. "That's why they tried really hard to get us on board."
Before this weekend's summit, China's Ambassador to India Luo Zhaohui tried to reassure New Delhi that the initiative was only about economics. Beijing would not get involved in disputes India and Pakistan, he said.
Related: China has a grand plan to dominate world trade
The dispute is unlikely to hamper the two countries' existing economic cooperation. China is India's largest trading partner, and some of the biggest Chinese firms including Alibaba (BABA), Xiaomi and Oppo have a huge presence in the country -- either as investors or through their own operations.
For now, China is playing it cool when it comes to India's role in the Belt and Road initiative.
"The role is still available if India changes its mind," the Global Times concluded, "but it may only be a small role if it is left too late."