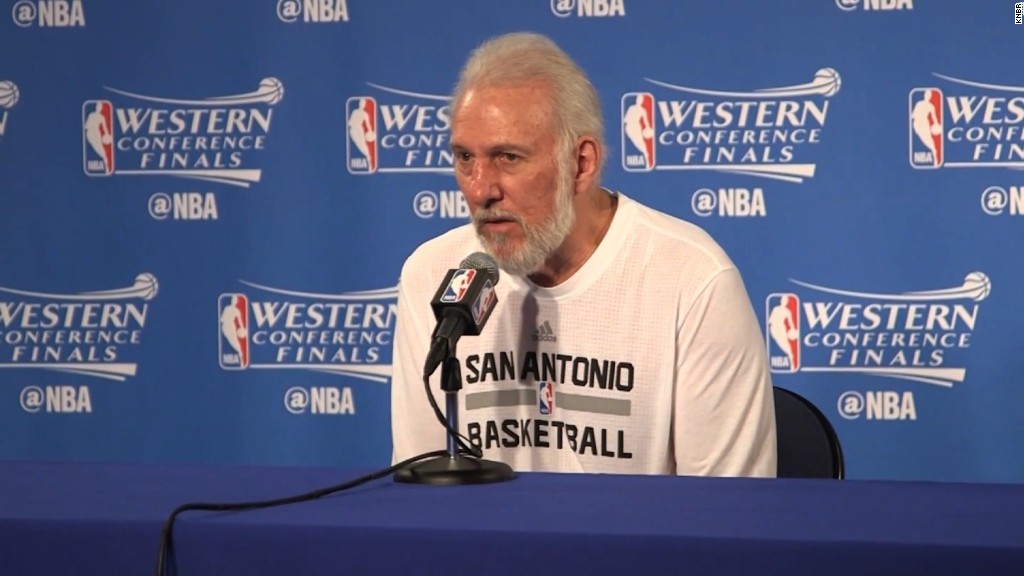 Gregg Popovich is only the latest NBA coach to come out against President Trump.
The San Antonio Spurs coach, normally averse to answering reporters' questions, had no trouble this weekend opening up about the president. He called Trump "embarrassing" and a danger to American institutions, and said he was behaving like a self-centered game show contestant.
He is at least the third NBA coach to speak out against Trump and his administration's policies since the election.
By contrast, almost every manager in Major League Baseball and coach in the NFL has stayed quiet.
Carolina Panthers coach Ron Rivera told CNNMoney in February that he was concerned by some of Trump's ideas. "This is a multicultural country, and we can't lock people out," he said.
On the other hand, New England Patriots coach Bill Belichick has spoken about his friendship with Trump, and Baltimore Ravens coach John Harbaugh said he thought a border wall should be built between the United States and Mexico.
But NBA coaches have repeatedly spoken out against the president.
On Sunday morning, before the Spurs took on the Golden State Warriors in the playoffs, Popovich spoke to reporters about the upcoming game and his team's win over the Houston Rockets in Game 6 of the previous series.
"It was a very weird night, for many reasons which I don't think any of us can grab on to," Popovich said of the game. "It's like trying to figure out the presidency."
Related: Gregg Popovich just can't stop talking about Donald Trump
Later, Popovich went into greater detail. He never mentioned Trump by name, but the meaning was clear.
"I feel like there's a cloud, a pall over the whole country in a paranoid, surreal sort of way, that's got nothing to do with the Democrats losing the election. It's got to do with the way one individual conducts himself," Popovich said.
He went on: "That's embarrassing. It's dangerous to our institutions and what we all stand for and what we expect the country to be. But for this individual, he's in a game show, and everything that happens begins and ends with him. Not our people or our country. Every time he talks about those things, that's just a ruse. That's just disingenuous, cynical and fake."
Related: Ass or asset? Steph Curry goes after Trump
Popovich has been vocal before in opposition to Trump. After Trump's immigration order banning travel from seven Muslim-majority countries, Popovich said, "It does boggle the mind how somebody can be so thin-skinned. It's all obvious. It's all about him."
He was also blunt in remarks immediately after the election.
"I'm a rich white guy, and I'm sick to my stomach thinking about it," Popovich said. "I can't imagine being a Muslim right now, or a woman, or an African American, a Hispanic, a handicapped person. How disenfranchised they might feel. And for anyone in those groups that voted for him, it's just beyond my comprehension how they ignore all of that."
Golden State Warriors head coach Steve Kerr weighed in after Trump's election win and again after the enactment of the travel ban.
Kerr, whose father was assassinated while serving as the president of the American University of Beirut, said he thought the travel ban was a "horrible" idea.
"I would just say that as someone whose family member was a victim of terrorism," Kerr said. "if we're trying to combat terrorism by banishing people from coming to this country, by really going against the principles of what our country is about and creating fear, it's the wrong way to go about it."
And Detroit Pistons coach Stan Van Gundy delivered a lengthy rant on Trump in November.
"I don't think anybody can deny this guy is openly and brazenly racist and misogynistic and ethnic-centric," he told reporters. "We have just thrown a good part of our population under the bus, and I have problems with thinking that this is where we are as a country."