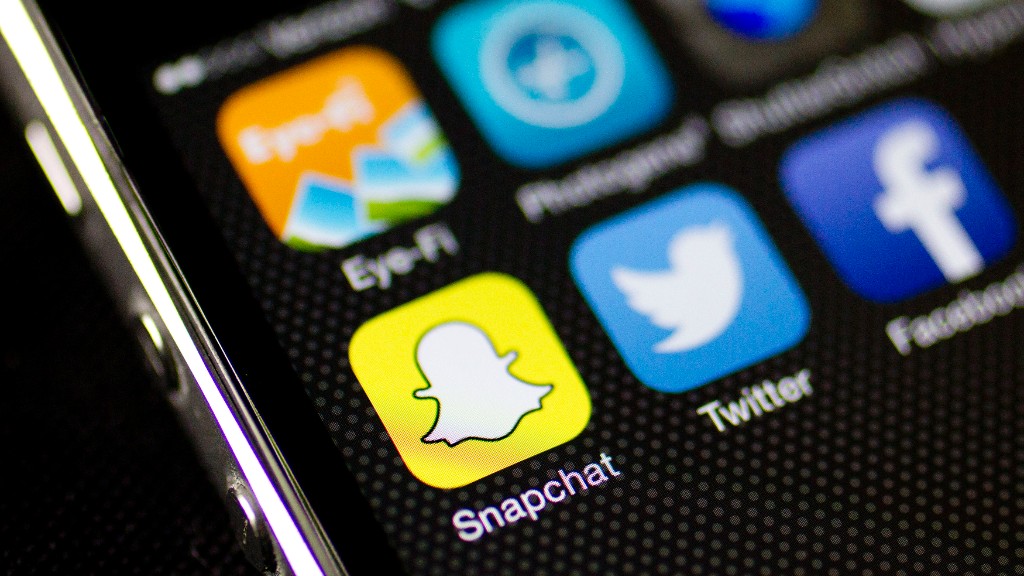 Facebook, which in recent months has copied many of Snapchat's features, is back at it again.
Facebook-owned (FB) Instagram on Tuesday announced several new features, including face filters similar to the ones Snapchat debuted about 19 months ago that turned users into puppies and puking rainbow faces.
Instagram is starting out with eight filters, including furry koala ears and tiaras. Some of the filters -- like Snapchat's -- also work with a second person in the frame.
To use the new face filters on Instagram, swipe into the camera and look for a new face icon in the bottom right-hand corner. Tap to view and try on different filters for your face. Then take a photo, video or Boomerang (Instagram's app that makes short videos that loop back and forth).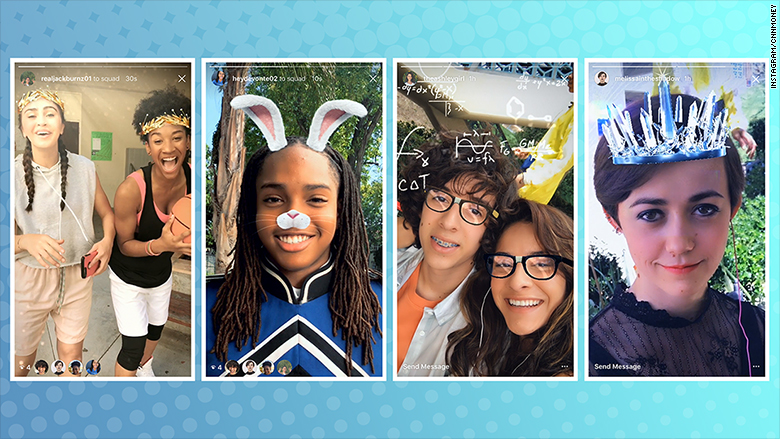 Related: Facebook's transformation into Snapchat is almost complete
Last August, Instagram launched Stories -- a clone of Snapchat's photo and video posts that are shared by users and disappear after 24 hours. The move is potentially hurting Snapchat.
Snapchat added only five million daily active users in the final three months of last year, down from at least 10 million added in each of the previous four quarters. That slowdown coincided with Instagram launching the copycat feature.
In its most recent quarter, Snapchat parent company Snap (SNAP) reported 166 million daily active users, an addition of just eight million from the prior quarter. Last month, Instagram said Stories had more than 200 million daily active users -- or more than the number of daily users for Snapchat in total.
Facebook also introduced a nearly identical Stories feature on its namesake platform in late March, but it hasn't been widely adopted. It now also offers similar features on Messenger and WhatsApp.
On an earnings call with analysts last week, Snap CEO Evan Spiegel finally fired back at Facebook. "If you want to be a creative company, you have got to be comfortable with and basically enjoy the fact that people copy your stuff," Spiegel said.
Related: Snapchat CEO burns Facebook on earnings call
Instagram on Tuesday also revealed a new "rewind" mode that plays a video in reverse -- another feature Snapchat already offers.
"Drop a microphone and watch it fly up into your hand. Capture a fountain in motion and share a rewind of the water floating back up. Experiment with some magic tricks of your own and defy the laws of physics wherever you are," Instagram wrote in a blog post.
The company also added a new hashtag sticker and the ability to make a custom hashtag with simple text. By tapping the hashtag, users can explore related content.
And finally, Instagram unveiled an eraser tool. After taking a photo or video, users can select a drawing tool and tap and hold to fill the entire screen with color. Then, using the eraser brush, they can show parts of the photo or video underneath.
Snapchat revealed its own "magic eraser" feature -- just last week.