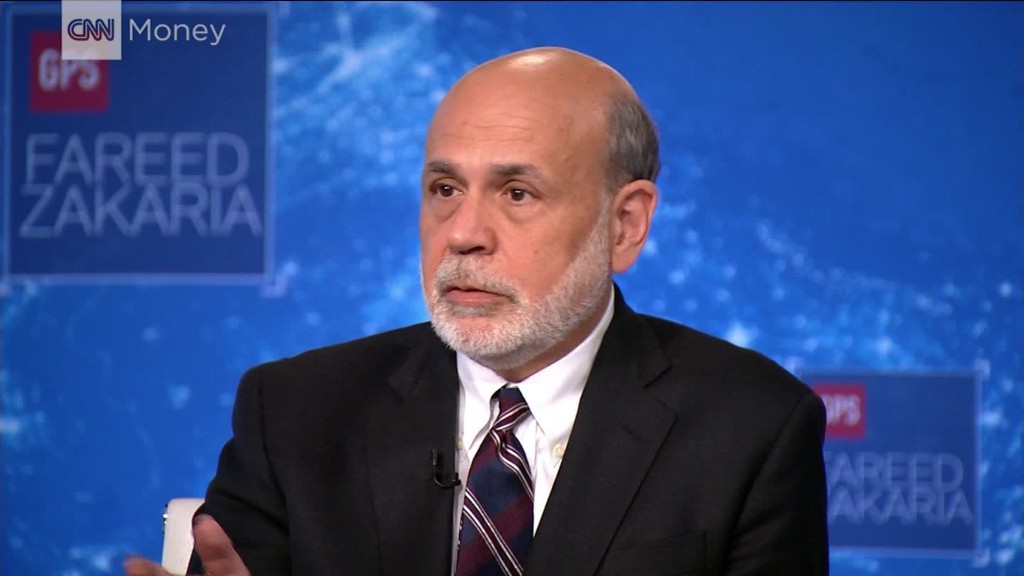 All the drama in Washington is even rattling Ben Bernanke.
The man who played a central role in tackling the 2008 financial crisis was asked on Wednesday if he's worried about the quality or stability of leadership in the White House.
"It's a reasonable concern, obviously," Bernanke said at the SALT Conference in Las Vegas.
The former Federal Reserve chairman said it makes sense that Wall Street is responding negatively to the latest cloud of controversy hovering over the White House.
"One of the reasons the markets are reacting is because there's a lot of uncertainty. Things could break a lot of different ways here," Bernanke said from the hedge fund conference.
The Dow plunged more than 250 points on Wednesday. The selloff came a day after bombshell news that former FBI director James Comey wrote memos indicating President Trump asked him to end the investigation into former national security adviser Michael Flynn.
The selloff on Wall Street follows a period when investors seemed mostly unfazed by signs that Trump's stumbles could doom his agenda of tax cuts that investors want.
"Markets are very blasé about political risk, until the very last moment," Bernanke said.
Related: Wall Street is troubled, but not freaking out about Trump
Bernanke warned that Trump's "low" approval ratings will make it "harder now obviously" for the president to work with Congress, including Republicans.
"The ability of the president to herd his cats is weaker when he's got all these distractions," Bernanke said, adding that he's not counting on "major changes" to the tax code or infrastructure.
There's also Trump's inexperience with politics, characteristics that made him an appealing candidate but complicates the task of governing.
"He's a very unprecedented, unusual person. He's got no government background," Bernanke said. He said some have made comparisons with President Carter, who was less effective because he didn't have the knowledge about how to work the system.
Related: Trump voters want jobs. Not noise about Russia
One of Trump's big decisions in coming months will be whether to replace current Fed chief Janet Yellen.
Trump should reappoint Yellen, Bernanke said, arguing that she's not only highly qualified but has "shown she is independent."
But what if Trump asks Yellen or the next Fed nominee to pledge loyalty to him, as sources told CNN he did with Comey?
Bernanke said Yellen should remind Trump that the Fed's job is to do what's best for the economy over the medium and long-term, not to serve short-term political considerations.
"If (Trump) didn't feel comfortable with that, I wouldn't take the job," Bernanke said.
Part of the Fed's credibility with markets is based on the idea that the central bank is independent of politics.
Bernanke praised Presidents George W. Bush and Barack Obama, the two presidents who nominated him, for not messing with that tradition of Fed independence.
"They were both extraordinarily good about keeping distance. I never had any pressure of any kind," Bernanke said.
He said it served the presidents and the economy well.
"I hope that's the approach President Trump will take," Bernanke said.
Despite all of the political turmoil, Bernanke remains optimistic about the US economy. He pointed to strong job creation, low inflation and healthier household balance sheets.
Even better, Bernanke believes there's better than a 50% chance the recovery from the Great Recession continues for at least two more years, breaking the record for the longest expansion in US history.
"It's the little engine that could," Bernanke said.