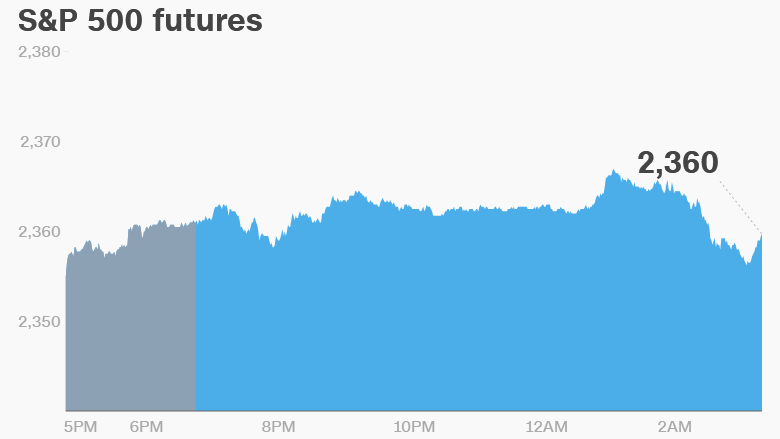 1. Take a deep breath: Investors are taking stock after markets took a big tumble on Wednesday, unnerved by events at the White House.
U.S. stock futures are holding steady right now.
The Dow Jones industrial average and S&P 500 dropped 1.8% and the Nasdaq was down 2.6% on Wednesday, as a series of scandals engulfing the Trump administration prompted investors to hit the sell button.
Trump's presidency has helped lift stocks for months based on expectations that he'll cut taxes and regulations and invest in infrastructure, but investors are starting to question his ability to deliver.
International stock markets remain nervous. All European and Asian indexes are off by about 0.5%. The Nikkei 225 index in Japan was among the worst performers of the day after a 1.3% drop.
Before the Bell newsletter: Key market news. In your inbox. Subscribe now!
2. Stock market movers -- L Brands, Cisco, Pandora: Get ready for some dramatic moves from L Brands (LB) and Cisco Systems (CSCO) when stocks begin trading on Thursday.
Investors are cheering the latest quarterly results from Victoria's Secret-owner L Brands, which came out on Wednesday afternoon.
But they're selling shares in Cisco after the company reported disappointing revenue figures. The tech giant also said it planned to cut an additional 1,100 staff.
Shares in Pandora Media (P) are also rising by about 12% based on reports that Sirius XM is considering bidding for the streaming radio firm. Rumors have been swirling for months that Sirius could acquire Pandora. Sirius declined to comment on the topic.
3. Earnings: Alibaba (BABA), Ralph Lauren (RL) and Walmart (WMT) are releasing earnings before the open on Thursday.
Gap (GPS) and Salesforce.com (CRM) plan to release earnings after the close.
4. Japanese comeback: Japan is enjoying its longest run of economic growth in more than a decade.
The world's third largest economy expanded 2.2% in the first three months of the year, according to official data Thursday, up from 1.4% in the previous quarter.
It's the fifth quarter of growth in a row for Japan, the country's longest winning streak since 2006.
The latest numbers confirm that "the Japanese economy remains on solid footing," said Naohiko Baba, chief Japan economist at Goldman Sachs.
Download CNN MoneyStream for up-to-the-minute market data and news
5. Coming this week:
Thursday -- Walmart (WMT) and Gap (GPS) earnings
Friday -- Foot Locker (FL) earnings