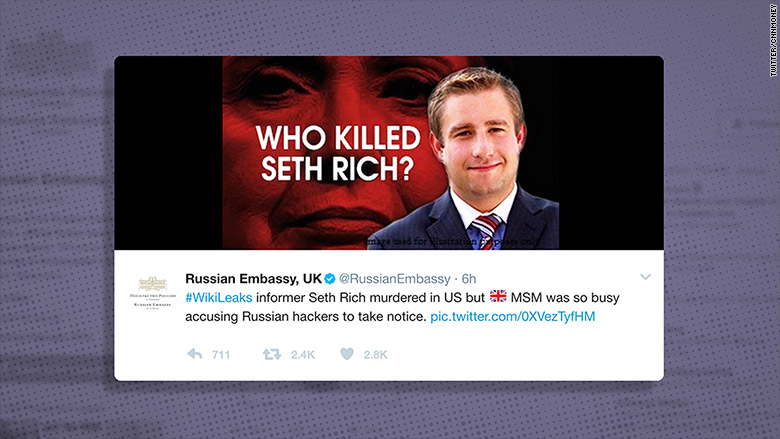 The Russian Embassy in the UK promoted a conspiracy theory about the unsolved murder of Democratic National Committee staffer Seth Rich after Fox News heavily promoted an inaccurate story about the theory, for which there is no real evidence, this week.
In a tweet on Friday that amassed thousands of shares, the Russian Embassy said, without evidence, that Rich was a "Wikileaks informer." The embassy additionally accused mainstream news outlets of ignoring the supposed bombshell story.
Asked for evidence to support its claim, a representative of the Russian Embassy told CNN in an email that the tweet was posted because it "was raised in the British social media."
"That is why," said the representative for the Russian embassy, who did not respond to a follow up question.
This week, both Fox News and a Fox affiliate in Washington, WTTG-TV, published and aired reports, sourced to private investigator Rod Wheeler, that said evidence showed Rich had been in contact with Wikileaks before his death. Wheeler later told CNN he had no such evidence and that he had only heard of some information attributed to him in a FoxNews.com story from a Fox News reporter with whom he spoke.
Related: Story on DNC staffer's murder dominated conservative media -- hours later it fell apart
The FoxNews.com story on the case also cited a "federal source" who said the FBI had conducted a forensic analysis of Rich's computer and discovered thousands of emails with Wikileaks. But a law enforcement official told CNN that the FBI never had possession of Rich's laptop and did not conduct a forensic analysis of its contents.
WTTG-TV later walked back its story, noting that Wheeler conceded he had no evidence Rich was in contact with Wikileaks.
Fox News, however, has still not retracted its story. In fact, prime time host Sean Hannity spent much of the week promoting the theory. A request for comment made to the outlet on Friday was not returned, but Rich family spokesman Brad Bauman had a few choice words for those who continue to promote the story.
"Anyone who continues to push this fake news story after it was so thoroughly debunked is proving to the world they have a transparent political agenda or are a sociopath," he told CNN. "It either case, they should be taken off the air because they are either blind to the damage they are doing to a murder victims family or don't care, showing a profound lack of judgement and common decency."
Related: Family of slain DNC staffer demands retractions from Fox News, local TV station
Washington's Metropolitan Police Department, which continues to investigate the murder, says there is evidence to suggest Rich was the victim of a botched robbery.
But for months, right-wing media outlets have floated unproven theories that Rich was the person who provided Wikileaks thousands of internal DNC emails, and that his death might have been connected with the supposed leak. No real evidence has been provided to support such claims.
On Friday, Joseph Ingrisano, the attorney representing the Rich family, sent a cease and desist letter to Wheeler, saying his comments had caused "severe mental anguish and emotional distress." Wheeler's contract with the Rich family prohibited him from speaking to the media without authorization, the letter said. The letter was first reported by NBC News.
"Your improper and unauthorized statements, many of which are false and have no basis in fact, have also injured the memory and reputation of Seth Rich and have defamed and injured the reputation and standing of the members of the Family," Ingrisano wrote in the cease and desist letter.
Wheeler did not immediately respond to a request for comment.
-- CNN's Shimon Prokupecz contributed reporting.