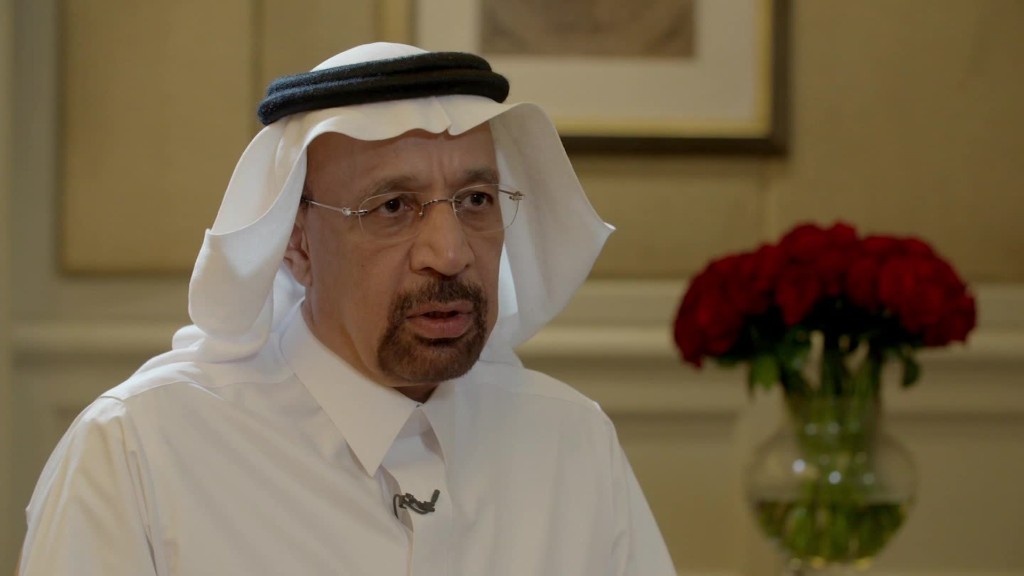 Saudi Arabia and American shale oil companies remain in a battle for global dominance that has sparked a rare bout of financial trouble for the kingdom and forced it to think about life after oil.
Despite that rivalry, Saudi Arabia is deepening its ties with the US with a raft of deals with American energy companies unveiled during President Trump's visit to the OPEC leader.
Saudi Aramco, the country's oil crown jewel, announced $50 billion worth of agreements with nearly a dozen US-based companies, including Schlumberger (SLB), Halliburton (HAL), General Electric, Nabors (NBR) and National Oilwell Varco (NOV).
The deals cover everything from oil rigs and advanced drilling equipment to deploying GE (GE) technology to transform Aramco's operations.
The agreements highlight the complex relationship between the US and Saudi Arabia, two of the world's largest oil producers. Despite being direct competitors, each stand to benefit from the other.
Saudi Arabia still needs to plow money into its aging oil fields to stay competitive, and American companies have the know-how.
"Who best to bring the technology and know-how to become even more competitive than the big American oil names?" said Brian Youngberg, senior energy analyst at Edward Jones.
For American energy companies, it's a lucrative market.
The deals also show that the Middle East country has to continue to invest its resources in oil even though it has a Vision 2030 strategy that promises to diversify the nation's oil-reliant economy. Saudi Arabia has had a difficult domestic situation with dramatic drop in oil prices over the last two years. Budget cuts brought about the end of generous government subsidies and also led to many layoffs.
No wonder, Aramco chose to highlight the employment benefits, with the word "jobs" appearing 13 times in the press release.
Related: OPEC 'no longer in control' of oil prices
Khalid al-Falih, Saudi Arabia's Minister of Energy, insists these new agreements are more than just window-dressing aimed at pleasing Trump during his tour of the Middle East.
"These are real transactions," Falih told CNNMoney's John Deterios on Sunday. "Our credibility is our most important asset. We will not compromise it by announcing something we are not certain will take place."
Saudi Arabia also inked major agreements with US defense contractors like Lockheed Martin (LMT) and Raytheon (RTN).
Falih explained that the announcements, which were "catalyzed" by Trump's visit, show that the US and Saudi Arabia "enjoy a very strong relationship" that has been bolstered by Trump's efforts to combat terrorism.
Asked about the scandals rocking the Trump administration, Falih declined to comment on "internal American politics." He said simply, "We have confidence that the US political system ultimately will do the right thing for the country."
Aramco is also "seriously" considering an expansion of its Motiva division in the US, the oil giant's CEO told Reuters over the weekend. Aramco, which is planning a massive IPO to raise funds to help diversify Saudi Arabia's economy, recently took full ownership of America's largest refinery at Port Arthur, Texas.
Related: Defense stocks at record highs on Trump-Saudi deal
Of course, Trump's visit to Riyadh came just days before a pivotal OPEC meeting in Vienna where the Saudi-led cartel is searching for a way to stabilize oversupplied oil markets.
The problem for OPEC? America. OPEC's two-year price war failed to kill US shale producers that helped create an epic supply glut.
Resilient US shale producers, especially in the Permian Basin, have lately been pumping away. The US oil is threatening to offset painful supply cuts taken late last year by Saudi Arabia, Russia and others. OPEC is now being forced to consider an extension of those production cuts.
But if Saudi Arabia can't beat the technology of US shale companies, maybe it can join them.
Youngberg said the energy deals with US companies show how the Saudis want to apply lessons learned from the shale boom to their own operations.
"Look at what has happened in the Permian. It's gone from a traditional oilfield to a booming fracking field," Youngberg said.