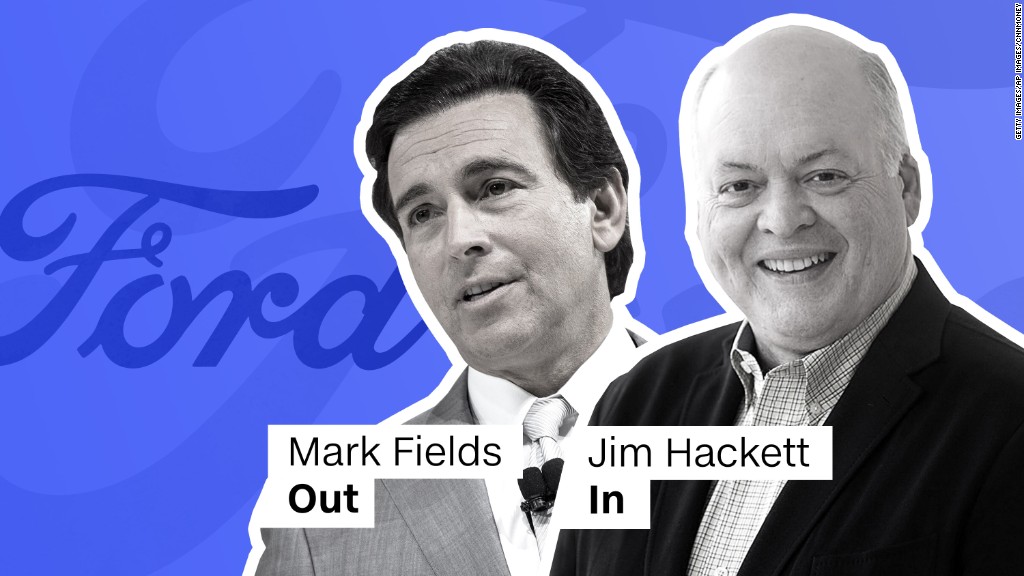 For automakers, competition today is as likely to come from Silicon Valley as it is from Detroit, Japan or Germany.
In a brave new world of self-driving cars and electric vehicles, Ford decided it doesn't want a career auto executive at the helm. So Mark Fields is out.
"This is a time of unprecedented change," said Bill Ford, Ford's chairman and great grandson of the company's founder. "If you look at the technology coming into our industry, the competitors coming into our industry...we really need transformational leadership."
Fields, who as recently as 2015 produced record profits for the iconic automaker, has been replaced as CEO by Jim Hackett. He came to Ford last year to oversee the company's self-driving car efforts.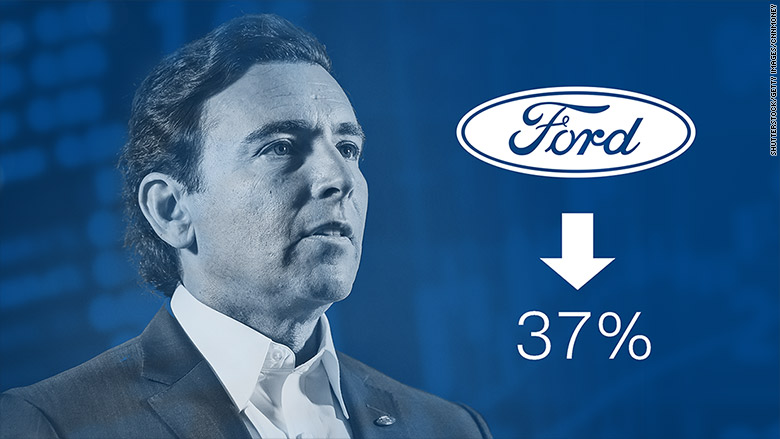 According to Bill Ford, Hackett was picked because he oversaw great change at an another old-line company, Steelcase, which he ran for 25 years.
"Jim took a company that defined itself as a furniture maker, and Jim said, 'No, let's imagine the future of the workplace. Let's imagine how people are going to want to work in the future, and then lets build the company around that.'"
The challenges he faces at Ford are far greater.
Ford has to decide whether ride-hailing apps like Uber mean that Millennials won't buy cars. And it must decide whether the people that do buy cars will want an electric vehicle, or whether low oil prices mean they'll stick with the internal combustion engines pioneered by Henry Ford a century ago.
Related: Auto sales are slowing, and upheaval is next
And of course, the automaker needs to deliver a self-driving car, which Jim Hackett promised to do by 2021 soon after he joined Ford.
Add to that the more traditional list of problems the auto industry faces, such as slowing demand for cars after seven straight years of rising sales, and whether the Trump administration will impose a border tax on vehicles or parts imported from Mexico.
Investors clearly have their doubts as to whether Ford is up for these challenges. Shares are down 37% since Fields succeeded Alan Mulally in 2014, and down 10% so far this year. The market value of both Ford and GM recently fell behind that of upstart electric automaker Telsa (TSLA), which has never posted an annual profit.
And Ford isn't just trailing behind Tesla on electric vehicles. It's also trying to catch up to long-time rival General Motors (GM), which just started selling the electric Chevy Bolt, which can go more than 200 miles on a single charge. And in the realm of self-driving cars, Ford and the rest of the industry are staring down deep-pocketed competitors such as Google (GOOGL) and Apple (AAPL).
While Fields was CEO, he said repeatedly that Ford didn't want to be the first company to offer self-driving cars.
Bill Ford, whose family controls a majority of Ford's voting shares, clearly feels otherwise.
"I don't want to be slow. We need to be quick in everything we do," Ford told CNN's Poppy Harlow on Monday.
Playing catch up has proved to be a significant problem.
Ford said last year it plans to spend about $5.5 billion on research and development on electric and self-driving cars. To free up the cash to do that, the company said earlier this year that it's cutting $3 billion in costs and as many as 1,400 white collar jobs.
Now Hackett has to convince investors that Ford really can change.
"I do think the vision and our role in that future has to be better communicated," Hackett said at a press conference Monday. "I know we can build enthusiasm for Ford."