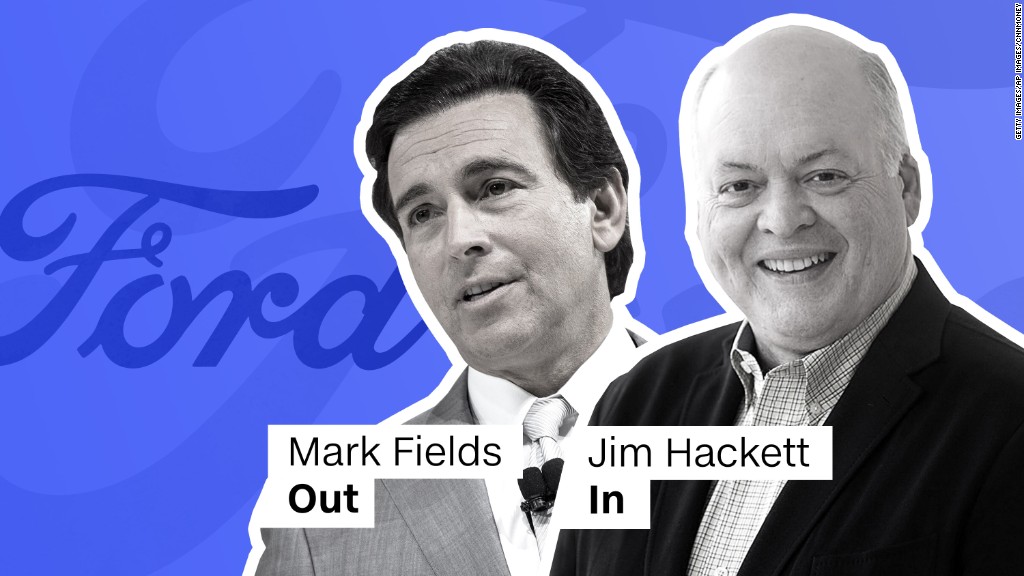 Jim Hackett, the newly crowned CEO of Ford, has a track record that includes self-driving cars, office furniture -- and hiring a college football coach.
Hackett, 62, was named Monday to replace Mark Fields, who was ousted after a three-year tenure. The stock price fell almost 40% with Fields in charge, and Ford fell behind competitors in the race to develop electric and later self-driving cars.
By picking Hackett, Ford could be signaling a desire to catch up. Before his promotion, Hackett was chairman of Ford Smart Mobility, a subsidiary focused on autonomous cars. He has served on the Ford board of directors since 2013.
"This is a time of unprecedented change," Bill Ford Jr., the company's executive chairman and a great-grandson of Henry Ford, told reporters. "Time of great change in my mind requires a transformational leader, and we all have that in Jim."
Before joining Ford (F), Hackett was the chief executive of Steelcase (SCS), a Michigan furniture company, for about two decades. He is credited with restructuring the company, taking it to No. 1 in office furniture, and foreseeing a move away from cubicles and toward open-space offices.
Hackett graduated from the University of Michigan with a finance degree in 1977 and played center for the football team.
Almost three decades later, in October 2014, he returned as interim athletic director and led the search for a new head coach. That coach turned out to be Jim Harbaugh, a former Wolverines quarterback who has led the program to two 10-win seasons.
Hackett told reporters on Monday that companies, like athletes, have to maintain fitness at all times.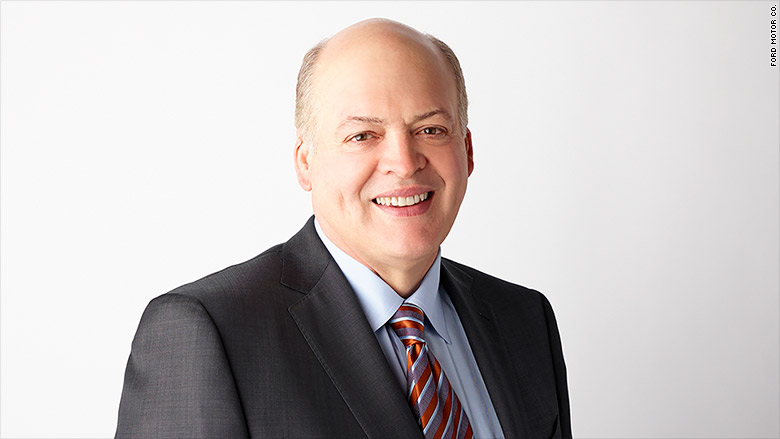 "My old football coach used to say, you either get better or worse -- you don't stay the same," he said.
He also said that solving corporate problems is like a Rubik's Cube "because it's not solving one side, it's solving all sides to the problem."
Related: Ford gets ready to cut jobs
At Steelcase, Hackett oversaw more than 10,000 job cuts in several waves from 2001 to 2009, according to the company. In a speech to the Economic Club of Grand Rapids, he remembered it as a difficult time. He said he gave the best man at his own wedding the news that his job would be cut.
"It was painful so we worked really hard about the ceremony of what we are doing," Hackett said, according to an account in The Grand Rapids Press in 2014. "We had to do it with great care. These were all great people."