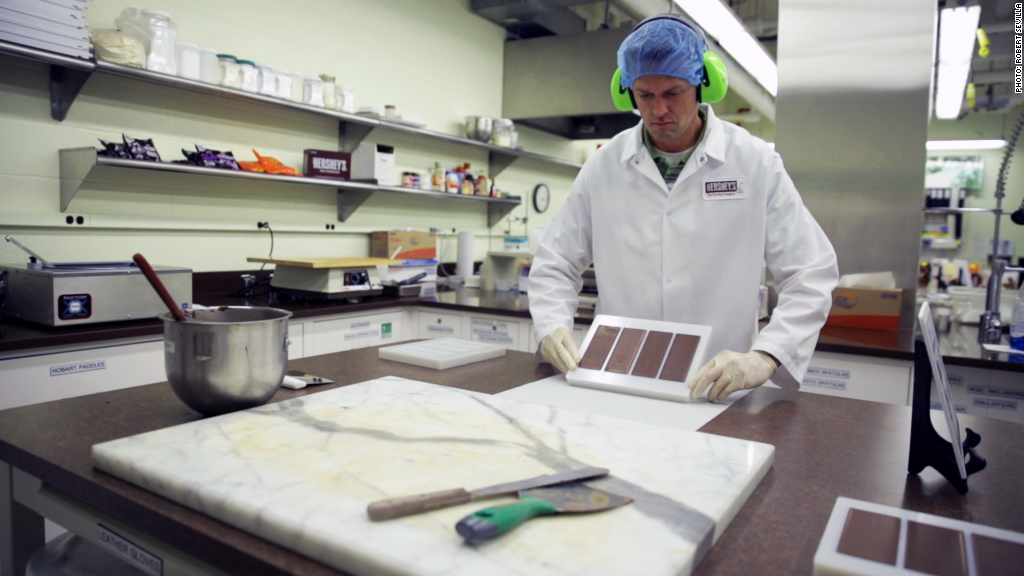 Kinder eggs, welcome to America.
A version of the European chocolate treats -- loved by kids and expats alike -- will launch in the U.S. in January 2018, a spokeswoman for Italian candymaker Ferrero said Monday.
Maybe you're confused because you've already seen them in stores? That's understandable.
Technically, Kinder Surprise eggs are banned in the U.S. by the FDA and the Consumer Product Safety Commission. Surprise eggs consist of a milk chocolate shell with a capsule inside that contains a toy -- but that's considered a choking hazard.
Despite that ban, Kinder Surprise eggs, or knock-offs, are already widely available in the U.S. thanks to a black market.
"Any Kinder product that has been sold in the US up until now was done on an unauthorized basis," the company said in a statement.
The newest Kinder eggs to hit U.S. stores, called Kinder Joy eggs, will be completely legit.
Related: Big Candy pledges to cut calories
These Ferrero eggs, originally launched in 2001, have two individually packaged halves. One contains a toy, and the other has chocolate cream, two crispy wafer balls and a small spoon to scoop it all up.
That configuration clears up any issues with U.S. regulators, Ferrero said.
The company said it sells 3.5 billion of its eggs each year. Kinder Surprise is most popular in Russia, Germany and the U.K., while Kinder Joy sees its best sales in India, China and Korea.
Ferrero, which grew from a family pastry shop into one of the world's largest candymakers, first entered the U.S. with its Tic Tac breath mints in 1969. It followed up with Nutella in 1983, which went on to become hugely popular after a big advertising push.
Now, the company wants to up its U.S. game. Earlier this year, it purchased Chicago-based confectionery Fannie May from 1-800-Flowers. It also plans to roll out Tic Tac gum, which will hit stores in early 2018.
The competition is steep. Mars, Mondelez (MDLZ) and Hershey maintain a tight grip on U.S. buyers, and Lindt has an eye on the premium chocolate market.
Luckily, sales are quite sizable. The U.S. chocolate market is on track to hit $25 billion in 2019, according to a 2015 study by market research group Mintel.