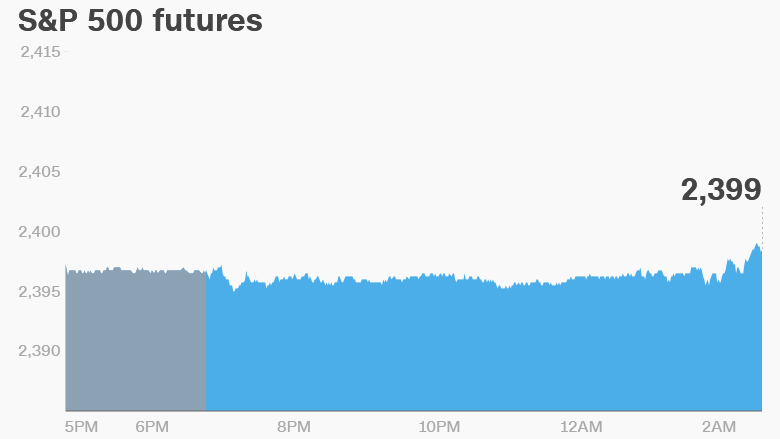 1. China downgrade: Moody's slashed China's credit rating on Wednesday. The problem? Debt.
The credit ratings agency lowered China's debt by one notch to A1, its fifth-highest rating. It was the first such downgrade since 1989.
China's financial health will "erode somewhat over the coming years, with economy-wide debt continuing to rise as potential growth slows," Moody's said in a statement.
2. U.K. terror threat: Britain has raised its threat level to "critical" following a deadly terror attack at an Ariana Grande concert in Manchester. Prime Minister Theresa May warned that another attack "may be imminent."
It's the first time in a decade the U.K. has moved to its highest alert level. Armed members of the military have been deployed around London, a major destination for tourists.
Travel and tourism stocks were mixed despite the change in threat level.
3. Global market overview: U.S. stock futures were higher Wednesday, setting the stage for a fifth consecutive day of gains. A strong performance by the Dow over the past week has nearly erased its 373 point loss from May 17.
The Dow and S&P 500 gained 0.2% on Tuesday, while the Nasdaq added 0.1%.
European markets were mostly lower on Wednesday. Asian markets ended the session higher.
U.S. crude futures were trading 0.3% higher. OPEC will meet Thursday to discuss the extension of production cuts that have helped stabilize prices.
Before the Bell newsletter: Key market news. In your inbox. Subscribe now!
Shares in Intuit (INTU) were up in extended trading after it reported strong third quarter profits on Tuesday. The maker of tax and finance software said it had been boosted by its partnerships with Uber and other "gig economy" companies.
Nintendo (NTDOF) shares have added roughly 34% over the past three months, thanks to strong initial sales of its Switch console. On Wednesday, the stock was trading near multi-year highs.
4. Earnings and economics: Tiffany & Co (TIF) is set to release earnings before the open on Wednesday. The luxury jeweler blamed a sales slump last Christmas at its Fifth Avenue flagship store on the police presence around Trump Tower.
But things are looking up: Tiffany has a new CEO and its stock is glimmering with a 21% pop this year.
Lowe's (LOW) and Advanced Auto Parts (AAP) will also publish results before the open.
Guess (GES), HP Inc. (HPQ) and Williams-Sonoma (WSM) will release earnings after the close.
A report on sales of existing U.S. homes for April is set to be released at 10 a.m. ET.
The minutes from the U.S. Federal Reserve's meeting earlier this month are due at 2 p.m. ET. Wall Street will be combing through the document for evidence that the central bank will raise interest rates next month, a move that is widely expected.
Download CNN MoneyStream for up-to-the-minute market data and news
5. Coming this week:
Wednesday -- Existing home sales numbers; Earnings from Tiffany (TIF)
Thursday -- Oil ministers from OPEC nations meet; Earnings from Abercrombie & Fitch (ANF), Best Buy (BBY) and Costco (COST); Facebook (FB) founder Mark Zuckerberg gives a commencement speech at Harvard
Friday -- Second estimate of first-quarter U.S. GDP