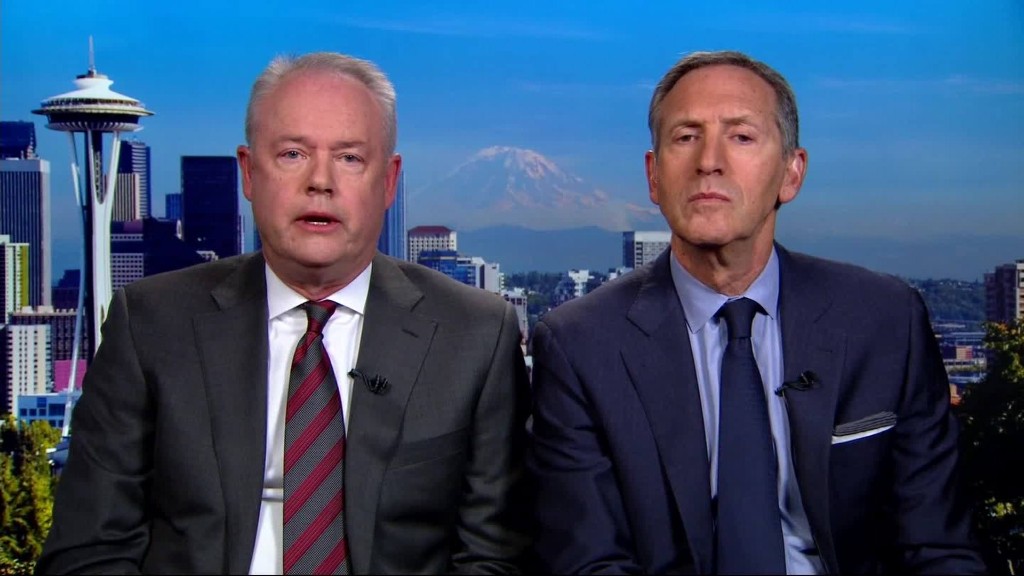 Starbucks executive chairman Howard Schultz says that male executives must be vulnerable to be great leaders.
"We pretend as men not to have a level of sensitivity that's required to understand what's really going on in the company," the former Starbucks CEO said during a luncheon at the Economic Club of New York on Wednesday. "One of the undervalued characteristics of leadership is being vulnerable."
Schultz's reflections came just a month after he ended his wildly successful tenure as Starbucks CEO. His biggest takeaway is that it's crucial to be completely upfront, even when information is difficult or embarrassing to share.
"I think the most important lesson in building our company is to over-communicate," he said, adding men are "conditioned sometimes to not be transparent."
Related: Some Starbucks now have coffee ice cubes -- for 80 cents more
Schultz is credited with transforming the Seattle-based company from a few small shops into a global powerhouse.
It hasn't all been smooth sailing. Schultz explained that the first time he walked away from the CEO spot, back in 2000, he didn't handle the transition the way he should have.
Schultz's leadership style, he said, has always been to try to strike the "fragile balance between profit and conscience" -- rather than to think solely about shareholder value. Schultz said he didn't do enough to ensure the those values were firmly in place when he left in 2000.
By 2008, Starbucks sales were slumping and its reputation had soured. Schultz returned as CEO that year, and has since steered the company back in the right direction.
"We weren't as hungry; we weren't as challenged. We had a self-induced disease, which was hubris. That'll never happen again," he said.
Related: Starbucks to add 240,000 jobs worldwide by 2021
This time, Schultz said, he worked closely with his replacement Kevin Johnson for eight years, and they implemented the succession plan over the course of the past three years. Johnson was promoted from his former post as chief operating officer when Schultz left in April.
Schultz added that it's more important than ever for a company to have strong moral values.
He's been a vocal critic of the Trump administration, and said Wednesday that he thinks America is "going down a path right now in which many, many people are going to be left behind...that means businesses and business leaders are going to need to do more for people."
The country needs "moral transformation," he said.