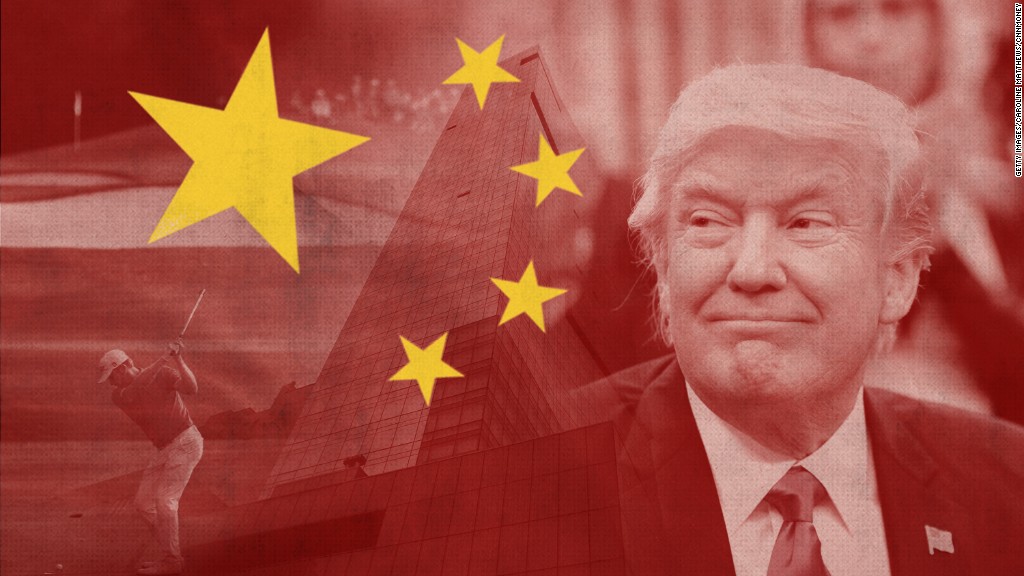 President Trump is set to add another Chinese trademark to his growing collection, this time for apparel.
Preliminary approval for the trademark was granted earlier this month, according to a Chinese trademark document reviewed by CNN. News of the approval was first reported by The New York Times.
China has granted Trump a slew of trademarks since his election victory in November, raising concerns among ethics experts and Democrats, who say they could violate the U.S. Constitution.
Trump's company, the Trump Organization, rejects those claims. It says the approvals are simply the results of the firm's efforts over many years to protect its intellectual property.
Trump declined to sell any of his business interests before taking office, fueling criticism that his company's web of assets and associations around the world could create conflicts of interest.
Related: China grants Trump dozens of new trademarks
The issue attracted attention in November when the Chinese government granted Trump a construction-related trademark. He had been seeking it for years, but it wasn't approved until after he was elected.
Then, in late February, Chinese authorities gave a provisional green light to dozens of Trump trademarks for businesses such as mining, construction and hospitality. His company filed for them in April 2016 in the heat of Trump's campaign for the presidency during which he repeatedly accused China of stealing American jobs through unfair trade practices.
Trump's application for the apparel trademark was filed in June 2016.
Trump already holds 77 officially registered trademarks in China. And he now has a total of 39 that have received preliminary approval.
Ethics experts have said China could be seeking to influence Trump by awarding him the trademarks. And Senator Ben Cardin, a Maryland Democrat, said in March that the approvals could violate the Constitution, which prohibits federal office holders from accepting any "present, emolument, office or title," from a foreign state.
The Chinese government has dismissed those assertions, saying authorities follow the law in reviewing trademark applications.
The Trump Organization did not respond to a request for comment on Wednesday.
Related: Chinese say Trump ties are 'biggest selling point' in Kushner investment
The Chinese trademark documents don't state the business reasons behind the applications, so it's unclear why Trump might have wanted one for apparel.
The Trump Organization website still promotes his Donald J. Trump clothing and accessories line. It emerged last year that most of the ties and some of the suits were made in China.
Related: China OKs trademarks for Ivanka Trump's company on day she met with Xi
The president is not the only member of his family to receive Chinese trademark approvals in recent months.
The company of his daughter and White House adviser, Ivanka Trump, was provisionally granted five trademarks between February and April, for jewelry, spa services and bags.
The company received another one this month that covers wedding dresses. It already holds 16 fully registered trademarks in the country.
Ivanka Trump's company said in April that the new trademarks are part of the normal course of doing business, citing the importance of applying for them in "regions where trademark infringement is rampant."
Ivanka Trump resigned her management role at the clothing and accessories company when she took a job in her father's administration. But she still owns part of the business.
Her lawyer said last month that "Ivanka has had no involvement with trademark applications submitted by the business" since she resigned her post.
--Serenitie Wang, Cristina Alesci and Jill Disis contributed to this report.