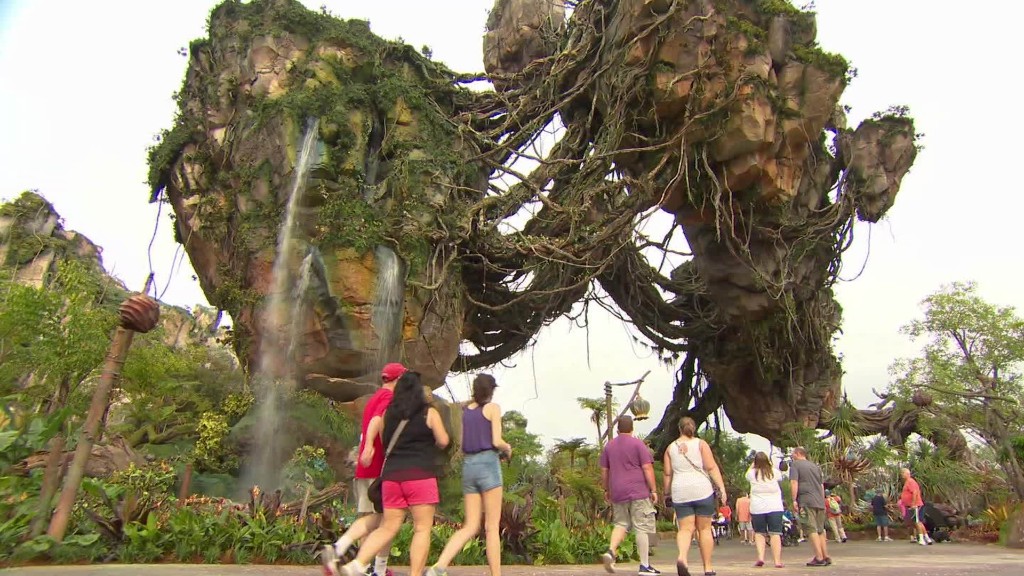 How do you keep a company like Disney relevant? Drop the customers straight into the future.
"Pandora: The World of Avatar," which opens at Disney World's Animal Kingdom in Florida on Saturday, will feature the most advanced ride the company has ever created, Disney CEO Bob Iger told CNNMoney's Christine Romans in an interview at the theme park.
One attraction simulates flying on the back of a mountain banshee -- one of the creatures from James Cameron's 2009 box office hit. Riders can feel the beast breathing underneath them as part of the 3-D experience.
"We found at Disney that technology can be a real friend in keeping the company relevant and reaching more people in ways that feel contemporary to them," Iger said.
That's true for Disney movies -- think of the recent "Beauty and the Beast" update -- as well as its theme parks. The company is developing a "Toy Story" land in Orlando, and a "Star Wars"-themed land for both Disney World and Disneyland. Aspiring Han Solos can fly the Millennium Falcon.
"We're just now doing testing on whether we can take guests into hyperspeed or not and be able to bring them back," Iger said.
Related: Disney seeks patent for a 'humanoid robot' that can play a character
Disney theme park attendance is still growing, Iger said, and security remains a priority. The terrorist attack this week at an Ariana Grande concert in Manchester, England, was only the latest reminder of why.
"It's a difficult, unpredictable world, and we all want to be able to lead our lives as normally as possible," Iger said. "But you have to be mindful of today's realities."
He noted that one victim in Manchester was an 18-year-old woman who loved Marvel superheroes.
"There's nothing more horrifying, more horrible, more difficult to process than the wanton execution of young people -- children, people out there having fun," Iger said.
Iger, who recently extended his contract through July 2019, shrugged off rumors he's weighing a run for president in 2020.
"I haven't made any plans post-Disney," he said.
Related: Bob Iger extends his contract at Disney
Besides, he added, he's been told it's a tough gig.
"I did have a discussion, actually, with President Obama at one point and Mrs. Obama about who had the more fun job," Iger said. "They concluded that I did."