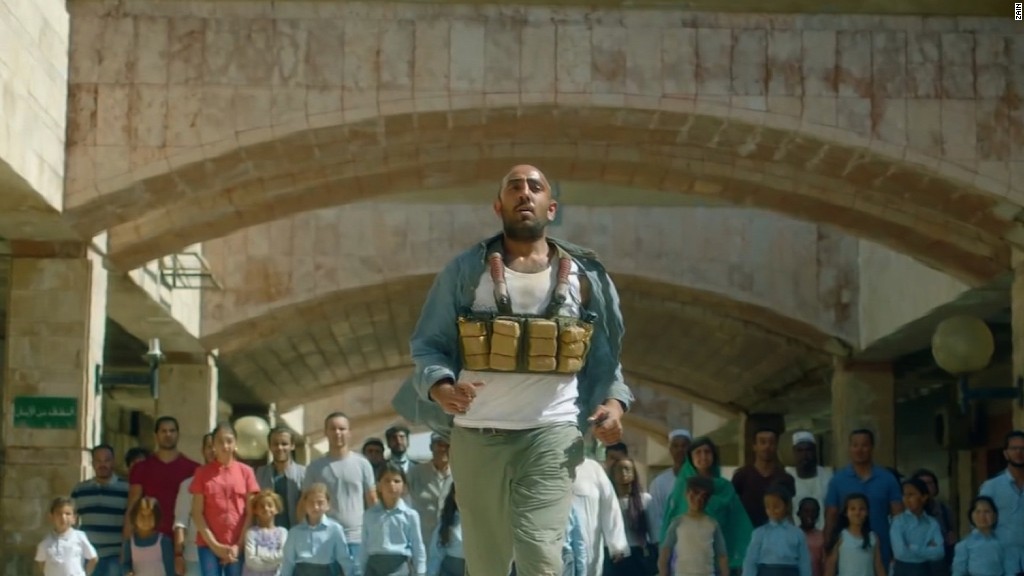 A hard-hitting video advertisement of a suicide bomber being challenged by victims of terrorism has gone viral in the Middle East.
Kuwaiti telecom company Zain launched the TV ad on Saturday at the start of Ramadan, the holiest month in the Muslim calendar, in an effort to counter terrorism.
Since then, the three minute music video has been viewed nearly 2.4 million times on YouTube.
The opening scenes show a man manufacturing a suicide belt, with the voice of a child challenging him.
"You've filled the cemeteries with our children and emptied our school desks," a young girl is heard saying.
Zain, a regional mobile operator with more than 45 million customers, did not respond to requests for comment.
But the message of the company's ad is unmistakeable.
"Worship your God with love, with love not terror," sings Hussain Al Jassmi, an Emirati star famous in the region for singing in a range of Arabic dialects. "Be tender in your faith, gentle not harsh. Confront your enemy, with peace not war."
Ramadan is typically a huge month for TV audiences as families gather to break their dawn-to-dusk fast and watch TV shows together. Advertisers spend a large proportion of their budget during the month.
Related: McDonald's pulls ad about a boy whose father died
Zain has struck a chord before with its creative ads. Its spot last year carrying a message of peace was viewed 13 million times while its Eid holiday ad, which marked the end of Ramadan, had more than 24 million views.
The telecom firm appears to have grabbed most of the attention again this year.
This latest project recreates the aftermath of a bus bombing as the suicide bomber walks through the carnage. He looks at the injured people covered in dust, including a young boy with a bloodied face on an orange chair.
He resembles a young Syrian boy, Omran Daqneesh, whose image went viral after he was rescued from Aleppo last year.
The terrorist recites Islamic phrases but he is corrected by those sitting in front of him.
The ad also features survivors of previous attacks including a man from the blast at a Kuwaiti mosque in 2015 and a bride from an attack on a wedding in Amman, Jordan, in 2005.
The terrorist is chased away by the survivors while singer Al Jassmi extends a hand to him and sings "Let's bomb, let's bomb, let's bomb violence with mercy... let's bomb extremism for a better life."
"What a beautiful ad on counter violence & extremism. Only Kuwait could do this," tweeted a prominent Emirati writer, Sultan Al Qassemi.
A series of deadly attacks in recent days has underlined the global nature of the terrorist threat. Attacks in the U.K. and Egypt left dozens dead, including many children. Both were claimed by ISIS.
Fighting has been raging between Islamic State fighters and government forces in the Philippines this week, and Indonesian police believe suicide attacks last week in Jakarta were also linked to ISIS.