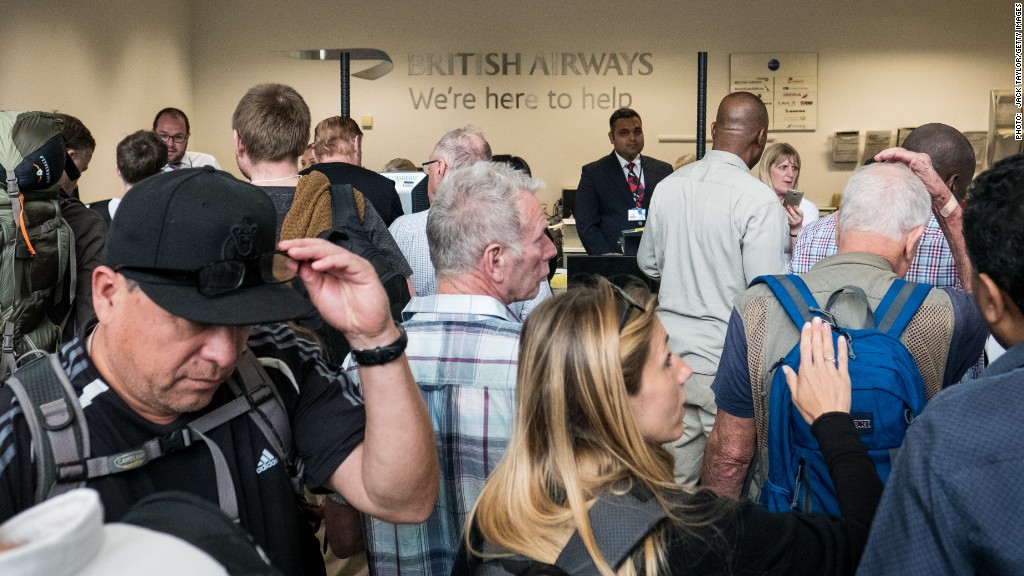 The computer system failure that grounded thousands of British Airways flights over the weekend could cost the airline more than $100 million.
British Airways canceled all Saturday flights from London's two biggest airports following the tech meltdown. The outage was caused by a power surge that affected messaging across the airline's system, and there was no evidence that hackers were to blame, it said.
More flights were scrapped on Sunday and long delays and some cancellations continued well into Monday. BA said 75,000 passengers had been affected.
The cost of compensating passengers, refunds, additional staffing and lost revenue could total between £80 million ($102 million) to £100 million ($138 million), according to Robin Byde, an aviation analyst at Cantor Fitzgerald.
A one day outage costs the company about £30 million ($39 million) in lost revenue alone, said Stephen Furlong, analyst at Davy Research.
"The main cost will be compensations -- depending on how many people claim it, my guess would be it could reach around €50 million ($56 million)," Furlong said.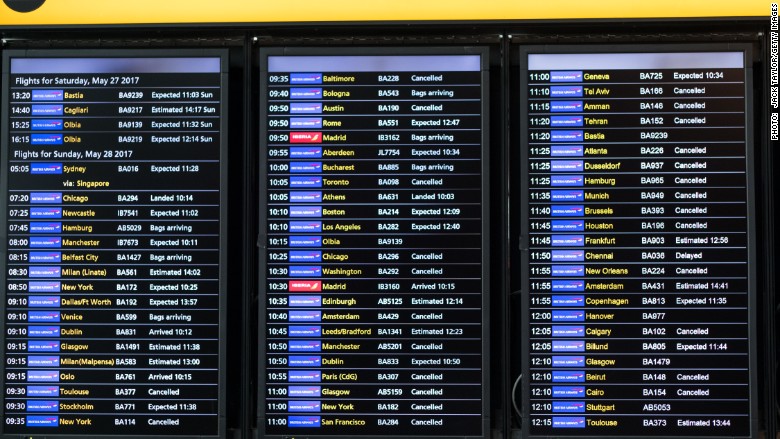 Passengers on flights operated by European airlines to and from countries in the European Union are entitled to compensation of between €250 ($280) and €600 ($670) each, depending on the route.
Most passengers on BA flights canceled over the weekend should be eligible for the compensation.
Related: Buckle your seat belt. You're stuck with your airline.
Shares in British Airways' parent company IAG (BABWF) fell 2.7% on Monday.
Analysts say the outage is unlikely to have a lasting impact on BA's revenue. Furlong said the airline probably lost about £4 million in operating profit a day during the outage. (It made almost £1.5 billion in 2016.)
"This is a PR nightmare and a huge inconvenience for passengers, but the market almost doesn't care about events like this, it's likely it will be treated as one off," Furlong said.
BA is not the only major airline to suffer a major system collapse recently.
"Delta (DAL) and Southwest (LUV) airlines both had similar issues within the last year and while both were very inconvenient for passengers, they didn't have a lasting impact on the stock price," Furlong added.
Delta was hit by a global computer outage that caused days of travel chaos, including about 2,000 flight cancellations last August.
Southwest Airlines canceled more than 1,500 flights following a system failure in July.
-- Sarah Chiplin and Rishi Iyengar contributed reporting.