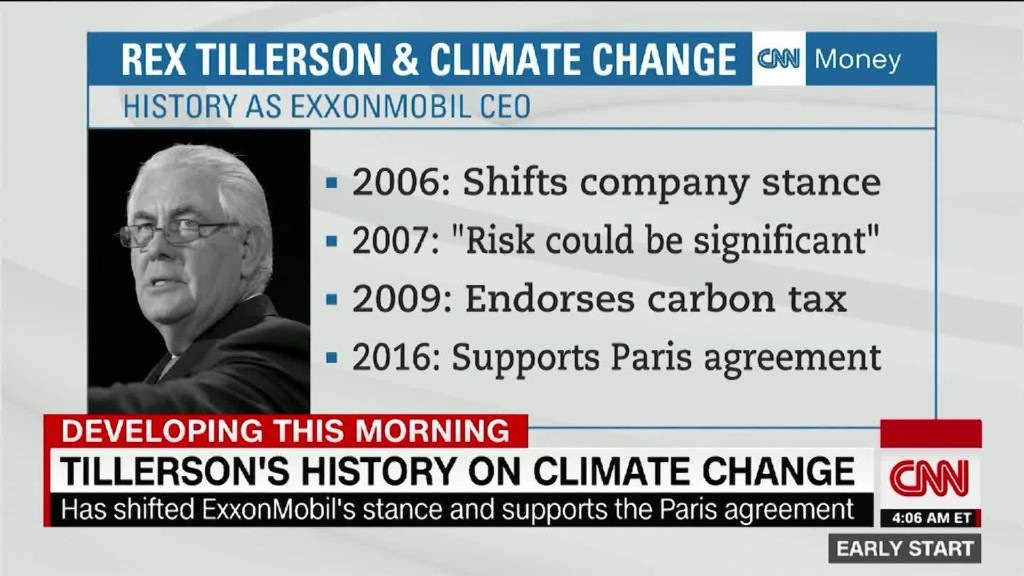 The once-immovable foundations of oil giant ExxonMobil's business model are being challenged by a new world of electric cars, solar energy and crackdowns on carbon emissions.
Yet for all the risks facing Exxon, little is known about how climate change regulation and green technology would impact the fortunes of the world's largest publicly-traded oil company.
That could soon change. A coalition of shareholders controlling more than $10 trillion in assets support a proposal calling on Exxon to stress test its assets for climate risks each year.
Exxon (XOM) is actively opposing the proposal -- the focal point of Wednesday's annual shareholder meeting in Dallas. A record-high 38% of investors backed it last year and in recent days BlackRock (BLK) and other institutional shareholders have signaled they are looking into it.
Investors have momentum on their side. A similar proposal was approved by investors at oil company Occidental Petroleum (OXY) earlier this month and rivals like BP (BP) and ConocoPhillips (COP) already publish comparable reports.
The Exxon vote is seen as ground zero for efforts to get fossil fuel companies to acknowledge the ground is shifting beneath them.
"They have to face reality. The reality is they are operating in a tougher world," Bob Litterman, chairman of the risk committee at Kepos Capital, said during a conference call on Tuesday.
Litterman, former head of risk management at Goldman Sachs, said "shareholders have the right to ask for...honest answers about the impact on these fossil fuel reserves."
Related: Big business wants Trump to stick with Paris accord
"We're not going away," said Patrick Doherty, director of corporate governance for the New York State comptroller, which is one of the largest public investment funds in the world and along with the Church of England has spearheaded the Exxon campaign.
Doherty said his group is "cautiously optimistic" about the Exxon vote, but noted that "the company got a scare last year and has been lobbying very heavily" to get investors to reject the proposal.
The language of the proposal calls on Exxon to "assess the resilience" of its full portfolio of reserves and resources through 2040, including due to lower demand caused by new technology and the Paris climate accord. That landmark 2015 agreement requires nations to limit global average temperature rise to well below 2 degrees Celsius.
President Trump is expected to announce this week whether he will pull the U.S. out of the Paris agreement, seek to renegotiate its terms or stay in the framework. In addition to 194 other countries, the Paris deal is supported by hundreds of major U.S. businesses.
ExxonMobil is among the corporations that has told Trump the U.S. should stay in the Paris agreement, hailing COP21 an "effective framework for addressing the risks of climate change."
Exxon's support for COP21 is linked at least partially to its natural gas business, which should benefit from the agreement's crackdown on coal.
No matter the reason, New York State Comptroller Thomas DiNapoli has said that Exxon's support for the Paris agreement are "empty words unless the company backs them up with action."
DiNapoli also noted that regardless of whether Trump decides to leave the Paris agreement, "countries around the world are moving ahead with policies that will limit greenhouse gas emissions."
Related: Top Trump aide: Coal doesn't make 'much sense'
Of course, climate activists look at Exxon suspiciously because of its own controversial history. The oil giant is being investigated for allegedly misleading the public and investors in the past about what it knew about the dangers of climate change.
Greenpeace launched a campaign this week in Dallas confronting Exxon with billboards, bumper stickers and even a blimp reading "You pay the price for Exxon's greed."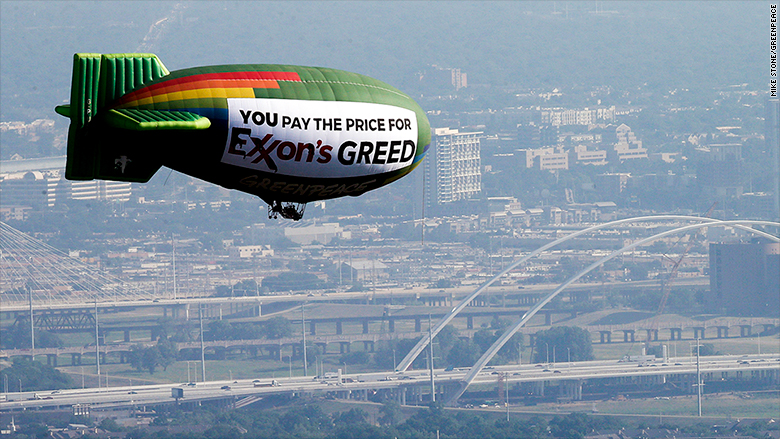 Large institutional shareholders may be the key behind whether the Exxon proposal gets approved.
BlackRock, which owns more than 183 million Exxon shares, said in a statement that "no decision has been made" and "deliberations continue" on the matter.
Fidelity declined to comment on how it will cast its votes. Vanguard did not respond to a request for comment.
For its part, Exxon said in a recent filing that it has a "robust program of engagement" with shareholders that includes meetings, phone calls and webcasts with investors owning about 1 billion shares.
Exxon has told shareholders that it's already taking action on climate change by limiting greenhouse gas emissions in its operations, investing nearly $7 billion in emissions-reduction technology and supporting research to support a transition to lower carbon energy solutions.
Exxon also noted that it publishes an annual energy outlook that incorporates the impact of "increasingly stringent climate policies."
Exxon said it is confident that its "robust planning and investment processes" adequately "address climate-related risks."