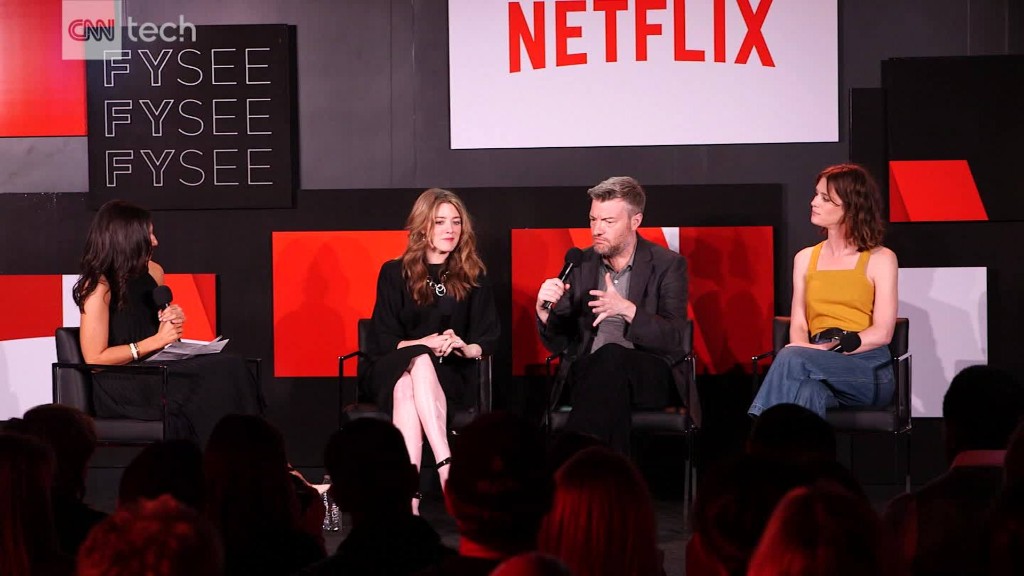 Netflix has too many buzzy, award-winning hits to count. But "House of Cards" is arguably the show that made it a force to be reckoned with in Hollywood.
So it's only fitting that the stock hit another all-time high on Tuesday, just as the fifth season of the political drama started streaming.
I promise no spoilers about the latest exploits of Frank and Claire Underwood -- mainly because I haven't begun Season 5 yet. But I'll avoid plot details from the first four seasons in case there are binge watchers out there starting from the beginning.
Sure, some would argue that truth is stranger than fiction and fewer people might be interested in a crazy soap opera about Washington politics these days.
But the return of "House of Cards" is only the latest good news for Netflix (NFLX). The stock is up more than 30% this year, and the company is now worth more than $70 billion.
Netflix has posted strong subscriber growth in the U.S. and internationally as its big bets on original content have paid off handsomely.
The prison comedy-drama "Orange is the New Black" returns next month. The 1980s sci-fi/horror show "Stranger Things" and the Queen Elizabeth II period piece "The Crown" are huge hits.
Netflix has even built its own Marvel universe, with shows featuring four of the Disney-owned comic book characters.
Related: $1,000 in Netflix stock 15 years ago is worth more than $140K today
All this has helped Netflix attract a loyal, and growing, fan base.
CEO Reed Hastings announced in late April that Netflix has topped 100 million subscribers worldwide. Analysts predict it will have 112 million by the end of this year and 130 million by the end of next year.
Netflix continues to be a leader in streaming media even as fellow FANG stock Amazon (AMZN) has invested heavily in its own star-studded TV shows for Prime subscribers. FANG is the acronym traders use to describe Facebook, Amazon, Netflix and Google.
Google parent Alphabet (GOOGL) also has a big bet on video programming with YouTube. And Facebook (FB) is said to be looking to get into original content as well.
But for now, Wall Street has enough love to go around for all the FANG stocks. Alphabet's stock is up 25% this year, while Amazon, which topped $1,000 a share for the first time Tuesday, and Facebook are each up more than 30%.
Meanwhile, the big media stocks -- Disney (DIS), CBS (CBS), Viacom (VIAB) and CNN owner Time Warner (TWX) -- have lagged the FANG four. (Time Warner is in the process of being acquired by telecom giant AT&T (T).)
So how much higher can Netflix's stock go? Could the company one day pass $100 billion in market value and even make a run at the nearly $200 billion market valuations of Disney and NBCUniversal owner Comcast (CMCSA)?
To quote Frank Underwood -- and Francis Urquhart on the original BBC version -- "You might very well think that. I could not possibly comment."