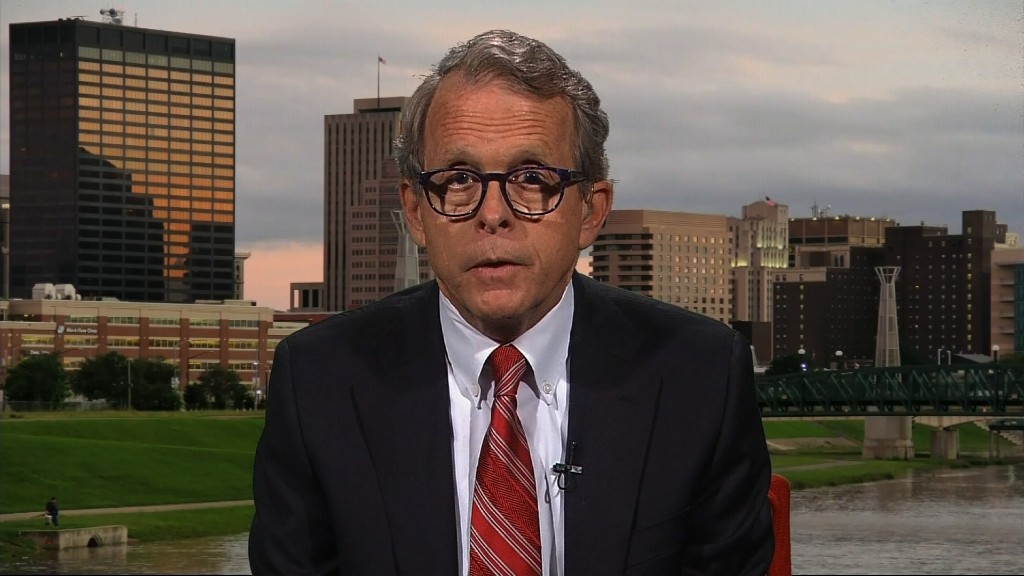 The state of Ohio is suing five drug companies, accusing them of fueling the opioid crisis there by misleading doctors about the risks of addiction.
The lawsuit names Purdue Pharma, the maker of OxyContin, and four other manufacturers of opioids: Teva Pharmaceuticals, Allergan, Endo Health Solutions and Janssen, a subsidiary of Johnson & Johnson (JNJ).
"These drug manufacturers led prescribers to believe that opioids were not addictive, that addiction was an easy thing to overcome, or that addiction could actually be treated by taking even more opioids," Attorney General Mike DeWine said in a statement.
"They knew they were wrong, but they did it anyway -- and they continue to do it," he added.
The lawsuit likens drugmakers to tobacco companies, setting up supposedly impartial outside organizations to conceal the danger of their products.
"And these groups, of course, were promoting the product and saying it's not very addicting," DeWine told CNN's Poppy Harlow and John Berman. "Their sales reps were going out and telling doctors this is really not very addicting."
Janssen dismissed the allegations as unfounded and stressed that its drugs are FDA-approved and carry FDA warnings about risks. A Purdue spokesman told CNNMoney that the company shares DeWine's concerns about the opioid crisis and is committed to working collaboratively to find solutions.
Teva (TEVA) said it was committed to the "appropriate promotion and use of opioid therapies." It also said it would prefer that public officials "devote their resources to addressing the important public health issues relating to opioids rather than litigation."
Allergan (AGN) and Endo (ENDP) declined to comment.
In the CNN interview, DeWine did not rule out suing distributors as well.
Related video: Tiger Woods blames DUI on pain meds
The lawsuit said opioids accounted for $11 billion in drug company revenue in 2014 and described Ohio as the epicenter of the nation's opioid addiction crisis.
"Ohio is now awash in opioids and engulfed in a public health crisis," the lawsuit said. It was filed in Ross County, which DeWine called "likely the hardest hit area in the nation by the opioid epidemic."
According to the lawsuit, opioid prescriptions in Ohio grew from 793 million five years ago to 2.3 million last year. Just last year, overdose deaths in Ohio spiked 36% compared with the year before.
The lawsuit blames opioids for a "resurgence" in the use of heroin. Opioids are often blamed for heroin addiction because both have the same active component, and heroin can be cheaper and more readily available than prescription painkilllers.
The lawsuit did not specify financial damages sought by the state. It did provide examples of the cost of opioid addiction. For example, it said that 70% of infants placed in foster care are children of parents with opiate addictions, resulting in an annual cost of $45 million to the state.