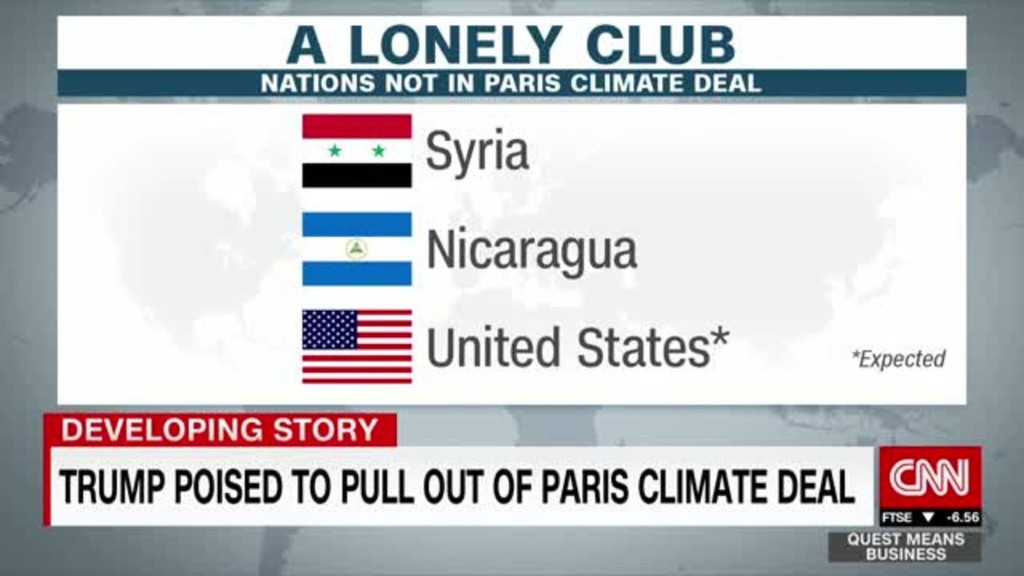 Corporate America is making a final urgent plea to President Trump: Don't pull out of the Paris climate accord.
A letter signed by 25 major U.S. firms is running as a full-page ad in Washington, D.C. newspapers on Thursday, part of a last ditch effort to convince Trump that sticking with the agreement would be better for the economy.
"By expanding markets for innovative clean technologies, the agreement generates jobs and economic growth," the letter says. "U.S. companies are well positioned to lead in these markets."
Apple (AAPL), Google (GOOGL), Facebook (FB), Gap (GPS), Microsoft (MSFT), and Unilever (UL) have all signed the letter.
Trump, who has called climate change a "hoax," will announce his decision on the Paris accord at 3:00 p.m. ET. He is expected to withdraw from the landmark agreement, according to two senior U.S. officials familiar with his plans.
The business community has largely backed the climate deal, which has been signed by every nation except Syria and Nicaragua.
Business leaders argue that the Paris deal, also called COP21, will help generate new jobs, limit damage from climate change and help assert American leadership on the global stage.
Related: EU leader urges Trump not to ditch Paris climate deal
The campaign has now reached a fever pitch.
Tesla CEO Elon Musk threatened to step down from the president's advisory councils on Wednesday if the president withdraws from the agreement, saying he's done everything possible to convince Trump to remain in the deal.
Apple CEO Tim Cook called the White House on Tuesday to urge Trump to remain in the deal, according to Bloomberg. Apple did not respond to a request for comment, but it has been a vocal supporter of the Paris agreement.
Related: China and Europe are moving forward without Trump
Even major oil firms like Chevron (CVX) and BP (BP) have publicly backed the deal.
ExxonMobil CEO Darren Woods wrote a personal letter to Trump earlier this month, urging him to stick to the deal. The U.S., he said, is "well positioned to compete" with the agreement in place and staying in means "a seat at the negotiating table to ensure a level playing field."
Oil companies like the agreement because it favors natural gas (which they produce) over dirtier coal.
Here's a list of other major firms that support the Paris agreement:
Adidas (ADDYY)
Adobe (ADBE)
Allianz (ALIZF)
DuPont (DD)
eBay (EBAY)
General Electric (GE)
General Mills (GIS)
Hilton (HGV)
Intel (INTC)
Kellogg Company (K)
L'Oreal (LRLCY)
Monsanto (MON)
Morgan Stanley (MS)
Procter & Gamble (PG)
Royal Dutch Shell (RDSA)
Staples (SPLS)
Symantec (SYMC)
Dow Chemical Company (DOW)
Tiffany & Co. (TIF)
Unilever (UL)