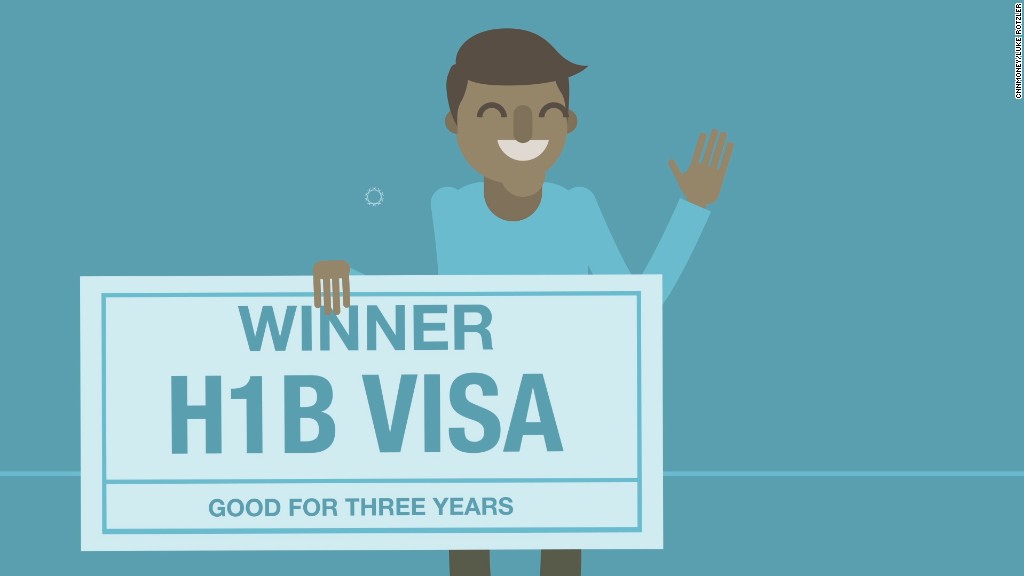 An Indian IT behemoth says it has cut its U.S. work visa applications by two-thirds.
Tata Consultancy Services is one of the largest petitioners of H-1Bs, the high-skilled work visa favored by the tech industry. Its outsourcing operations cater to the IT needs of businesses around the world. To do so, it largely relies on getting work visas for Indian tech workers so they can consult with local businesses.
In its annual report, published last week, the company said it applied for far fewer U.S. visas over the past two years. TCS would not comment the number of visas, but a spokesperson pointed CNN Tech to earlier comments from its CEO, where he said the firm applied for 4,000 visas in 2016, down from 14,000 visas in 2015.
In other words, TCS started shifting its approach even before President Trump took office.
In the report, TCS executive vice president of human resources Ajoy Mukherjee said the company has "ramped" up its local hiring programs. That means for its U.S. operations, it's hired Americans rather than importing Indian workers on work visas. Mukherjee cited the recruitment of 11,500 new employees outside of India, including students from engineering and business schools in the U.S.
The Trump administration has indicated that it is paying attention to the H-1B, and there has been heightened attention on abuse of the visa.
Related: Alphabet's Eric Schmidt says H-1B visa cap is 'stupid'
There are 85,000 new H-1Bs available each year, but the number of applicants has far exceeded supply in recent years.
As a result, they're doled out by a lottery system. Indian workers receive more than 70% of all H-1B visas. It's one of the reasons that outsourcing companies like TCS were specifically called out by a senior administration official in April ahead of Trump's signing of the "Buy American, Hire American" executive order.
"The top recipients of the H-1B visa are companies like Tata, Infosys, Cognizant -- they will apply for a very large number of visas ... by putting extra tickets in the lottery raffle, if you will, and then they'll get the lion's share of visas," the official said.
Related: Indian tech boss: Trump's H-1B visa curbs 'will hurt'
The executive order set the wheels in motion for reforming the H-1B, as did several recent bills. Those were noted by TCS, which said in its annual report that legislative proposals in the U.S. are a risk factor for its business.
"If implemented, this could result in project delays, increased costs and margin pressures," the report reads, adding that other countries, like Australia, have suggested similar reforms.
Ron Hira, an associate professor at Howard University who studies the H-1B visa and outsourcing industry, said there are a variety of reasons a company might dial back on H-1B applications. Those may include the state of the IT market, use of different work visas, and political scrutiny of the program.
Hira added that fluctuations in H-1B applications aren't uncommon. In 2015, Tata had 5,650 H-1B petitions approved, compared to 7,342 in 2012, and just 17 in 2009.