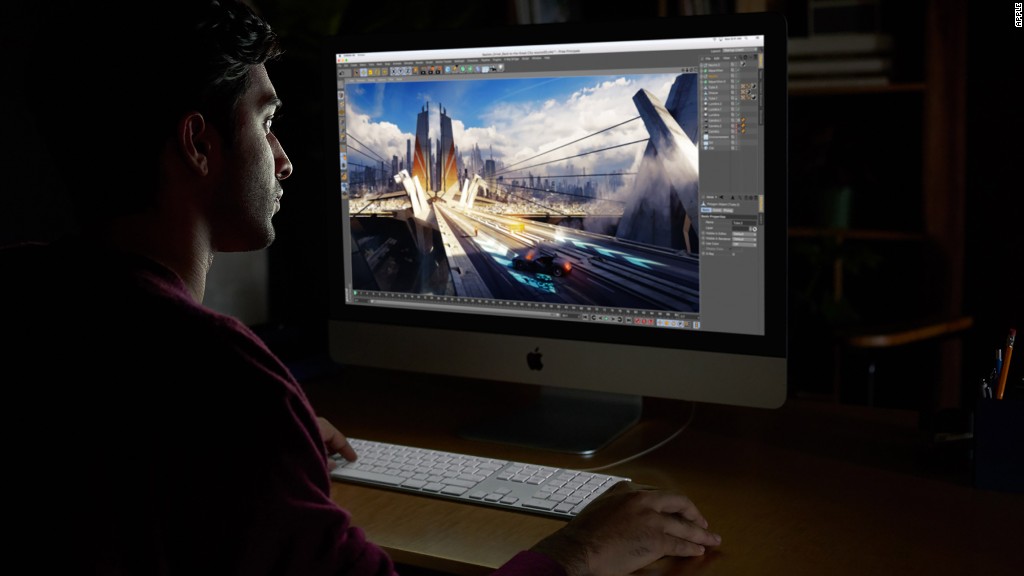 Apple kicked off its annual three-day developer conference by unveiling a smart speaker, a new iMac Pro, a major deal with a rival and its first attempt at taking on Venmo.
At the event, held in San Jose on Monday, Apple (AAPL) touted a new peer-to-peer payments service and announced a deal to bring Amazon video content to Apple TV after years of tension between the two companies.
The Worldwide Developers Conference (WWDC) is usually where Apple previews its software updates. But Apple also used the event to introduce a new piece of hardware and give some major upgrades to existing products.
HomePod
Apple is taking on Amazon (AMZN) and Google (GOOG) with its very own smart speaker, the HomePod. The 7-inch high speaker looks like the top of a microphone. Available in white and black, the $349 device is being marketed as a smart speaker with higher quality audio than its competitors.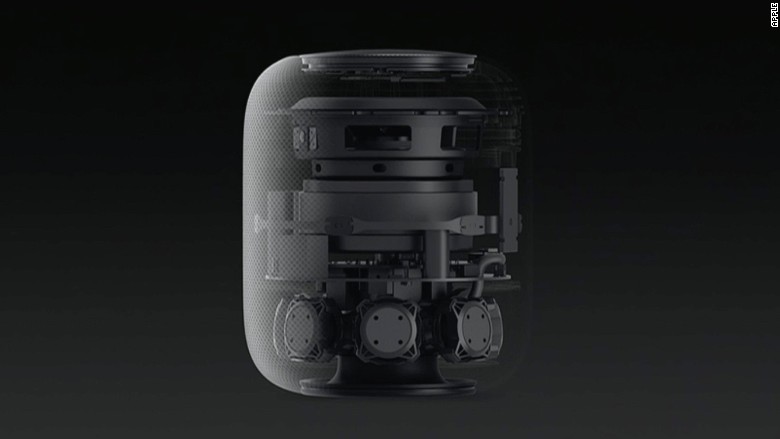 It has six microphones that are always listening for the trigger phrase "Hey, Siri." It works with Apple Music and your existing iTunes library to play tunes or podcasts. If you have other devices connected to Apple's smart home app, you can control them though the speaker as well. It also does the usual smart speaker tasks, like playing the news, setting timers and answering basic questions.
Apple TV adds Amazon
While Apple is going after Amazon with the HomePod, it's offering an olive branch with Apple TV. Amazon's Prime Video app will soon be available on Apple TV. CEO Tim Cook said Apple was pleased about the partnership, and mentioned some original Amazon content like Transparent.
The announcement marks a detente of sorts between the two companies, which have been locked in a streaming rivalry for years. In 2015, Amazon went so far as to pull listings for the Apple TV from its online store.
Related: What to expect with the iPhone 8
The Mac
Apple is pushing the Mac as a machine that's made for virtual reality, with new hardware and software updates built for VR.
The company is releasing a new version of its operating system for Macs. Coming this fall, macOS will be called High Sierra.
The OS is getting VR support, said Craig Federighi, including support for Unity, Unreal and Metal for VR.
There are number of small changes in High Sierra. Safari is adding autoplay blocking, so videos don't start playing without your approval. The browser is also adding "intelligent" tracking prevention in order to cut down on ads that follow you around the Internet.
The Photos app is adding new filters, and Apple says it has improved the face detection feature. Categories, faces and favorites will be synchronized across devices.
Apple is porting its Apple File System to macOS. It's a mostly under-the-hood change, but users will notice a difference. For example, duplicating a file will be nearly instant. Video compression will be higher quality, according to Apple.
"It's time for a more modern file system," said Federighi.
An iMac for pros
Apple really wants to hold on to its professional users. Its Mac Pro hasn't been updated since 2013, and Apple says the next version will be available some time next year. To bridge the gap, it's built a superpowered version of its all-in-one iMac that will be available in December.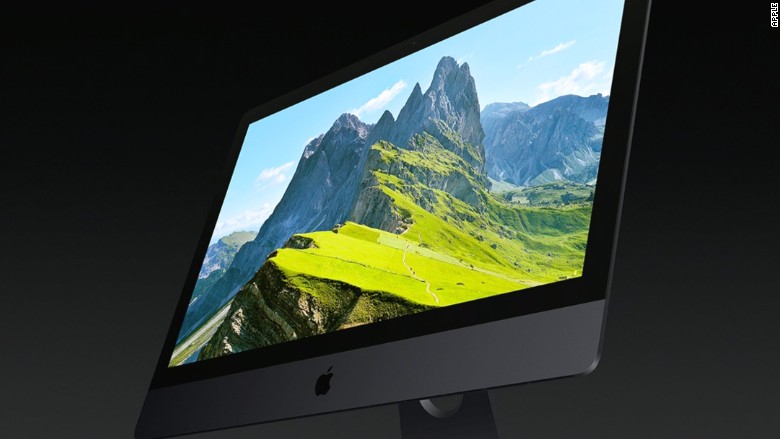 The new iMac Pro is a matte gray 27-inch computer that Apple says is the most powerful Mac it's ever made. Starting at $4,999 for the basic configuration, the 5K machine will come with an 8-core, 10-core or 18-core Xeon processors. It can have up to 22 teraflops of graphics power. Apple says the machine is fast enough for real-time 3D rendering, code compiling and designing virtual reality content.
"That iMac Pro really is bad ass," said Cook.
Every Mac gets an update
Apple's other PCs are all getting speed and performance updates. iMacs are getting across-the-board speed improvements and more storage. They'll also include higher performance graphics chips to support VR. The company had Industrial Light and Magic's John Knoll on stage for a live demo of a Vive virtual reality Star Wars game using a Mac.
MacBook and MacBook Pros are getting updates as well. The company is also adding a cheaper $1,300 MacBook Pro option. The neglected MacBook Air is not dead, but it only got one brief mention. It will have a bump in megahertz. That's it.
iOS 11
In iOS 11, Apple's forthcoming mobile operating system, the company is introducing peer-to-peer payments through iMessage. Apple is taking on money-sharing apps like Venmo and Square Cash, as you'll be able to use Apple Pay to send friends money via chat.
Siri also got an update -- the virtual assistant can translate English into five different languages: Chinese, French, German, Italian and Spanish, with more coming in the future.
Apple is introducing a number of effects into the Live Photos feature. It will use machine learning to turn your Live Photos into shareable looping images and select individual clips from the photo.
It's also adding a feature to block notifications while the phone is in Car Play mode. You won't get any notifications while in the car, and if you look at your phone, you'll see an alert reminding you that you won't receive notifications while on the road. It will automatically send a text message to people who text you to let them know you'll respond later.
Apple wants to get in on augmented reality too
Look for more augmented reality in the next version of IOS.
Apple announced ARKit, a new developer application for adding virtual objects to real surfaces in the camera. Like Facebook (FB), Apple's demo started with a fake cup of coffee on an actual table.
The tool uses the iPhone camera, processors and motion sensors to make objects look real. Motion tracking, ambient lighting and scale estimation will let developers create augmented reality in their own apps.
A revamped App Store
Apple is redesigning the App Store, its first major overhaul in its nine years. The store's 500 million weekly users will see new tabs highlighting curated collections and article-like stories made by Apple, not just developers. A Today section will show off apps the company wants to highlight, a Games tab will do the same for games and also display in-app purchases.
watchOS
Apple previewed the next version of watchOS 4, its operating system for the Apple Watch. There are new watch faces. A Siri face will show more info from the assistant, like flight times, controls for smart home devices and third-party notifications. A kaleidoscope face shows trippy animations, and new Toy Story character watch faces let Woody tell you the time.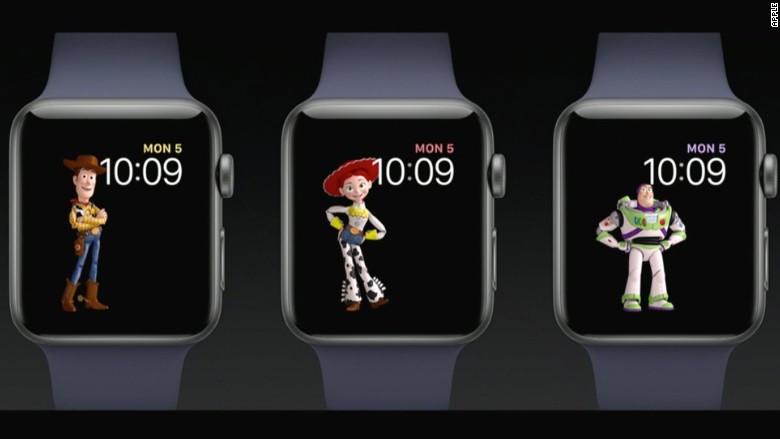 The watch can communicate with some gym equipment to share data between the two -- like your heart rate or the treadmill's incline. Starting in the fall, Apple Watch compatible equipment will start coming to gyms from companies like Cybex, Schwinn and Matrix.
If you hit workout goals, you'll now get fancier animations to give you a greater sense of satisfaction. There are new workout updates, like one that can tell when you're swimming and reach the end of the lane. The free OS upgrade will be available in the fall.
iPads
Apple is releasing a new iPad Pro with brighter retina displays. It comes in two sizes, the usual 12-9 inch and a new 10.5-inch screen. The bigger surface will fit a full-size on-screen keyboard and an attachable physical keyboard, though there's no touchpad. It has a number of speed and performance improvements, and has a 12 megapixel back camera.
In iOS 11, iPads will have new features that are taken directly from the Mac. You can drag and drop between apps and get an overview of what's open. There's a built-in document scanner in the camera and a way to draw inside of your emails.
A dystopian future
A new Apple ad showed what the world could look like without apps, triggered after a hapless Apple employee unplugged something in a server room. Hipsters panic trying to read paper maps, cars pile up in the roads. and a girl hands out printed selfies. An "app" black market sets up shop in a back alley, complete with a physical Tinder and booth for crushing real candy.