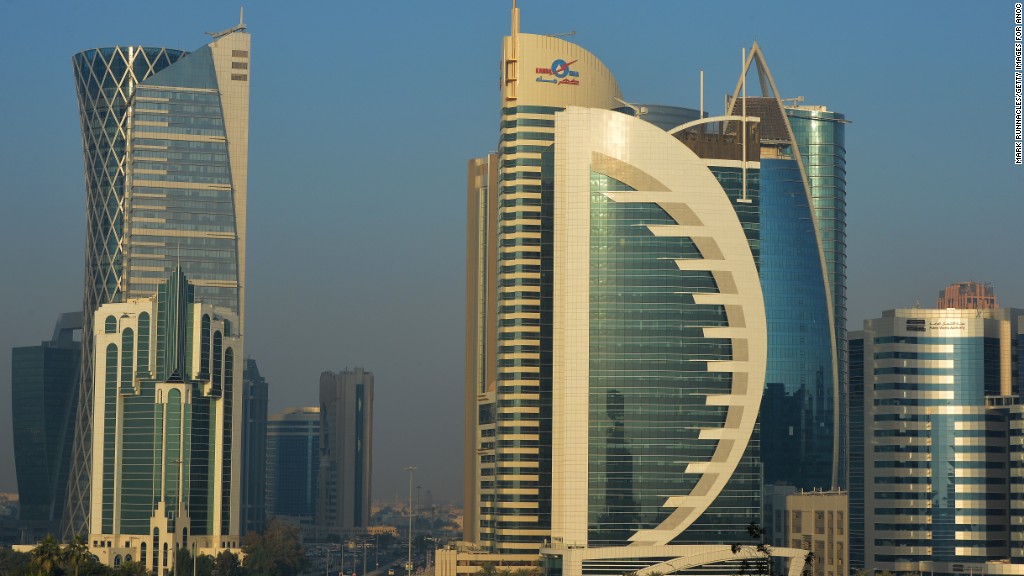 The Philippines said Tuesday it would not send any more workers to Qatar until the fallout from a regional political crisis became clear.
Several Arab countries, including Saudi Arabia and the United Arab Emirates, have severed diplomatic relations with Qatar. Saudi Arabia has blocked all land, sea and air routes to Qatar, and the UAE has closed its airports and harbors to Qatari flights and shipping.
The Arab states have accused their neighbor of supporting terrorism and destabilizing the region. Qatar says the claims are "unjustified" and "baseless."
Qatar has a population of just over 2.2 million but most of the people living there are foreign nationals.
The gas-rich state relies heavily on migrant workers to keep its economy ticking over. They include engineers, doctors and bankers, as well as construction workers hired to build stadiums for the Qatar 2022 soccer World Cup.
Philippines assessing risks
In a statement, the Philippine government said it was concerned about the fate of 140,000 Filipinos workers already in Qatar, particularly given suggestions that the blockade could lead to food shortages.
"We know for a fact Qatar does not produce its own food. If anything happens and they ran out of food and food riots take place definitely our [foreign workers] will be the first victims," said Silvestre Bello, head of the Philippine Department of Labor and Employment, in a statement.
Related: Arab blockade is nightmare for Qatar Airways
The suspension applies to newly-hired and returning Filipino workers.
"Even those who are ready to go we have to temporary suspend for their own protection because we have to assess the situation first before we could allow again the deployment of our migrant workers," Bello said. "This is for their own protection."
Indian government relaxed
There are also 650,000 Indian nationals in Qatar, making up the biggest expat community. The Indian government so far appears relaxed about their fate.
"There is no challenge that arises for us out of this situation," India's foreign minister Sushma Swaraj said on Monday.
"When it comes to us, we are only concerned that no Indians get caught in the middle of this because they have put in travel restrictions. If any Indian is stopped, we will bring them back here."
Nepali truck drivers out of work
Nepali citizens make up another big chunk of the population in Qatar, with over 400,000 living in the Gulf nation.
Ganesh Gurung, a labor and migration expert in Kathmandu, said some Nepali truck drivers have already lost their jobs because of the closure of the Saudi-Qatar border. Many more would lose their jobs if the crisis drags on, he added.
"This would directly impact the Nepali economy as it depends heavily on foreign remittances." said Gurung.
Egypt breaks ties but hasn't recalled workers
Egyptians in Qatar were confused when news broke Monday that Cairo was breaking off diplomatic ties with Doha. Egypt did not follow Saudi Arabia and the UAE in recalling its citizens back.
"We are prepared to welcome citizens home if such a decision is made," said Nabila Makram, Minister of Immigration and Egyptian Expatriate Affairs, in an interview with an Egyptian TV channel.
"We are now in a transition phase, and the embassy will become a caretaker and continue with consular services," Makram added. She estimates there are more than 70,000 Egyptians living in Qatar.
Related: Qatar is backed by a massive global war chest
The small country has used its huge oil and gas wealth to become an economic powerhouse. It's home to one of the region's biggest airlines, Qatar Airways. It has also built up a huge global portfolio of investments.
Qatar has repeatedly faced criticism for alleged support of the Muslim Brotherhood, an Islamist group considered a terrorist organization by Saudi Arabia and the UAE. Analysts say the unprecedented diplomatic rift is also driven by the belief that Qatar is too closely aligned with Iran.
Qatar's foreign minister, Sheikh Mohammed bin Abdulrahman Al Thani, told CNN on Tuesday that Saudi Arabia's claims were contradictory and "full of false information."
-- Karma Gurung contributed to this report