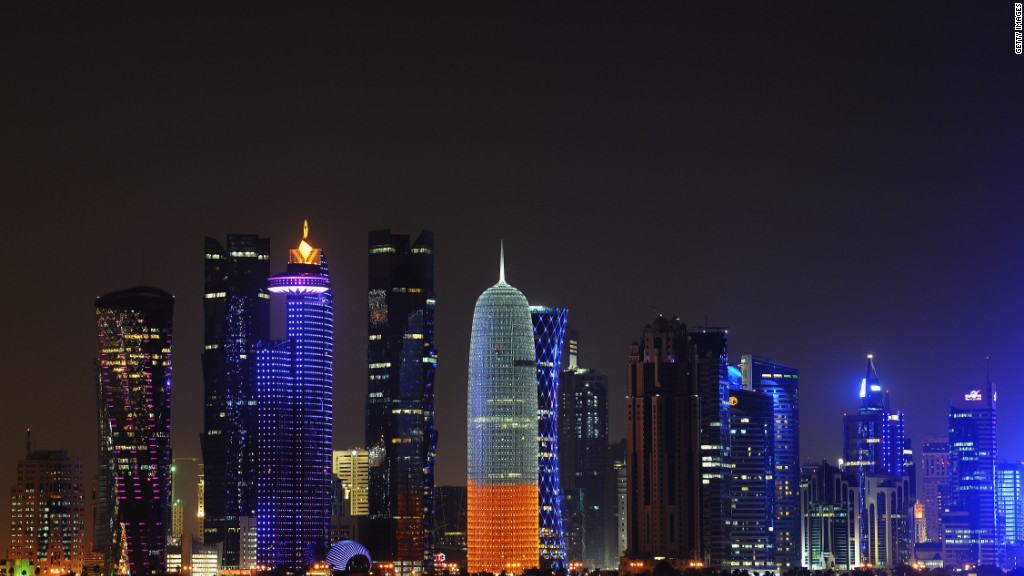 It was already turning into a tough year for Qatar Airways. Now things have gotten a whole lot worse.
The airline said Tuesday it was suspending all flights to Saudi Arabia, the United Arab Emirates, Bahrain and Egypt "until further notice" after those countries broke off diplomatic relations and transport links with Qatar.
The Arab states have accused their neighbor of supporting terrorism and destabilizing the region. Qatar says the claims are "unjustified" and "baseless."
Qatar has repeatedly faced criticism for alleged support of the Muslim Brotherhood, an Islamist group considered a terrorist organization by Saudi Arabia and the UAE. Analysts say the unprecedented diplomatic rift is also driven by the belief that Qatar is too closely aligned with Iran.
Saudi Arabia canceled Qatar Airways' license in the kingdom and will shut down its offices within 48 hours. Qatar Airways said it was arranging three charter flights on Tuesday from Jeddah to Muscat, Oman, for passengers stranded in Saudi Arabia.
Related: Qatar is backed by a massive global war chest
Emirates, Etihad, Saudia, Egypt Air and other regional airlines have already suspended flights to and from Doha, Qatar, but the blockade will hurt Qatar Airways more than most. It is losing more than 50 flights a day.
"Qatar Airways serves 18 destinations in these four countries, accounting for approximately 18% of the airline's total seating capacity," said Rob Watts, managing director at Aerotask, a global aviation consultancy firm.
"Profitable redeployment of this capacity will prove a substantial challenge for the airline."
Saudi Arabia, UAE, Bahrain and Egypt have closed their airspace to Qatar traffic. Saudi Arabia has also closed its land border with Qatar.
"The ban on flights has a greater impact on Qatar Airways, which operates more flights [on affected routes] than all other airlines combined," said CAPA Centre for Aviation in a report.
The regional political crisis is just the latest blow to Qatar Airways this year.
It was one of 10 airlines hit by a laptop ban introduced by the Trump administration in March. Passengers flying from several airports in the Middle East are now banned from carrying any electronic device larger than a smartphone in the cabin.
In the same month, Trump signed a revised executive order banning citizens of six Muslim-majority countries from entry. While that order has been struck down by the courts, there's evidence that fewer people are traveling from the Middle East to the U.S.
Qatar Airways CEO Akbar Al Baker told CNNMoney in April that his airline has seen a drop in bookings but it was "manageable."
Related: Qataris stock up on food as Arab embargo threatens imports
Now barred from flying over large parts of the Middle East, Qatar Airways will have to use alternative, longer routes -- adding to its costs -- for flights to Europe and North American destinations.
Iran's Tasnim news agency reported that Iran was expecting an increase of 200 flights per day from Qatar Airways over its airspace.
The announcement from Qatar Airways on Tuesday still left some passengers confused about what they should do.
"What is now the current status of flights from Manila-Doha-Dubai on June 13? What do we need to do?" tweeted one user.
The airline is referring passengers to its online statement.
"All customers booked on affected flights will be provided with alternative options, including the option of a full refund on any unused tickets and free rebooking to the nearest alternative Qatar Airways network destination," it said.
Pakistan said some of its citizens who were en route to Saudi Arabia were stranded in Doha after their Qatar Airways flight to Jeddah was canceled.