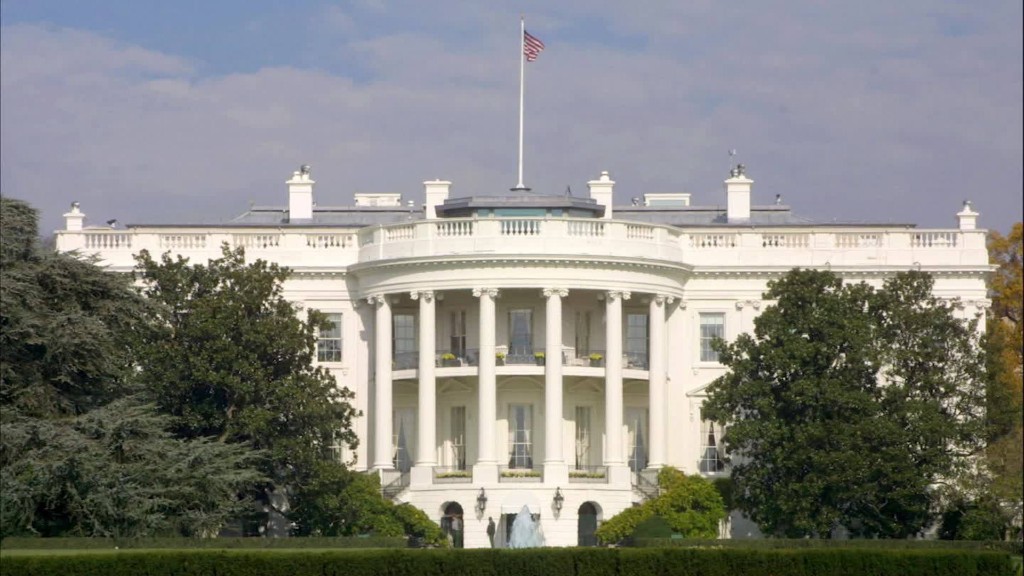 President Trump has roughly 1,100 top-tier positions to fill across his administration.
So far, he's nominated only 111 of them.
No president in modern history has fallen so far behind in naming heads of agencies, assistant secretaries, ambassadors and other critical leadership roles that require Senate approval.
As of Tuesday, only 41 of Trump's 111 nominees have cleared the Senate, according to data compiled by the Partnership for Public Service, a nonpartisan, nonprofit that has tracked presidential appointments since 1989.
In the first four months of their administrations, former presidents Barack Obama and George W. Bush each named more than 200 nominees, with more than half of them approved by the Senate.
The failure to fill these top roles undermines the president's ability to delivery on his policy agenda -- including his ambitious tax reform plan and vow to overhaul health care. Without critical leadership in place, agencies can be left rudderless.
The personnel shortage comes while the White House is dealing with an investigation into Russia's alleged role in the 2016 election. The longer it takes the administration to fill top posts, the more it risks failing to ever catch up to its staffing needs.
"Even if they started naming people at the rate they wanted to, they are now competing against other legislative priorities," said Max Stier, president of the Partnership for Public Service, citing raising the debt limit, tax reform, and healthcare. "The longer you wait, the harder it gets."
On Monday, the president blamed Democrats for foiling his efforts to fill his administration.
Related: Trump has yet to formally nominate ambassador picks
"Dems are taking forever to approve my people, including Ambassadors. They are nothing but OBSTRUCTIONISTS! Want approvals," the president tweeted.
Senate Minority Leader Charles Schumer rebuked the president's claim on Monday, saying it was his fault that hundreds of jobs hadn't been filled. White House spokeswoman Lindsay Waters said "only one of three (nominees) have been confirmed by the Senate."
Indeed, the Senate has taken an average of 44 days to confirm a Trump appointee -- the slowest ever. Obama's picks held the previous record of 32 days.
Still, part of the blame rests with the White House, which had a slow start to its January hiring blitz, according to interviews with more than a dozen former government officials, lobbyists and executives familiar with the process.
"Trump can criticize the Senate all he wants," said Christopher Lu, former deputy at the Department of Labor under the Obama administration and a senior fellow at the University of Virginia. "He deserves much of the blame," pointing to the administration's "poor transition planning."
Some of the president's top picks have pulled out after being nominated. Among them: Andrew Puzder to be labor secretary and Jim Donovan to serve as the No. 2 official at the Treasury Department. Vincent Viola and Mark Green both declined to become the next Army secretary. And Todd Ricketts also withdrew his name to be deputy commerce secretary.
The sluggish pace of getting political appointees on the job is emblematic of a much wider problem across the administration, which experts argue wasn't equipped to kick off a hiring blitz. All told, the president has about 4,000 hires to make, including the 1,100 that require Senate confirmation.
"It's a failure to understand the operating needs of the government," said Stier, who worked with the Trump campaign on potential appointments. "I think there wasn't an appreciation that running a successful campaign would require a different approach in running a successful government versus a successful business."
Related: Trump's pick for No. 2 spot at Treasury drops out
Several agencies, including the Securities and Exchange Commission and the Commodity Futures Trading Commission, are now operating without full boards, effectively undermining their ability to move forward with Trump's campaign promise to loosen financial regulations.
And those tapped to fill jobs temporarily face limits on how much power they can exert. There's also often a reticence among those serving as placeholders to make longer term decisions.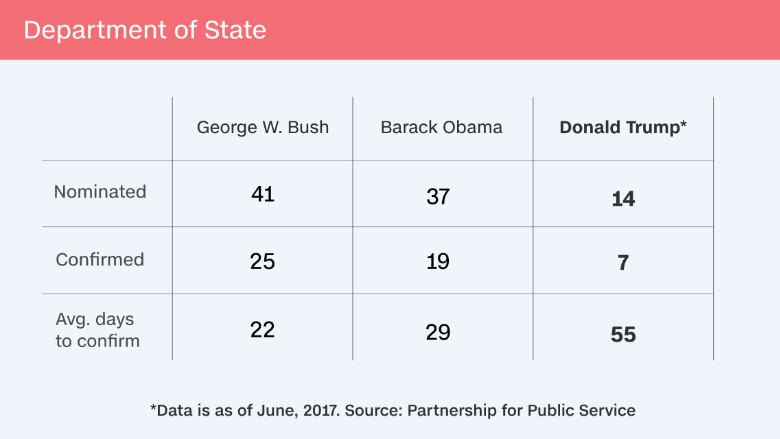 At the State Department, only seven Senate-confirmed individuals are in place -- including Secretary of State Rex Tillerson and his two deputies and Nikki Haley, the U.S. representative to the United Nations.
Bill Clinton had filled 34 State Department positions at this point, and George W. Bush had filled 25, the Partnership for Public Service found.
While career staff are critical, foreign officials look to political appointees as the ones with the ability to execute the president's policies. Currently missing from the State Department are deputies overseeing arms control, diplomatic security and political affairs, to name a few.
Similar vacancies can be found at the Defense Department, where Trump has nominated a dozen individuals -- less than half the number Obama put forth at the same point. Of the 24 individuals named by Obama, 16 were confirmed by the Senate four months into his tenure compared to the five that Trump has gotten approved.
The Treasury Department is also struggling to staff its ranks while trying to achieve the president's ambitious economic agenda.
Related: Trump aides try to steer tax reform on Capitol Hill
Treasury Secretary Steven Mnuchin, a former Goldman Sachs banker, is currently relying on four counselors and career staffers to fill the vacuum at the agency. The president has nominated nine individuals for critical posts overseeing economic policy, international affairs and terrorism financing that are still awaiting Senate confirmation.
"Clearly, they can't get the people they want through," said a senior executive at a leading business trade group.
A Treasury spokeswoman said the agency has made "significant progress" in building its team. "We have nearly two-thirds of our senior political appointees nominated or already in place," she said.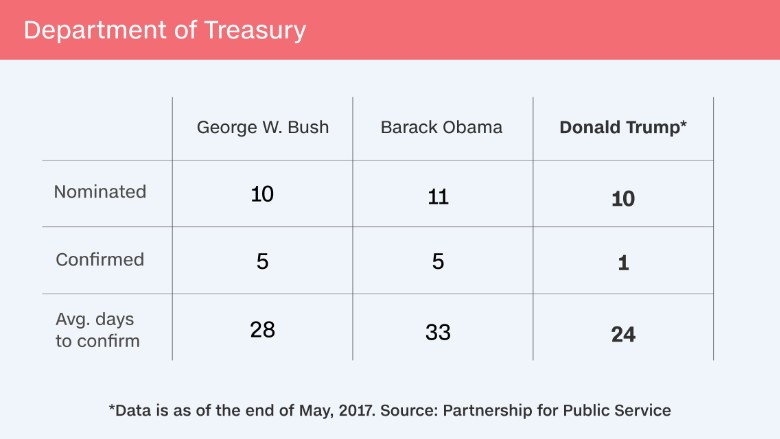 There are many reasons behind the sluggish hiring.
On Capitol Hill, Republicans blame Democrats for slow-walking nominees.
"They've continuously forced procedural hurdles on nominees for no reason other than to stall confirmations, launching more filibusters against this president's cabinet than any other in history," Senate Majority Leader Mitch McConnell said last month.
To be sure, one cause of the slowdown stems from systemic problems in the Washington nomination process.
The White House is subjecting candidates to rigorous vetting -- one person familiar with the process described it as "brutal." They say the process has discouraged a number of candidates, especially those coming from the banking industry with deep financial ties.
"It was bad enough during the Obama administration, but it has gotten worse, and worse, and worse," said one banking lawyer, who noted he knew at least two people who dropped out of the process because of the tougher scrutiny.
Related: In Trump's White House, CEOs are shaping economic policy
But experts say the Trump administration is also slowing things down.
Insiders cite what they call the "never Trump rule," which screens out prospective nominees who have criticized the president.
"Even if you're a Republican, the administration wants to be sure that you are not a 'never, ever Trumper," said another attorney. "It's the only thing worse than being a Democrat."
The Trump White House has also taken an unprecedented role in the selection of not only cabinet secretaries and their deputies, but also staff-level political appointees. Top administration officials' inability to reach agreement has slowed down the process. A thumbs-up from the White House is often required for most political appointments.
Tougher scrutiny by the Office of Government Ethics, run by Walter Schaub, who has repeatedly clashed with the White House, has also added to the bottleneck. Some have suggested the complexity of individuals' financial holdings has caused the agency to take longer to clear nominees of ethics entanglements.
In an email Wednesday, Schaub told CNNMoney the primary factor in how quickly a nominee can be cleared is based on the responsiveness of each individual.
"OGE cannot review reports it has not received from the White House," said Schaub. "However, we have cleared the ones we've received faster than we did during the last transition in 2009. That's an impressive accomplishment because the reports are more complex this time."
Observers warn that if the current pace persists, the Trump presidency will face an increasingly tough time fulfilling its policy promises.
"Sooner or later you've got to have your own people," said Oliver Ireland, a partner at the law firm Morrison Foerster and a former Federal Reserve official. "If we're sitting here next year, and we're still way in the hole, then we've got real problems."