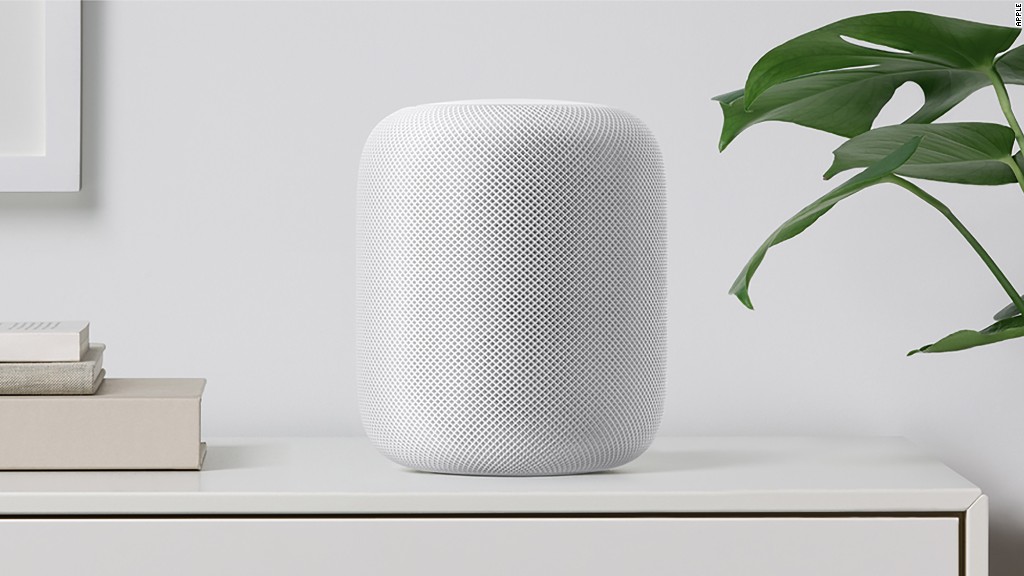 Apple is getting into the smart speaker market with the HomePod, the company's first entirely new product in three years. It's a relatively young hardware category made popular by the Amazon Echo.
Now, more tech companies are rushing out their own versions of the device. You've probably heard about talking speakers, but perhaps you've wondered how they work and what they mean for your privacy.
Here's everything you need to know about tech's hottest new gadgets.
What is a smart speaker?
A smart speaker is a small Wi-Fi connected speaker controlled with voice commands. To use the hands-free device, you speak a trigger phrase — "Hey Siri," "OK Google," "Alexa" — and then ask a question such as "what's the weather?" or make a request like "order a Lyft." The speakers are powered by smart assistants like Siri and Alexa that talk back.
What is it used for?
A smart speaker is primarily used to stream music and news, set timers and reminders, manage shopping lists, and control connected-home devices like lights or thermostats. Amazon recently added message and call options, so the speakers will likely be used even more for communication in the future. The Echo is handy for ordering things from Amazon Prime, but it struggles with answering basic knowledge questions. Meanwhile, the Google Home, unsurprisingly, is great for Googling things.
Who makes them?
Amazon (AMZN) created the smart speaker market in 2014 with the release of the Echo. Google (GOOG) followed in 2016 with Google Home, and Microsoft (MSFT) is currently working with Harman Kardon on the Invoke smart speaker, which uses voice-assistant Cortana. In early June, Apple (AAPL) announced the HomePod, but it won't be available until December.
Third-party devices such as Lenovo's Smart Assistant also use Amazon's Alexa assistant.
Related: Which is the best digital assistant: Siri, Cortana, Alexa or Google Now?
As of now, most smart speakers plug into a wall, so they're not portable. Amazon's smaller, battery-operated Tap device is designed to play on the go. You can push a button to start Alexa voice conversations or use the new hands-free mode.
Here's a look at the options available now or coming this year:
Amazon Echo ($180); Echo Dot ($50), which connects to bigger speakers; the portable Echo Tap ($130); and Echo Show ($230), a speaker with a touchscreen and camera launching June 28
Google Home ($129)
Apple HomePod ($329), which debuts in December
Harman Kardon Invoke with Cortana, slated for a 2017 year-end launch. No pricing announced.
What about sound quality?
The Amazon Echo and Google Home are adequate speakers for the price point, but music lovers can connect them to Bluetooth speakers for better sound. The Echo Dot also attaches to existing speaker systems over Bluetooth or with an audio cable.
Apple is marketing the HomePod as a much higher quality speaker -- and it is. When tested against Sonos speakers and the Amazon Echo, the sound was superior. Using its microphones to measure the size of a room, the HomePod "senses" its location and adjusts the sound accordingly.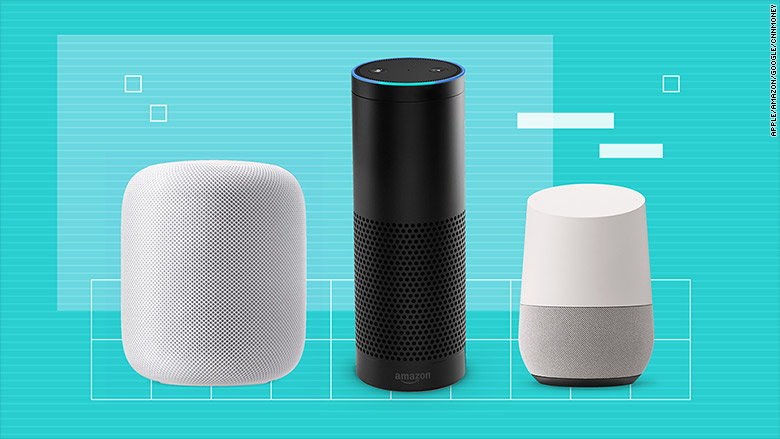 What services and apps do they work with?
Each product is a way for a company to sell its own services, like Apple Music, Amazon Prime and Google Play. But the ability to work with third-parties is part of what makes them most useful.
The Echo can play music from popular music services like Spotify, Pandora, TuneIn and iHeart Radio. It's currently the leader in this area with more than 10,000 third-party voice apps called "skills."
Although most of these skills aren't useful, it's possible to order a pizza or flowers, get wine recommendations or check your bank account balance. Google has fewer third-party integrations and said it plans to add more to its platform soon.
Related: Eight odd tricks to try with your Amazon Echo
It's unclear if the HomePod will work with third-party services right away. Siri can do the usual smart assistant tasks, but the device's music commands are designed specifically to work with a $10 monthly Apple Music subscription. Without one, users can only ask Siri to play podcasts or BeatsOne radio. To listen to music from a library or any other services, you'll need to stream them via Airplay from an iPhone or iPad.
What are the privacy concerns?
Smart speakers have powerful microphones that are always listening. This can be an unsettling concept for people worried about privacy, but companies say they're not recording when not in use. Once the devices hear a wake word or phrase, they start recording and send your voice to the cloud to complete the request. Even though Apple, Amazon and Google encrypt the data, recordings are saved. In fact, police recently tried to get an Echo's recordings as evidence in a recent murder trial.
The Home and Echo also include mute buttons. Apple did not say if or how its speaker could be muted.
Who is it for?
Anyone who is busy cooking, holding kids or doing other tasks at home will benefit from a hands-free computer. Because the devices understand your natural way of speaking, smart speakers are less complicated to operate than other gadgets, making it an easy-to-use tool for seniors.
The list of tasks you can do with just voice is growing across all of these devices. The industry is betting this will be the future of how we interact with computers. Their common inspiration for what's ahead is Star Trek's omnipresent, voice-activated assistant "Computer," which could do everything from calculating a starship's trajectory to making a nice cup of tea.