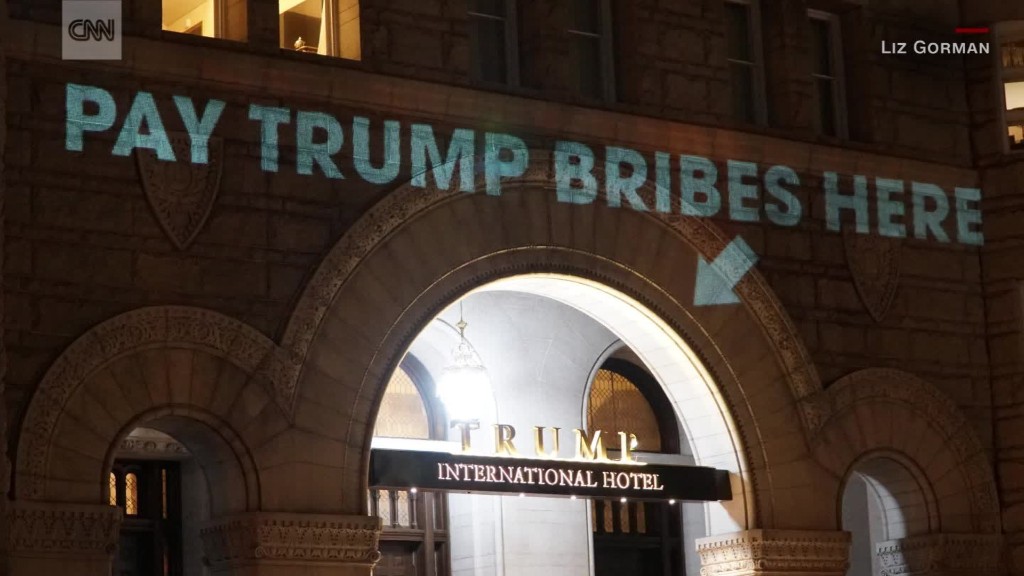 The Trump administration has fired back at an ethics group that sued the president over his business interests.
The response? You've got nothing.
Citizens for Responsibility and Ethics in Washington, a government watchdog group, filed a suit in January claiming that President Trump violated the Constitution through his hotels, clubs and restaurants.
The plaintiffs claim the Emoluments clause bars Trump from accepting anything of value from a foreign government. The plaintiffs include a nonprofit restaurant group, a New York hotel and restaurant owner, and a woman who books events at hotels in Washington, D.C.
The Justice Department doesn't see it that way. On Friday, it filed a motion to dismiss the case.
"Plaintiffs' broad-brush claims effectively assert that the Constitution disqualifies the president from serving as president while maintaining ownership interests in his commercial businesses," the administration said in the court filing.
Related: New plaintiffs join suit that claims Trump violates Constitution
None of the parties can prove actual damage to their business, the argument goes. They need that in order to have standing to sue in federal court.
The plaintiffs only speculate about the "loss of business due to competition with restaurants and hotels in which the President has financial interests," the Justice Department claimed.
Lawyers for the government also contended the plaintiffs' interpretation of the Emoluments clause is flawed. They said the clause aims to preclude "official corruption and foreign influence" -- not come to the aid of businesses that say they are hurt by the president's financial holdings.
The Justice Department also said the clause has no bearing over private business transactions. It just deals with gifts "offered to a U.S. official because of his or her status as a U.S. official."
Related: What Trump's ethics rules allow and don't allow
CREW has five weeks to file a response. It said Friday it rejects the government's arguments.
"It's clear from the government's response that they don't believe anyone can go to court to stop the president from systematically violating the constitution," spokesman Jordan Libowitz said in a statement. "We heartily disagree and look forward to our day in court."
-- CNNMoney's Jill Disis contributed to this report.