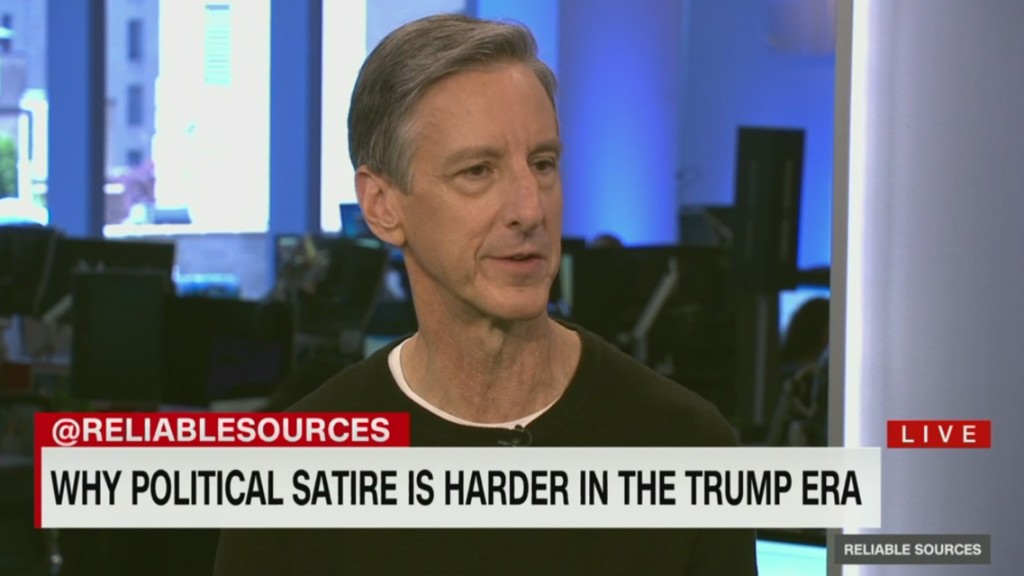 These are tough times for satirists. When the president tweets a constant stream of material like "covfefe," what's a comic to do?
"We're living in an age that defies satire," said Andy Borowitz, the New Yorker's satirical columnist.
"You have a president of the United States who is a former game show host. That sounds like something that would happen on a Sharknado sequel," Borowitz told Brian Stelter in this "Reliable Sources" podcast conversation.
"It's really tough to make a daily diet of comedy out of something that's already ridiculous," Borowitz added.
Borowitz isn't asking for sympathy. He's a professional "fake news" writer. His column, The Borowitz Report, has been chronicling absurdities in American politics since 2001.
When he started writing the column, Borowitz never thought it would become "a real job," as he puts it. But his posts gained traction and were republished by major outlets like Newsweek and The Huffington Post.
The Borowitz Report has been a fixture of The New Yorker's revamped website since 2012, when editor David Remnick decided to acquire the column.
Borowitz got his start as a sitcom writer for shows like "Square Pegs" and "The Facts of Life," and he created "The Fresh Prince of Bel-Air" in 1990.
Sitcoms and political satire have one key element in common: character-driven humor. Like sitcom characters, politicians also have "characteristics that we identify them by," Borowitz said.
Related: Listen to the full podcast with Borowitz
In Trump's case, the most prominent characteristic for comics to identify is narcissism. Borowitz captures it in columns like "Trump Boasts That His Impeachment Will Get Higher TV Ratings Than All Other Impeachments."
A lot about Trump as a character, however, defies the playbook Borowitz used in the past to portray politicians. Compared to "straight and square" figures like Mitt Romney or Barack Obama, Trump "is letting us know who he is on such a regular basis, he leaves very little left on the table for us to play around with," Borowitz said.
Borowitz's writing is a text version of his demeanor: With the straightest face, he delivers zingers so articulate that they can, and occasionally are, mistaken for serious, even when they are clearly marked with a "Not The News" banner.
Adding that extra disclaimer on the column was a complicated decision. For a comedian to have to specify that he is, in fact, joking, is "the absolute anathema," Borowitz said. But he wanted to make sure everyone knew that he is "not trying to hoax anybody."
Borowitz doesn't try to satirize all of Trump's tweetstorms. "It would almost seem like I was just echoing what he's doing," Borowitz said.
Instead, he pokes fun at Trump by reframing what he says. Broaching the subject of climate change, Borowitz focused on Trump's claim that he is the best negotiator: "Calling Earth a 'Loser,' Trump Vows To Make Better Deal With New Planet."
Related: Subscribe to "Reliable Sources" podcast on iTunes
Borowitz acknowledged that most political comedy right now, his included, is "preaching to the choir." His satire is a "palliative" that is "keeping people sane."
But he believes humor can motivate people to take action. That can be volunteering for a local campaign, or even just starting a Change.org petition to challenge the status quo. "It can work," he said.
And if people just chuckle, that works too.