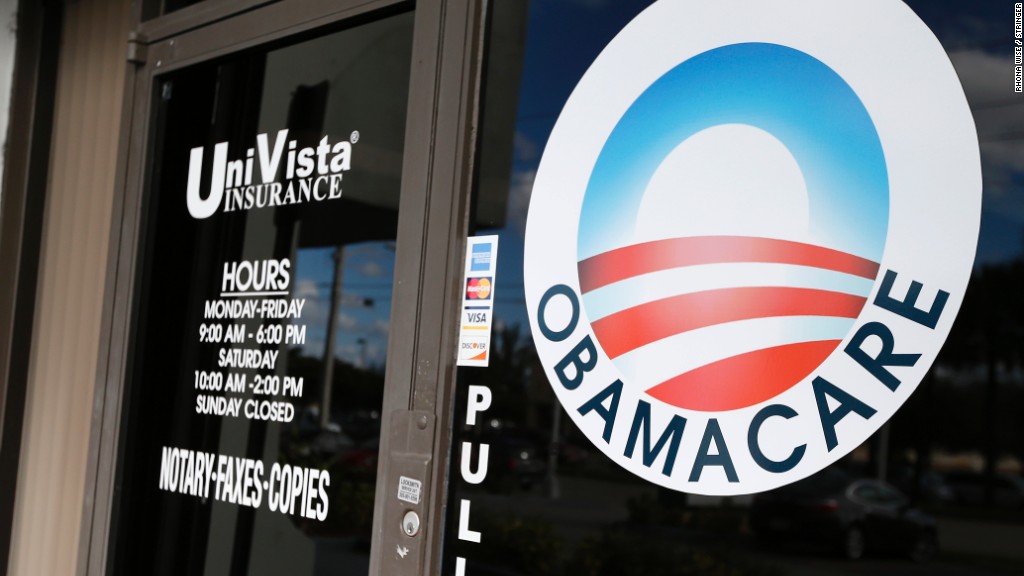 Some 10.3 million people actually enrolled in Obamacare, as of mid-March, Trump administration officials said Monday. That's down from the 12.2 million who signed up for coverage when open enrollment ended on January 31.
It's not uncommon for the numbers to drop since some consumers select plans, but don't complete the enrollment process by paying their first month's premium.
The report, however, doesn't give a full picture of how many people enrolled since it only includes those with plans that started in January or February. Americans who signed up in the final two weeks of open enrollment did not begin coverage until Mar 1.
Just over 375,000 people picked plans through the federal exchange, healthcare.gov, in those last two weeks, and more signed up in the 11 states that run their own marketplaces.
Last year, some 12.7 million people picked policies by the open enrollment deadline. But 11.1 million people had enrolled by the end of March, according to data released at the time by the Obama administration. Some people fall off after not paying their premiums, but others stop their Obamacare policies because they get job-based coverage.
The Trump administration has thrown Obamacare into turmoil as it seeks to dismantle the landmark health reform act. It canceled millions of dollars in advertising in the final days before open enrollment ended. This outreach is critical to remind consumers -- particularly younger and healthier ones -- of the deadline.
Related: More insurers drop Obamacare, even in a state with a healthy exchange
Also, President Trump, along with his cabinet and congressional Republicans, have repeatedly said Obamacare is collapsing. They have also cast doubt on whether the administration would enforce the individual mandate, which requires nearly all Americans to have health insurance or pay a penalty. This uncertainty may prompt fewer folks to sign up for coverage on the exchanges and to pay their premiums.
Health Secretary Tom Price blamed the drop on the high cost of the plans.
"Not surprisingly, as costs continue to go up, fewer Americans can afford to pay more and get less for healthcare," said Price. "Many individuals and families across the country are tired of having their healthcare options dictated to them by Washington -- particularly when those limited options are unaffordable."
Premiums for the benchmark plan increased an average of 22% for 2017. Many insurers hiked rates after finding their enrollees were sicker than expected.
Related: 12.2 million people signed up for Obamacare for 2017 amid GOP repeal efforts
But the vast majority of Obamacare enrollees are shielded from these rate increases because they receive subsidies that pay at least 90% of the cost of the benchmark plan. Some 84% of people enrolled in February qualified for this federal assistance.
Those who canceled their coverage or were terminated were less likely to be subsidized, according to a Department of Health and Human Services survey.
However, the report also found that nearly 60% of those who ended their coverage after paying at least one month's premium said they obtained job-based health insurance.