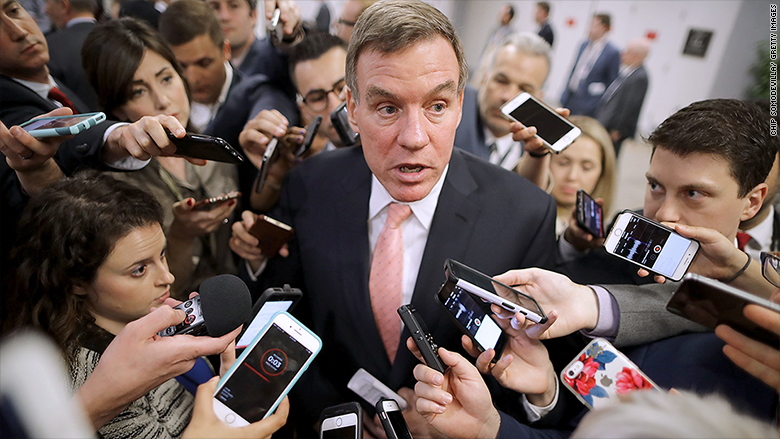 Reporters covering the U.S. Senate were told Tuesday that they could no longer film interviews with senators in the hallways outside their offices, an abrupt break with precedent that has set off alarm bells for journalists and media watchdogs.
Hours later, however, amid heavy criticism from reporters and several senators, the chairman of the Senate Rules Committee appeared to suspend that decision while his committee reviewed the matter.
"As of now, the Rules Committee is simply examining what the rules are," a spokesperson for Republican Sen. Richard Shelby, the chairman of the Committee, told CNNMoney. "While the Rules Committee is reviewing the rules, reporters should continue to operate as they were operating yesterday."
Staff members of the Senate Radio and Television Correspondents Gallery had told reporters late Tuesday morning that they would not be allowed to film interviews with senators without prior permission from that senator's office and the Senate Rules Committee.
In a statement, Sen. Shelby said the Committee had "made no changes to the existing rules governing press coverage," but was "working with the various galleries to ensure compliance with existing rules in an effort to help provide a safe environment for Members of Congress, the press corps, staff, and constituents."
Shelby himself told reporters that what had happened "was a miscommunication. It wasn't anything I did." He added that the Rules Committee "doesn't enforce anything" and put the blame on another office.
"I think there had been some discussions about you guys harassing us, and I hadn't done that," Shelby said. "So some of my staff obviously talked to the press galleries about the rules and so what, and they thought we were going to. We don't enforce the rules, I said stand down, forget it."
When asked if there would be any actual changes to press rules, Shelby said, "I would hope not."
But reporters and many Democratic senators viewed the move as an effort to reduce press access and allow senators to conduct public business in private and without accountability. The directive also comes as Senate Republicans are drafting a health care bill in a process shrouded in secrecy.
"ALERT: Reporters at Capitol have been told they are not allow to film interviews with senators in hallways, contrary to years of precedent," NBC's Kasie Hunt wrote.
"Senate Rules Committee and [Senate Sergeant at Arms] trying to SHUT DOWN press access in halls. No more staking out hearings without permission. Not OK," wrote CNN's Manu Raju.
Some reporters who spoke on the condition of anonymity also told CNNMoney that when they tried to schedule stakeouts, which would enable them to wait outside senators' offices to ask questions, on Tuesday, they were asked a series of questions to justify the request, including why they wanted permission and who they intended to speak with.
Democratic Sen. Amy Klobuchar of Minnesota, the ranking member on the Senate Rules Committee, expressed her disapproval of the directive on Twitter.
"As ranking member of the Senate Rules Committee I call on the majority to allow reporting in the Capitol to proceed as usual," Klobuchar tweeted.
Forty-five minutes later, Klobuchar tweeted: "Just spoke with Senator Shelby. He said he wouldn't move forward on change to press access without consulting me and we must hold him to it."
Reached by phone, a representative for the Senate Radio and Television Correspondents Gallery said she could not comment on the directive and referred CNNMoney to the Senate Rules Committee. When asked for her name, she said "I'm not going to give you that" and hung up.
The directive does come amid safety concerns due to overcrowding by reporters in the Senate hallways, but Democrats quickly attributed the decision to Senate Republicans' work on the health care bill.
".@SenateGOP are trying to hide their monstrous #Trumpcare bill," House Minority Leader Nancy Pelosi wrote on Twitter. "And now they're blocking reporters from uncovering the truth. Shame."
Senate Minority Leader Chuck Schumer tweeted, "Press access should never be restricted unfairly, particularly not when one party is trying to sneak a major bill through Congress."
In 2001, Senate Democrats tried to evict print reporters and photographers from their offices near the Senate chamber, but backed away from the effort after lobbying from concerned media organizations.
-- CNN's Deirdre Walsh and Jeremy Herb contributed reporting.