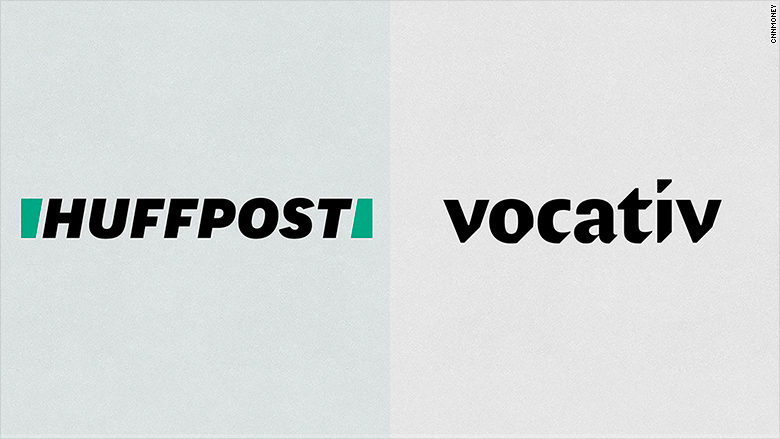 HuffPost and Vocativ are the latest media companies to get hit with layoffs.
HuffPost's union, the Writers Guild of America East, was notified Wednesday that 39 members employed at HuffPost were let go "as part of a corporate-wide layoff in connection with Verizon's acquisition of Yahoo," according to a statement tweeted by Michael Calderone, HuffPost's senior media reporter. Verizon (VZ), which owns AOL and HuffPost, just bought Yahoo.
Laid off workers will receive a "collectively-bargained severance package that includes two months' salary plus a week of pay for each year of service and continued health benefits," according to the statement.
Tim Armstrong said on CNBC Wednesday that about 2,100 people at AOL and Yahoo will lose their jobs as a result of the merger -- roughly 15% of the workforce.
According to multiple sources, the 39 employees who have been let go at HuffPost include at least six in the company's Washington, D.C. newsroom, as editor-in-chief Lydia Polgreen aims to reshape that bureau.
Polgreen joined HuffPost from the New York Times (NYT) in December, succeeding the site's co-founder and namesake, Arianna Huffington. Since then, Polgreen has left her mark on the organization, overseeing a major site redesign and formally changing its name from The Huffington Post to HuffPost.
The layoffs announced Wednesday include several veteran reporters, among them David Wood, who won the site's first and only Pulitzer. Employees in New York and Washington anticipated the layoffs, but one source said there was shock that so many reporters were affected.
Polgreen, who traveled to Washington this week to deliver the news, was set to address both newsrooms on Wednesday evening.
In a memo sent to staff hours after the layoffs were dealt, Polgreen and HuffPost CEO Jared Grusd acknowledged that it had been "a hard day," saying they had said goodbye "to some incredibly talented HuffPosters."
"We appreciate all that they've done and want to​ ​acknowledge their dedication and admirable passion," they said in the memo, which was provided to CNNMoney.
HuffPost wasn't the only company to feel the headwinds of the media economy. Vocativ, a tech news site, was also hit with layoffs on Wednesday. It let go of its entire text editorial staff -- roughly 20 people -- so the site can shift its focus to video content.
"As the industry evolves, we are undertaking a strategic shift to focus exclusively on video content that will be distributed via social media and other platforms," a Vocativ spokesperson said in a statement. "The tremendous success we've experienced since our launch in both long- and short-form video has positioned us well for this evolution."
Some Vocativ employees took to Twitter to talk about the layoffs.
"Had a wonderful time at Vocativ, but we've all been laid off," tweeted Kevin Collier, Vocativ's senior privacy and security reporter. "Floored by response to this; thanks so much."
The news at HuffPost and Vocativ come just one day after Time Inc. announced that it will eliminate 300 positions through layoffs and buyouts.
Related: Time Inc. cuts 300 positions
Other media outlets have seen major developments with their workforces with the New York Times announcing a long-anticipated buyout program last month and ESPN cutting a number of its most familiar faces as part of a larger layoff of 100 on-air personalities and writers.