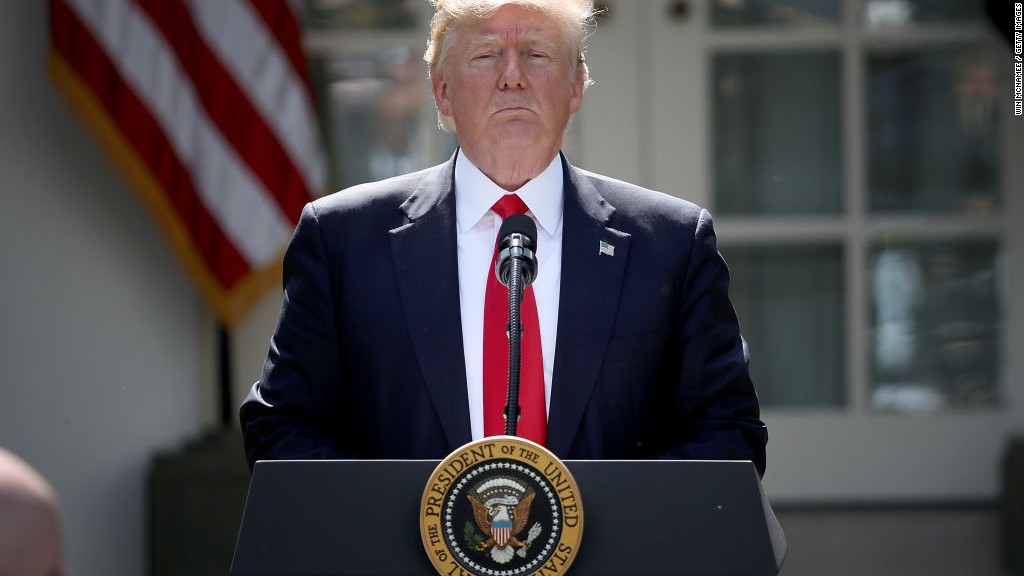 President Trump loved to brag during the campaign about his business skills. Now that he's in charge, business leaders seem alarmed by Trump's political skills.
A stunning 50% of the CEOs, business execs, government officials and academics surveyed at the annual Yale CEO Summit give Trump an "F" for his first 130 days in office.
The survey, released earlier this week, found that another 21% give Trump's performance a "D" so far. Just 1% of the 125 leaders polled awarded the billionaire an "A."
The overarching message from CEOs is: "Stop the random 3 a.m. tweets and stop the needless brushfires diverting from the agenda," said Jeffrey Sonnenfeld, the Yale School of Management professor who led the summit.
Sonnenfeld noted that 80% of those surveyed are CEOs, including Blackstone (BX) CEO Steve Schwarzman and IBM (IBM) boss Ginni Rometty, who sit on Trump's advisory council and Merck (MRK) CEO Ken Frazier, a member of the president's manufacturing initiative. (Individual responses by each CEO were not released.)
"This was not a granola-eating crowd of Democrat entrepreneurs. It's a cross-section of the business community, including some who are quite pro-Trump," he said.
The Yale findings are the latest evidence that some pockets of the business community are growing disenchanted with Trump as his administration struggles to implement its economic agenda amid scandal and missteps.
Related: Trumpworld thinks there's such a thing as a 'good' government shutdown
Earlier this month, Trump's withdrawal from the Paris climate accord sparked an unprecedented revolt by CEOs. Business leaders led by Tesla (TSLA)founder Elon Musk, Disney CEO Bob Iger and JPMorgan Chase boss Jamie Dimon publicly bashed the decision. Goldman Sachs (GS) CEO Lloyd Blankfein even sent his first-ever tweet to slam the move as a "setback" for U.S. leadership in the world.
CEOs surveyed by Yale agree with that sentiment. Two-thirds of respondents indicated that Trump's decision to pull out of the Paris climate accord diminished America's global standing. Another 86% expressed concern about Trump minimizing Russian security mischief.
Business leaders are not impressed with Trump's budget either. Three-fourths of survey respondents said the administration's budget proposal is not sound.
Corporate America's poor marks for Trump have not spread to Wall Street, at least not yet.
Trump's promises to slash taxes, ramp up infrastructure spending and cut regulation have fired up investors. The Dow has surged roughly 3,000 points since Trump's election and it hit yet another record on Wednesday.
Yet Trump's economic agenda has been stalled due to opposition from Democrats and Republican infighting. Wall Street has dialed back its expectations for the size and timing of the tax reform Trump promised.
CEOs don't think it's a slam dunk. Just 42% of leaders surveyed by Yale think Trump will pass corporate tax reform.
David Bianco, chief investment strategist at Deutsche Asset Management, warned this week about the impact of the political trouble on stocks soon.
The Trump rally is "vulnerable to summer fatigue and rising anxiety over whether Congress can make pragmatic decisions," Bianco warned in a report this week. He advised clients to be safe by moving some money from stocks to bonds.
"We think (the rally) has reached its near-term limits," Bianco wrote.