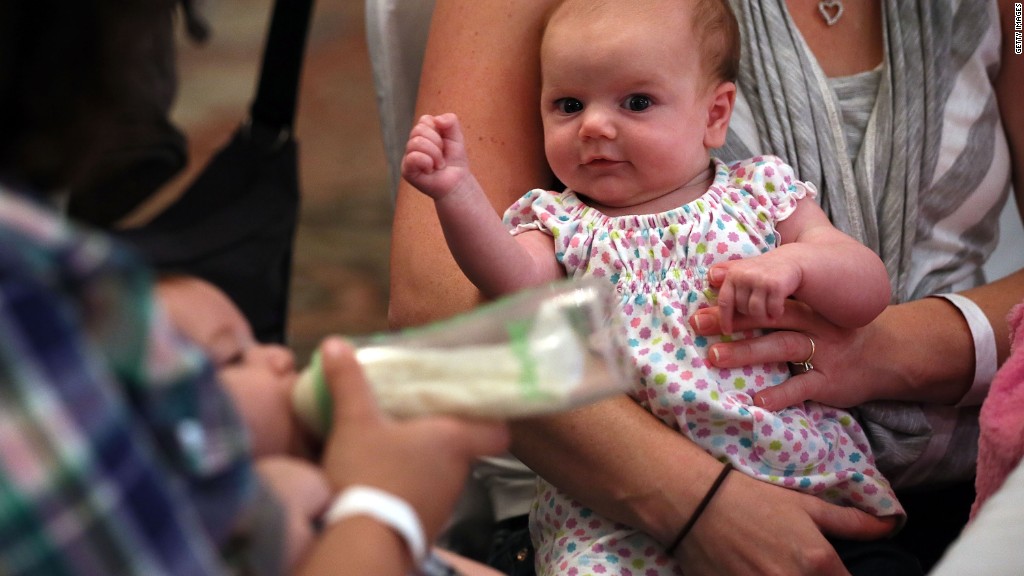 The father of a newborn boy says JPMorgan Chase's parental-leave policy discriminates against men.
Derek Rotondo, who has worked for the bank in Ohio since 2010, says JPMorgan (JPM) grants 16 weeks of paid leave for a "primary caregiver" who has a new child, through birth or adoption. The parent considered the "non-primary caregiver" is granted only two weeks of leave, the complaint says.
Rotondo says he asked human resources to classify him as the primary caregiver so he could take the full 16 weeks. He says he was told that bank policy considers the birth mother the primary caregiver, and the father can only get the extended leave if his spouse returns to work early or is medically incapable of caring for the child.
Rotondo's wife is a teacher who is off for the summer as part of her normal schedule.
"It was like something out of the 1950s," Rotondo said in a statement. "Just because I'm a father, not a mother, it shouldn't prevent me from being the primary caregiver for my baby."
JPMorgan Chase said it was reviewing the complaint and declined to comment further.
Rotondo's second child was born June 6. The policy granting him two weeks was set last year, according to the complaint. When Rotondo's first child was born, in 2015, he was granted one week of leave. He told CNNMoney he did not consider filing a complaint at that time.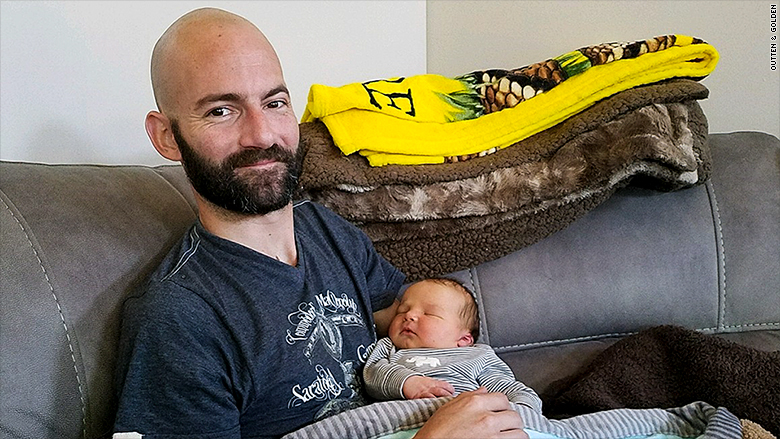 He said he is not nervous about filing the complaint against his employer this time.
"I'm pretty confident we're doing the right thing," he said.
Related: Big boost for Ivanka's paid parental leave plan
The complaint seeks to be a class action on behalf of all fathers at JPMorgan. It says the bank "has discriminated against me and other fathers" because of its presumption that biological mothers are the primary caregivers.
The complaint was filed Thursday with the Equal Employment Opportunity Commission, the federal agency that enforces employment discrimination laws, and is supported by the ACLU.
Rotondo's lawyer, Peter Romer-Friedman, said he's not concerned that the Trump administration's business-friendly stance will make the EEOC less likely to rule in favor of fathers at JPMorgan Chase.
"The law hasn't changed. It's longstanding and established on this issue," he said.
But many major employers still have unequal leave policies for new mothers and fathers, despite laws requiring equal treatment, said Galen Sherwin, senior staff attorney for the ACLU's Women's Rights Project.
"It is widespread," Sherwin told CNNMoney. "Many large and small companies are out of compliance with the law. It's unclear why employers still haven't gotten the memo."
But part of the problem is that many employees are unaware of the law or are scared to file complaint, she said. Rotondo's is the first known complaint filed at JPMorgan Chase, according to Romer-Friedman.
Related: 10 best companies for working dads
"Paid parental leave is crucial for both parents, and when corporations like JPMorgan Chase push men to stay at work, they're effectively pushing women to stay at home," said Freda Levenson, legal director for the ACLU of Ohio.